Exploring Creativity at KidZone Museum
The Tahoe area isn't just a fun place to visit when there's snow on the slopes — both Tahoe and Truckee have a bunch of family fun to offer during off seasons, like KidZone Museum in Truckee. Though this nonprofit museum was originally created by a group of parents in 1992 to provide an indoor play space for local families with kids ages 7 and under during cold weather, it has now expanded to a must-visit spot for tourists, too. Keep reading for all the reasons exploring creativity at KidZone Museum in Truckee is something families visiting the area should add to their itinerary, no matter the weather.
Over 22,000 families of all socioeconomic levels visit the museum each year, and so the museum made steps to become a green space through child and earth-friendly cleaning and sanitizing products (like the EO hand sanitizer at the front counter, and daily cleanings with signs stating the last time a specific learning or play area was cleaned and sanitized). KidZone added birthday party options, family camps, Summer camps, weekend workshops, school partnerships, and even free bus pick ups for kids of all ages to their offerings to meet the demands of its community, making it a perfect place for a Savvy Review.
Exploration & Learning at KidZone Museum
KidZone's mission is to "inspire learning through creative play and discovery," which is very clear right as you walk into the museum after passing the front desk, where staff lets you know the topic and region being explored that day. During this review visit, the focal point of the explore and play area was Machu Picchu: Shown through books, maps, set design, stuffed animals, and creative exploration projects. (Warning: Many photos ahead, there was just so much to capture for this post!)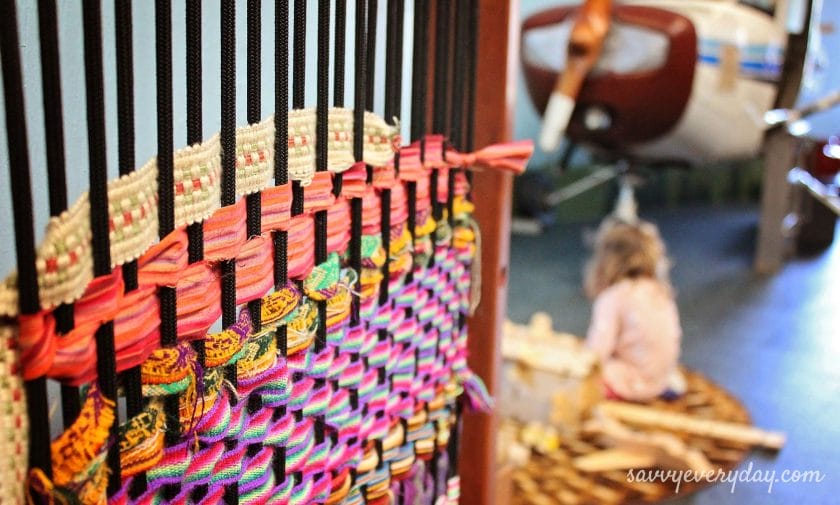 The exploration area also includes pieces that are typically in the space: Like a fun airplane for kids to climb in and play pilot, a market scene, and a little reading nook (first featured photo). There are also some amazing blocks, wooden people and wooden transportation pieces for the people and such — a huge hit with the kiddos.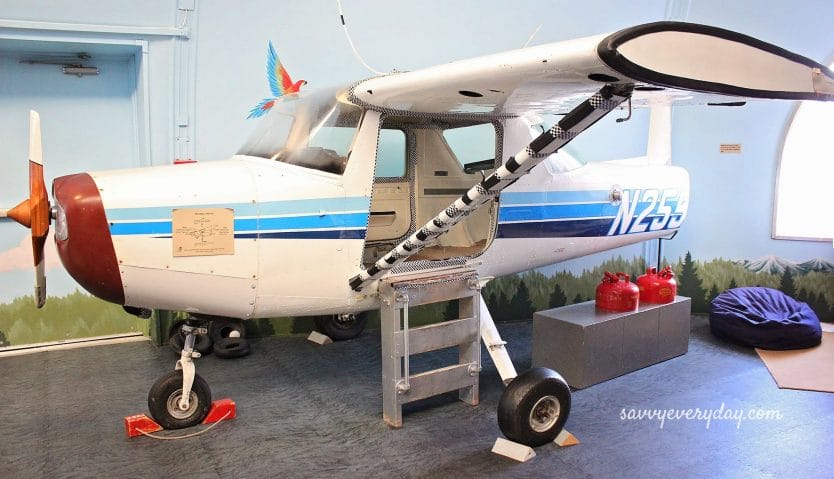 Science Education at KidZone Museum
Since KidZone is a relatively small space compared to many museums (it looks so much bigger inside the museum than it looks from the outside!), multitasking and smart space design is imperative. Walls are filled with science experiments that are fun and engaging to make use of every spot available. One of the favorites during the review visit was one teaching about air flow and gravity. A few brightly colored scarves and tubes of air brought on at least 10 minutes of laughter.
In a separate room called the Science Lab, crossover items like Magna-Tiles and puzzles create opportunity for problem solving. The Science Lab's child-size microscope — complete with a basket of labeled specimens to explore — is another hit among kids of all ages. Observing the KidZone turtle is also of great intrigue to a lot of kiddos.
Art Appreciation at KidZone Museum
In the KidZone art room, families are welcome to use all the art supplies available and follow a common courtesy rules of cleaning up after using the space, and conserving resources. Whether your child enjoys making shapes with modeling clay, stamping images on sheets of paper, painting, cutting, coloring with crayons, or a mixed-medium art activity, it's available in this room — complete with adorable art aprons to protect your clothes.
Creativity & Play at KidZone Museum
The outdoor play area at KidZone blends practical with imaginative design. Like most outdoor play areas there's a slide (well, two), but the slides here are built into a hill with a natural rock staircase set next to a fence made from old skis.
The mix of bright man-made objects and natural items make for a rather inspiring play environment. The kids had fun making music with an obvious instrument, as well as pots an pans hanging on a wire fence for music participation of a different sort — one that challenges the way kids think.
Learning is all around the yard, too: Even in one of the entrance gates to this little area.
But if digging in the dirt, sifting sand and playing in a fun little kids water zone isn't much your little one's style (or it's too cold), they can let out their energy going up and down the indoor slide and play area. There's a little reading nook with rocking chair for moms and kids, train table for toddlers obsessed with such, and soft play area for ages 18 months and younger.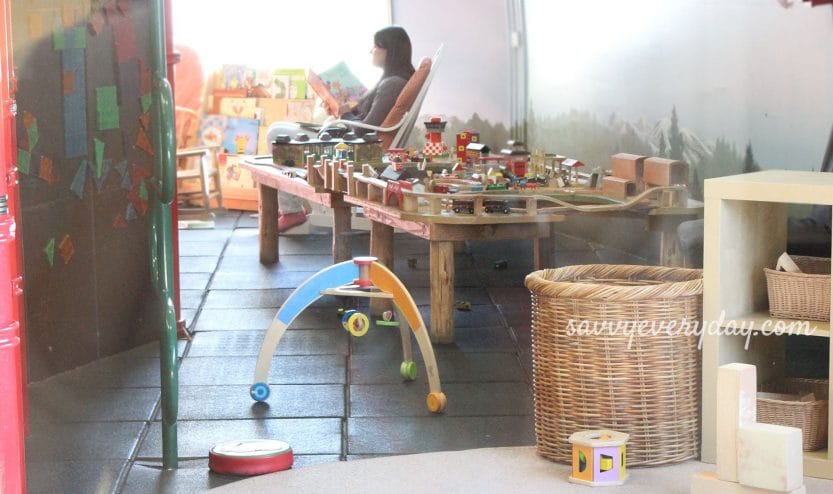 So next time you're in the Tahoe-Truckee area be sure to check out KidZone Museum as soon as it opens in the morning (if you can) to optimize your time there. Families can enjoy packed lunches and snacks in the Science Lab, or kiddie picnic tables outside.
Have you ever been to KidZone, what's your favorite part about the museum? Know about another great Tahoe-Truckee family spot? Share it in the comments below, or Contact me!
KidZone Museum
11711 Donner Pass Rd.
Truckee, CA
(530) 587-5437
Open Tuesday-Sunday
Ages: 7 & Under with parents, All ages for workshops
Cost: $8 (Ages 1-69), $4 (70+), Free (Infants under age 1, museum members and military families as a Blue Star Museum)
Tip: Bring or wear socks, shoes cannot be worn inside
Facebook: facebook.com/kidzonemuseum
KidZone Museum provided entrance for this review. All opinions are my own and all images are copyright Shari Wargo Stamps/Savvy Every Day 2015.