Easy Flower, Butterfly and Bee Family Costume
If you're looking for a cute and easy family Halloween costume, this flower, butterfly and bee family costume for Halloween is a fun DIY one!
I haven't dressed up for Halloween in years, let alone put together cute family costumes. I'm pretty sure the last time was when S was 2 and I made a DIY Flintstones costume for us. But this year, the kids and I are matching thanks to this super easy butterfly, flower and bee themed family costume idea.
Photos by Joy Lifestyle Photography. This post contains affiliate links (if you purchase something I get paid a percentage that goes toward keeping this site running).
How to Put Together a Flower, Butterfly and Bee Family Costume
Planning out your flower, butterfly and bee family costume is super simple. You might even already have the majority of what you need to bring the family Halloween costumes to life!
Below I am sharing how to put together these adorable family costumes!
How to Put Together a Monarch Butterfly Kids Costume
My daughter doesn't like most Halloween costumes — even the pretty ones — because the materials just seem too itchy too her. So instead of buying a complete costume for her, we put together a few simple items to make a cute Monarch butterfly Halloween costume. The best part is that half her costume can be worn anytime, not just on Halloween. She wears the shoes to school and the thermals will be handy in winter. The other half? Makes for fun dress-up clothes and only cost me $13 (but check the Cartwheel app for costume deals).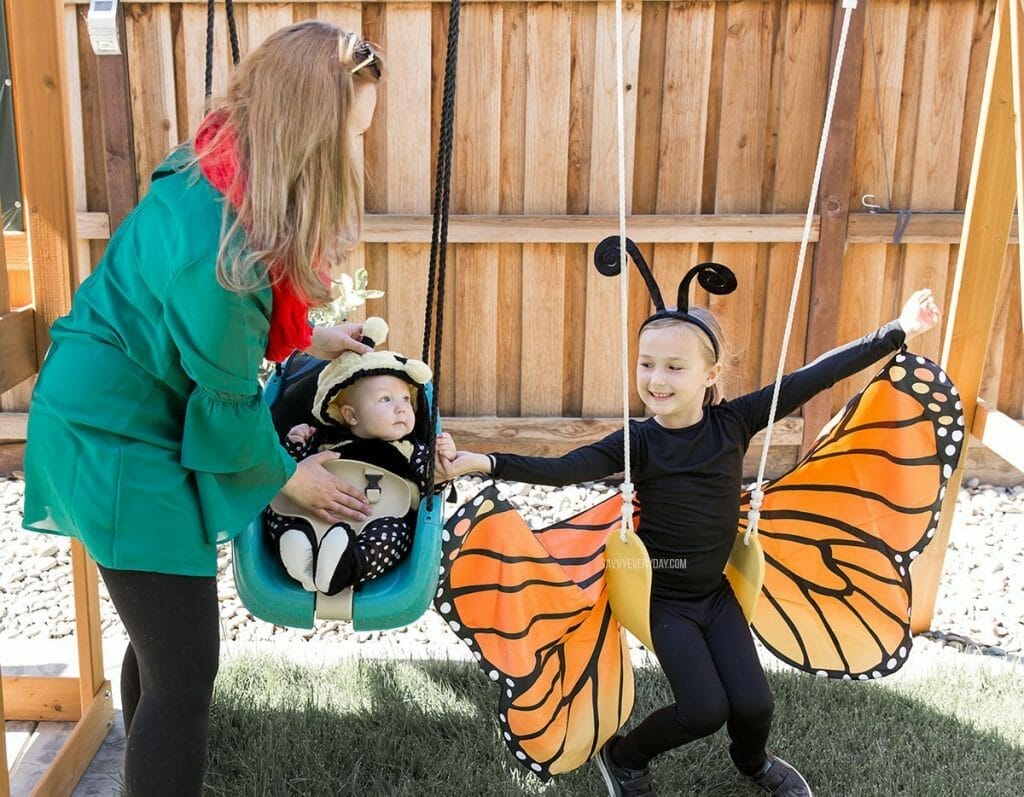 How to Put Together a Baby Bee Costume
It's just so much easier to buy the whole costume for baby's first Halloween. I had grand plans of creating some fun space-themed outfit for my son's first Halloween, but once S picked up the butterfly costume and I turned around and saw this bee one I knew what had to be done. These two are the cutest matching without really matching butterfly and bee family costumes ever.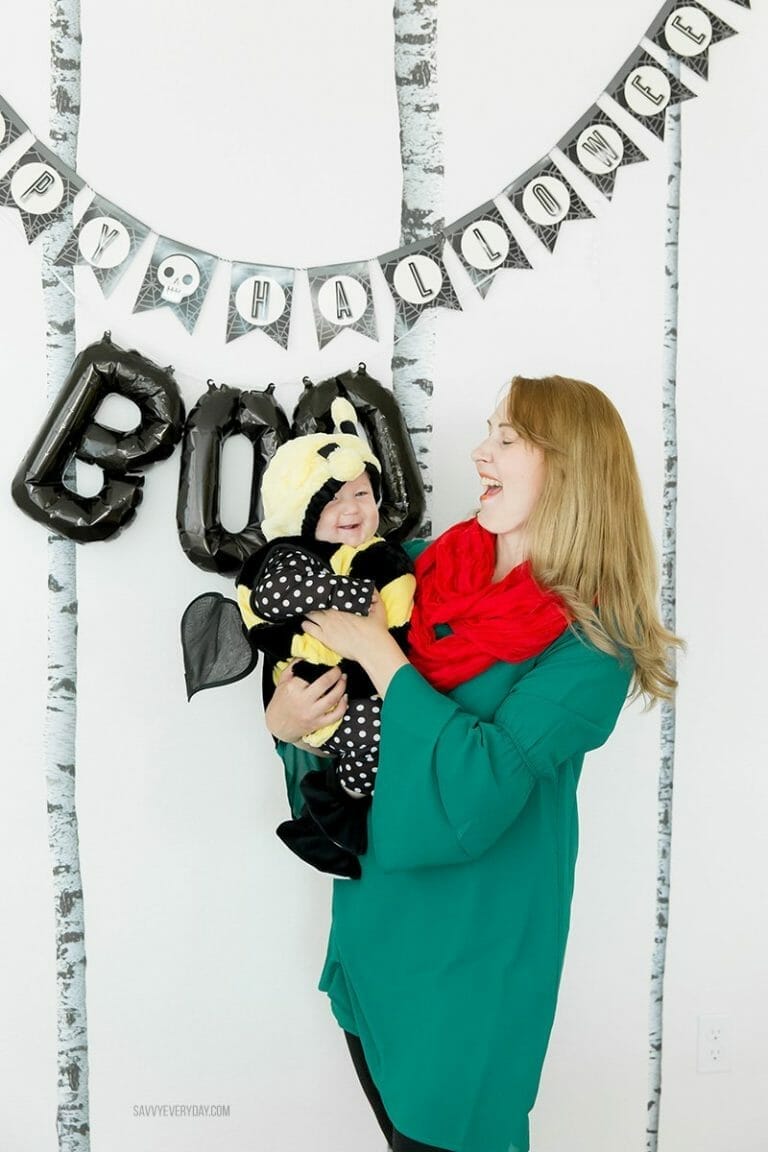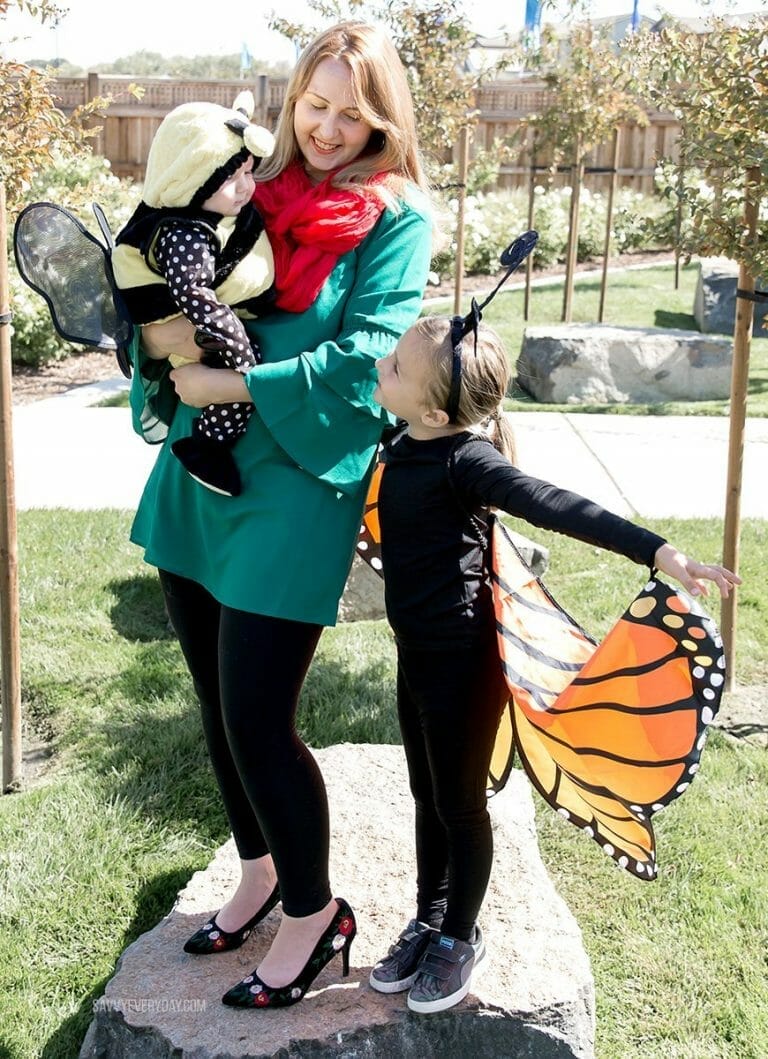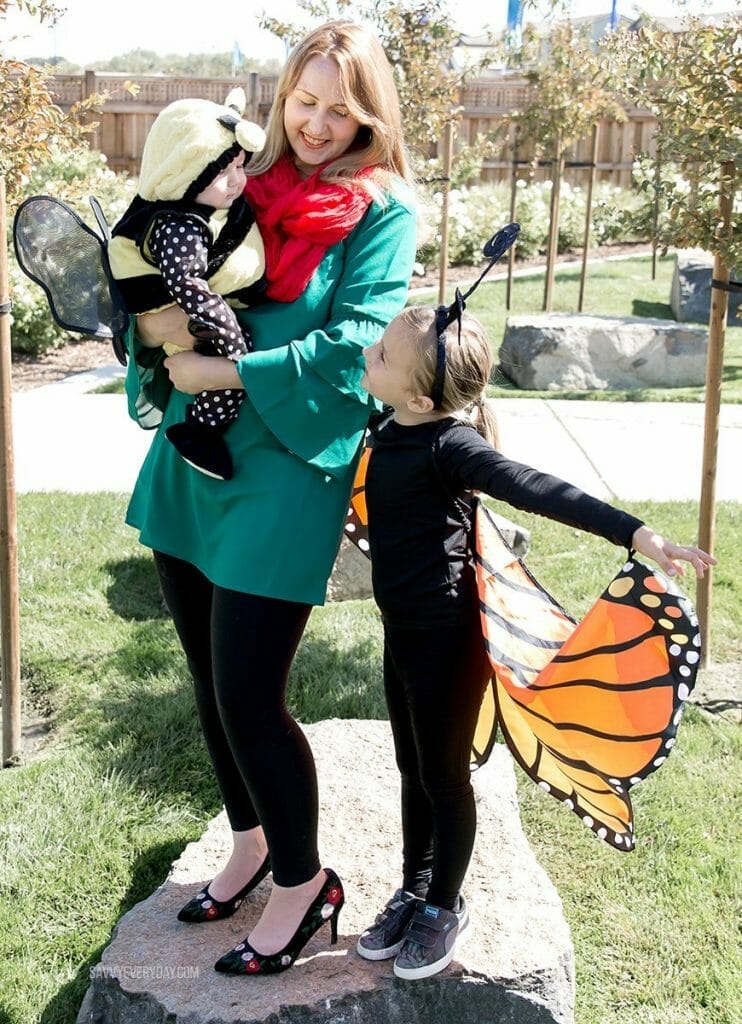 How to Put Together an Adult DIY Flower Costume
My little butterfly and bee totally love this flower! Ahahaha so, the point of this costume is to not only fit the butterfly and bee family costume theme but to give moms the chance to buy a new scarf, dress and pair of shoes. This whole costume can be worn with other outfits and accessories (the dress is super cute with a belt), and 100% slutty or embarrassing one-time-use costume free.
For another family Halloween costume idea, check out this family's Labyrinth Halloween costumes!