Whether you're shopping for your whole family or someone else's, this gift guide is sure to be a big help! From gifts for babies & kiddos under age 9 to gifts for mom and dad, look no further for what to get the peeps in your life.
Items mentioned were sent for review before inclusion to ensure a fit. This post may contain affiliate links. Thanks for supporting Savvy Every Day!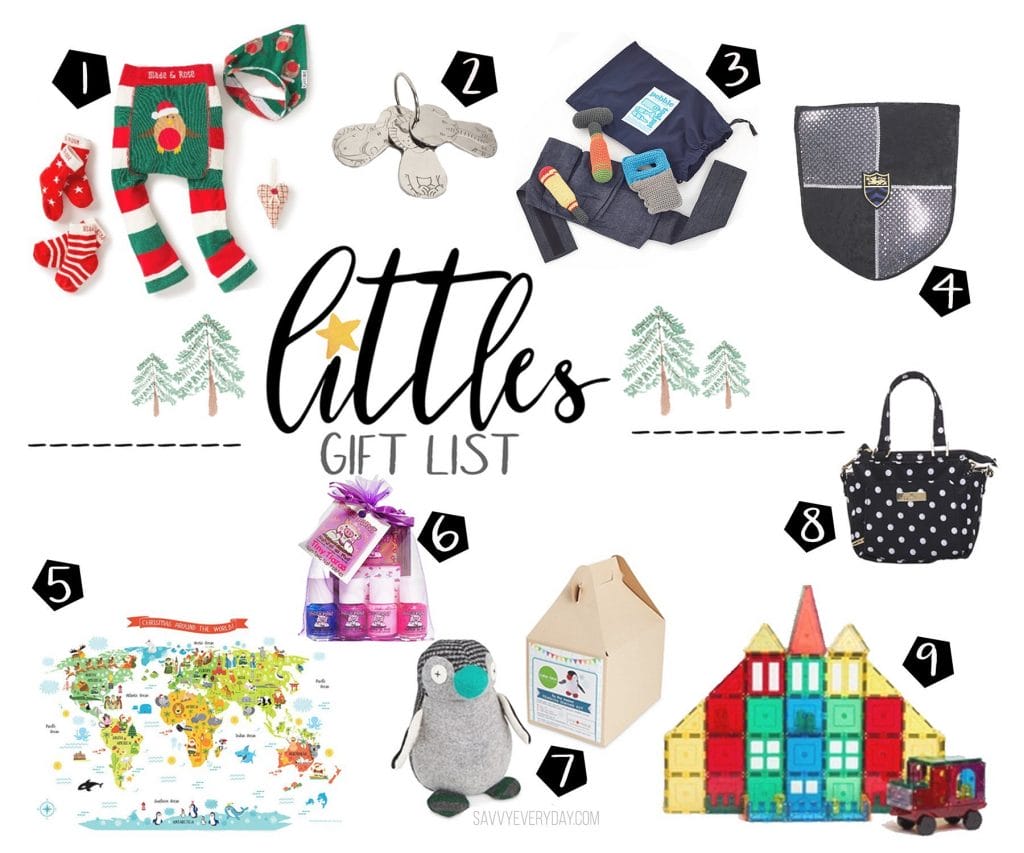 ONE: Blade & Rose Robin Baby Leggings Set / Cozy, festive leggings and matching bandana & socks.
TWO: Kleynimals / Stainless steel animal keys for the teething kiddo.
THREE: Kahiniwalla Pebbles Tool Set / Quality fair trade handmade toys that are a real treasure.
FOUR: Great Pretenders / Let imaginations soar with the many dress up toys & clothes to choose from. I got the Renaissance Queen Gown for S and it's absolutely lovely — So magical! Their Alvin the Elephant Delux Gift Set is super cute, too. I know the baby is going to love it! Check out their other teethers and baby toys.
FIVE: Pictureta World Map / Find the different Santas celebrated all over the world.
SIX: Piggy Paint /Natural, cruelty-free, vegan and made in the USA! This is the polish you can safely use on the kiddos (or yourself) without compromising color choices and quality.
SEVEN: Cate & Levi Penguin Puppet Making Kit / This Macy's exclusive is an adorable project for parents and kids.
EIGHT: Ju-Ju-Be Itty Bitty Be / Have a little mommy on your hands? This tiny purse comes with a changing pad!
NINE: Shape Mags / These colorful magnetic shapes are hours of fun and a great intro to STEM.
ONE: JORD Wood Watches / Stylish, comfortable and complete with Swiss movement.
TWO: Isabelle Grace Jewelry DAD Keychain / Choose from a few keychain options, each with a different message on the back.
THREE: The Tie Fix / Get new ties delivered every month!
FOUR: Ju-Ju-Be Be Right Back Chrome /Dads need diaper bags too, and this one is loaded with all the right pockets to handle any cargo.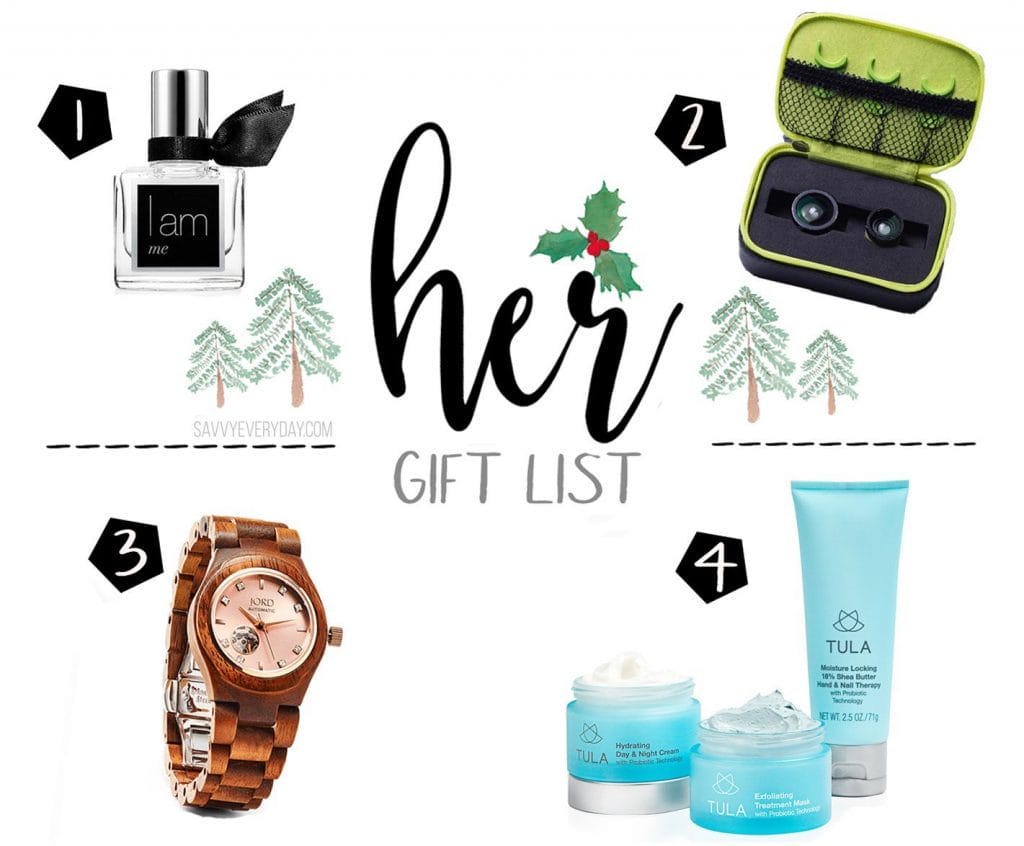 ONE: I am Fragrance / Light but empowering, this line of fragrance offers something for everyone (I like I am Naked).
TWO: Limelens / This set of lenses will allow you to take better photos on-the-go using just your phone!
THREE: JORD Wood Watches /I'm in love with this Cora watch with real Swarovski Crystals. The color combo is perfect for dressing up or casual, too! Click HERE to enter a JORD gift card giveaway and get a discount!
FOUR: TULA Probiotic Skincare Hydrating Set / Ladies, it's tough to keep hydrated, I know, but it's so important to your skin — Especially in colder weather. This probiotic skincare hydrates and makes your skin feel amazing! I absolutely love my set.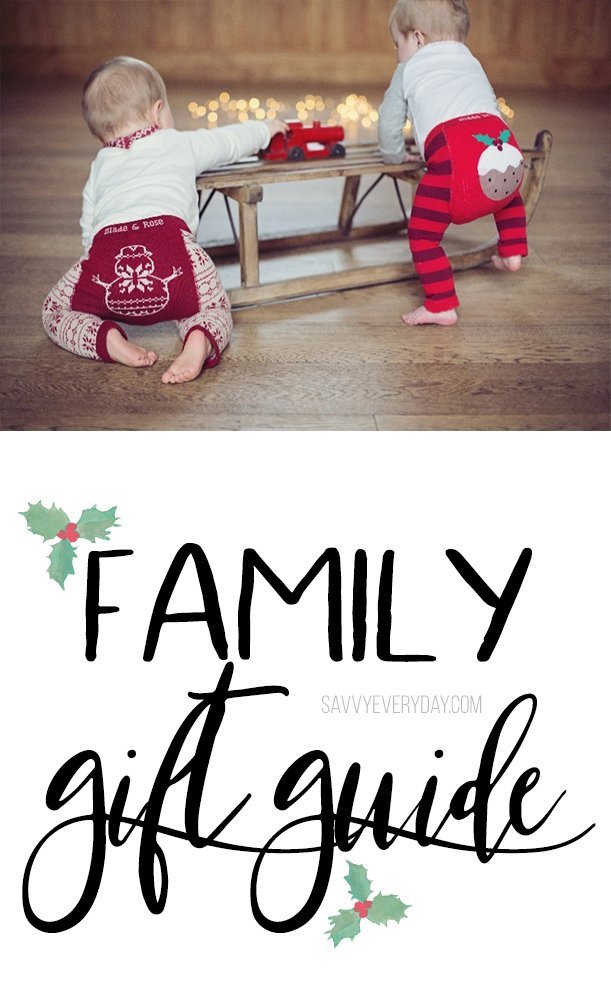 What's on your wishlist this year? Share in the comments below!