Creating Lasting Memories: How to Plan a Meaningful Mother Blessing Ceremony
Family and friends were a bit confused when I told them I was having a Mother Blessing instead of a Sprinkle or baby shower to celebrate my third baby. Even after explaining what it was, they were a bit puzzled because this concept isn't very common yet. But planning a meaningful Mother Blessing celebration is a beautiful way to create lasting memories and mark a special milestone in a mother's life. For me, it was especially important because I was coming to terms with this being my last baby and seeking guidance about that from others who were done having kids. (Spoiler: This turned out to not be my last pregnancy, but at the time I thought it would be.) Whether you're a family member, a friend, or the mother-to-be herself, this post will provide you with all the inspiration and practical tips you need to create a truly meaningful experience all your own. Keep reading to explore the beauty and significance of a Mother Blessing and discover how you can plan an event that celebrates love, empowerment, and the incredible journey of motherhood.
What is a Mother Blessing?
It's a deeply personal and somewhat spiritual event so instead of having a ton of people come, one might have just a very small group of close friends and family. The Mother Blessing concept was first inspired by the Navajo tradition of a Blessingway but the two are very different and a Blessingway is something that only Navajo can do. If you look up "Mother Blessing" on the internet you may notice that some people use the terms interchangeably and that's a big no-no. There are also a lot of Mother Blessing posts where attendees wear bindis and apply henna even though that is not something from their own culture. I was not about to do that so I updated the concept of a Mother Blessing for my own celebration to avoid things like that and also make the event comfortable for family/friends who are used to the traditional baby shower.
Why I Chose a Mother Blessing
I opted for a Mother Blessing because it focuses on a woman's transition into motherhood rather than just the baby and party games. Attendees typically prepare the mother for her new role through well wishes, songs, poetry, and pampering. Some families also opt to make it a sort of nesting party by including meal prep to put in the mom's freezer so she's set for postpartum. Though a Mother Blessing might typically be done for a first pregnancy, I believe that mothers go through a transformation each time they have a baby. Since I'm having my last baby I wanted to hear words of wisdom about transitioning into not only becoming a mother of more littles but how others accepted the concept of "the last baby" (and all the other things associated with it) in their own lives.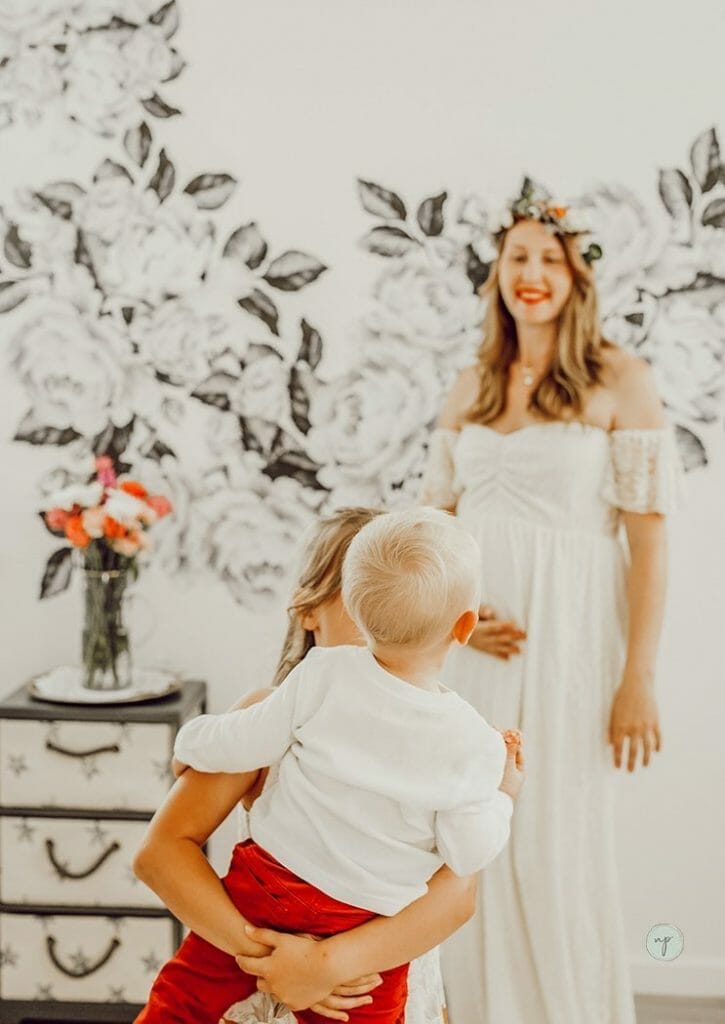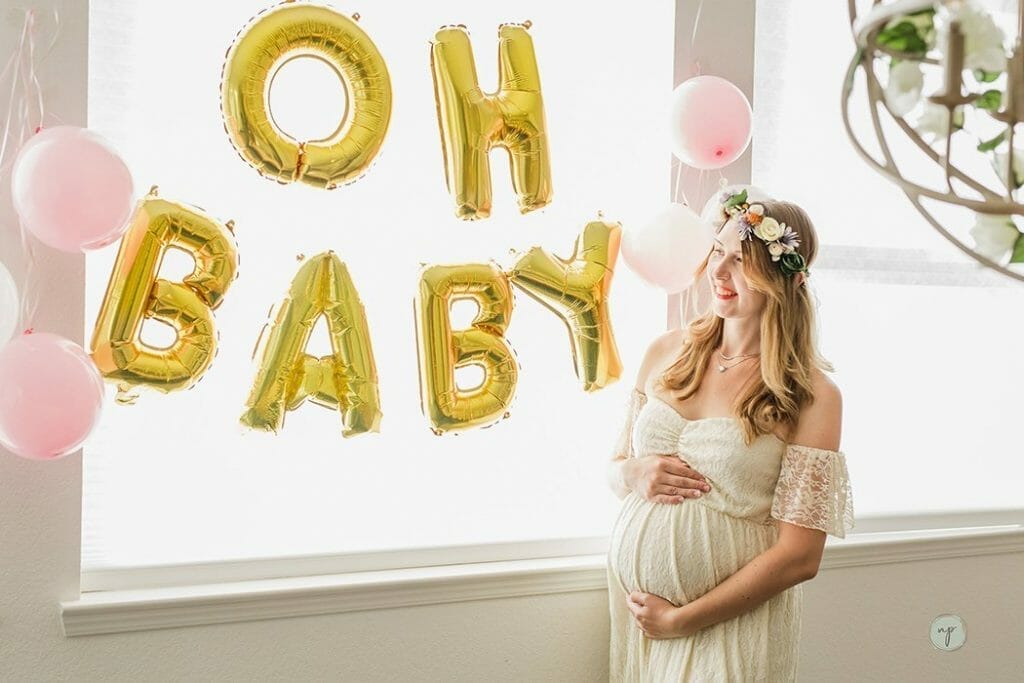 Mother's blessing ideas
Activity 1: Gift of Blessings
One thing a lot of Mother Blessings I found online had in common was the concept of writing blessings and well wishes to the mom and baby (or whole family) on tapestry or cards. I really like the idea of having guests write their positive thoughts and any wisdom on something to hang in the baby's room so I included that in my event too. We paired assorted ribbon with decorative gift tags for guests to choose from and clipped them on a beaded picture holder I'd picked up. After guests wrote out their blessings on their tag, they tied them on a metal ring that will hang in the baby's room as decoration. I'll probably keep the ring nearby while birthing to read similar to affirmation cards, too.
Activity 2: DIY Sugar Scrub
Mother Blessings are about blessing and pampering the mom-to-be, but I wasn't quite comfortable with an "all about me" event and my friends and family wouldn't quite know what to do. Instead of having the Mother Blessing be about what is done for me, I made the pampering activities fun and inclusive of everyone. The first pampering activity was also a fun little DIY – we made a green tea and rose sugar scrub recipe that I found on Pinterest. This gave everyone something to do together, was great for our hands, and paired well with our footbath activity. Bonus? The sugar scrub also served as an informal gift to guests since they had scrub leftover in their mason jars to use at home.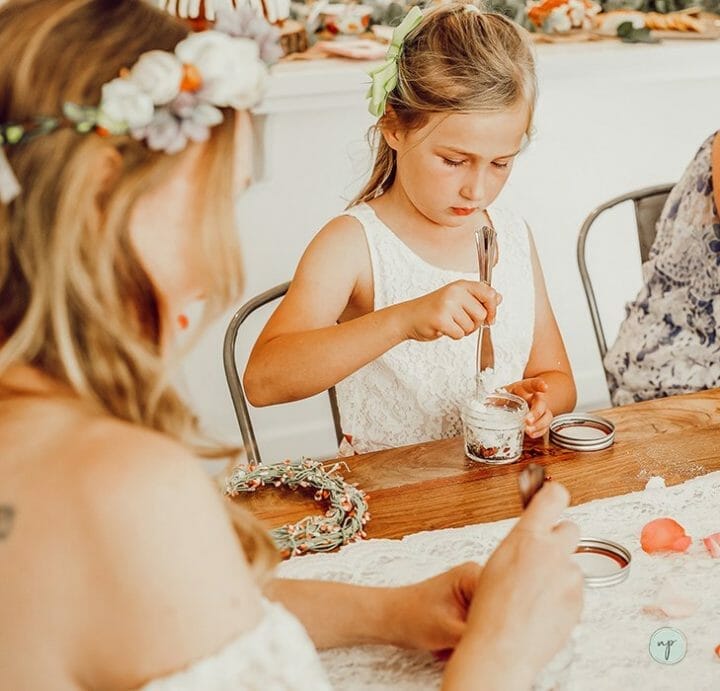 Activity 3: Sharing Circle During Hand & Foot Dip
One of the main activities in all of the Mother Blessings I found online was a sharing circling — a time for poems, songs and words of wisdom for the mother being blessed and celebrated. Another activity might be to make a belly cast with mom and decorate it (sadly we didn't have time for this) or to massage mom and offer a foot soak. So after making our scrubs, we dipped our hands in paraffin and wrapped them up while we soaked our feet in an almond milk and honey foot bath with rose petals (this is a type of bath that can be drawn for a postpartum mom once given the OK to use a bath). While soaking our feet, we had sharing circle with words of wisdom about that "last baby" concept. When the paraffin was ready to come off we removed the wrap and applied the sugar scrub to our hands and feet — using the water to wash everything off when we were done.
Activity 4: Tea & Cake
Once we were all feeling relaxed and pampered, we enjoyed a caffeine-free berry tea, deviled eggs with bacon (courtesy of my husband and his sous vide skills), meats and cheese, palmiers, an assortment of fruit, and a yummy white chocolate raspberry bundt cake with cream cheese frosting. Eating together and simply enjoying each other's company was the perfect final activity for the event. You may choose to have presents at your Mother Blessing and open them during this time or to use this time to cook homemade foods that can be stored for eating during postpartum. I didn't plan on having a gift time at my Mother Blessing, but because that's what my family is used to at a traditional baby shower, they insisted.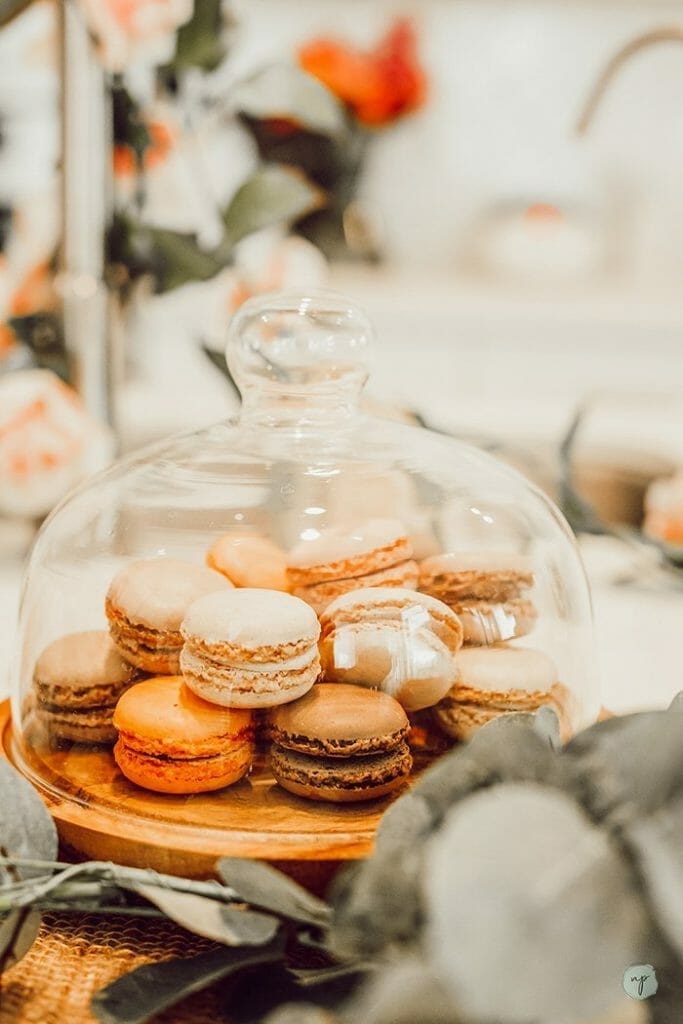 Thank You Gifts
A popular parting gift for Mother Blessing attendees is a candle to light when mom is in labor so that they can think of her/be with her in a way during that time. We considered doing this as well but ended up making lavender hot/cold packs for everyone to take home with their leftover sugar scrubs. The lavender packs went really well with the relaxing/pampering self-love theme of the event and I like that everyone will think of me when using them. It was nice to give everyone a gift as a thank you for blessing the mother (me).
Photos by Joy Lifestyle Photography
Title:
Creating Lasting Memories: How to Plan a Meaningful Mother Blessing Ceremony
Mentions:
baby shower, birth, last baby, mother blessing, motherhood, nesting party, new mom, new mom again, party planning, pregnancy, pregnancy event, sprinkle, third baby
Keywords:
mother blessing