Mountain Themed Baby Clothing Organizers – Free Download
Organizing the heaps of baby clothes you inevitably get from friends and family is one of the bigger pre-baby chores. I advise against washing everything you're given but am a huge fan of hanging up what you have by size so that you can see what's available and which sizes you'll need more of. To do this, you'll need some great clothing dividers!
I created celestial-themed clothing dividers for my son's nursery before he was born but now that he's a toddler with a mountain adventure-themed room, I wanted to make some new dividers to match.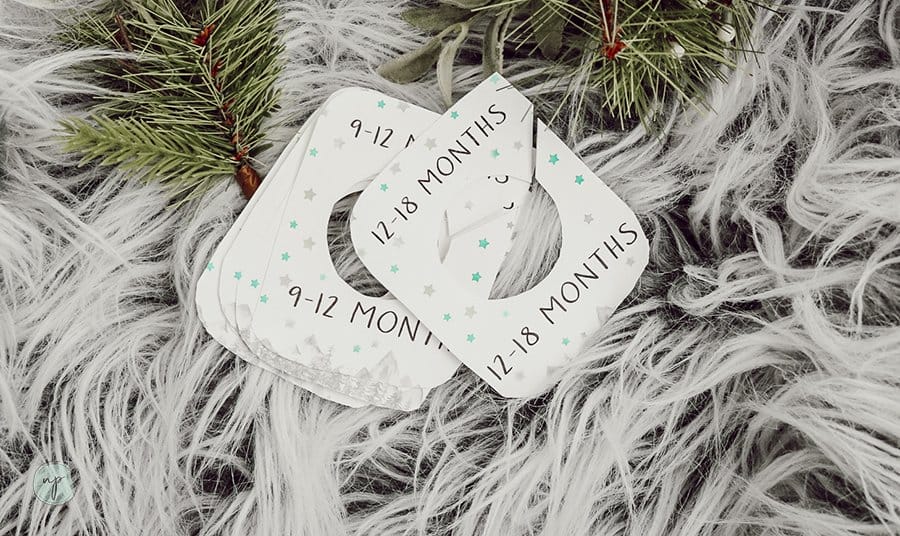 The beauty of these dividers is that you can make them your own. I chose to use a matte white heavyweight paper when printing them out and to round the corners while cutting, but you could choose a different type of paper and cut the dividers to any shape you'd like to make them you're own. If you wanted to jazz them up, you could add some non-toxic sparkly nail polish or another type of decoration (just don't use regular glitter since that could come off into the clothes and be a hazard).
Instructions
To print out your own set of dividers click on the above image of a mountain divider. This will open a new browser tab or window with a printable PDF of the dividers. Download the PDF. Select your printer and adjust settings for the type of paper you'd like to print on and so that it prints using the double-sided option. Print. Cut out the dividers however you'd like. There are guidelines on one side of each page to show where to cut for the dividers to hang on the closet's clothing rod. Sizes range from newborn to size 2T! Be sure to tag @navigatingparenthood on social media if you use these dividers. Enjoy!
Title:
Mountain Themed Baby Clothing Organizers – Free Download
Mentions:
baby, baby clothes, baby clothing organizers, baby's room, clothing divider, creative home ideas, download, family home, free download, home organization, mountain clothing divider, new mom, nursery, nursery room, pregnancy, printable, toddler room
Keywords:
Mountain Baby Clothing Organizers