Mint and Gray Star and Moon Nursery Design
The mint, gray and white color combo is huge this year. I noticed it as a rising trend while at the ABC Expo in October and immediately started planning my son's star and moon nursery room with these colors. Not only does this room design allow for great color contrast, but it's gender-neutral and simply gorgeous. Keep reading to see more!
Some items were sent for review and this post may contain affiliate links. All opinions are mine alone. Photos by Sincerely Me Photography.
I just barely got everything I'd been collecting the past 4 months over to our new house the day I went into labor with my son (I think I was waiting until I had that done to have him since I never got to put a nursery room together for S), so actually putting it together was a week-long process that happened between diaper changes and sleep. I'm glad it's finally together and I can share it before this room idea becomes too huge, though. I've been seeing a lot more mint and gray combos in stores. Nate Berkus just launched a nursery line at Target with this color scheme, and even Costco is selling a bunch of mint items for the home. We have gray carpet in the bedrooms so the whole color scheme came together really well.
Sleeping
River sleeps in my room right now since he's still a newborn, but he loves being in his crib and looking around when I need to set him down after diaper changes to wash hands, or I need to do something else real quick. When he gets a bit older he'll slowly use it more and more.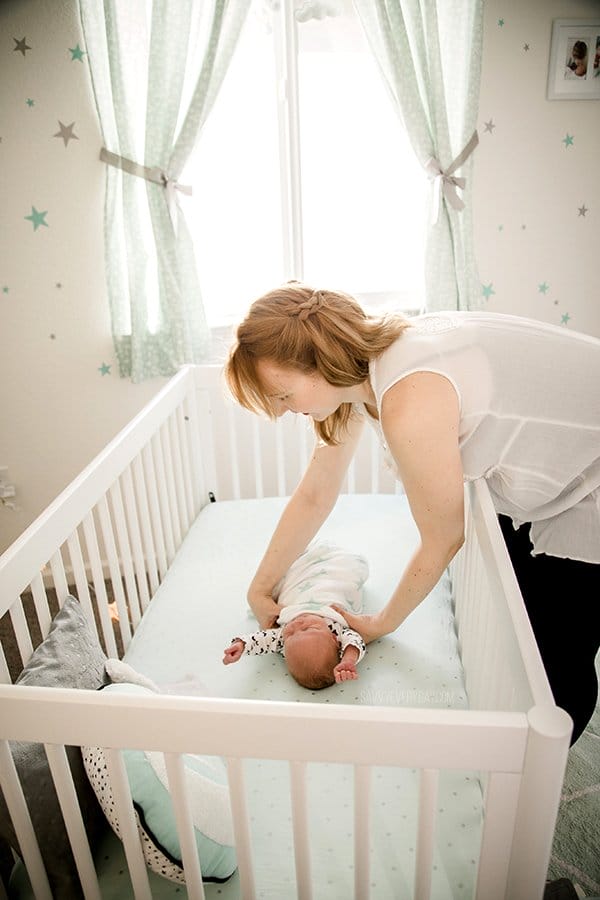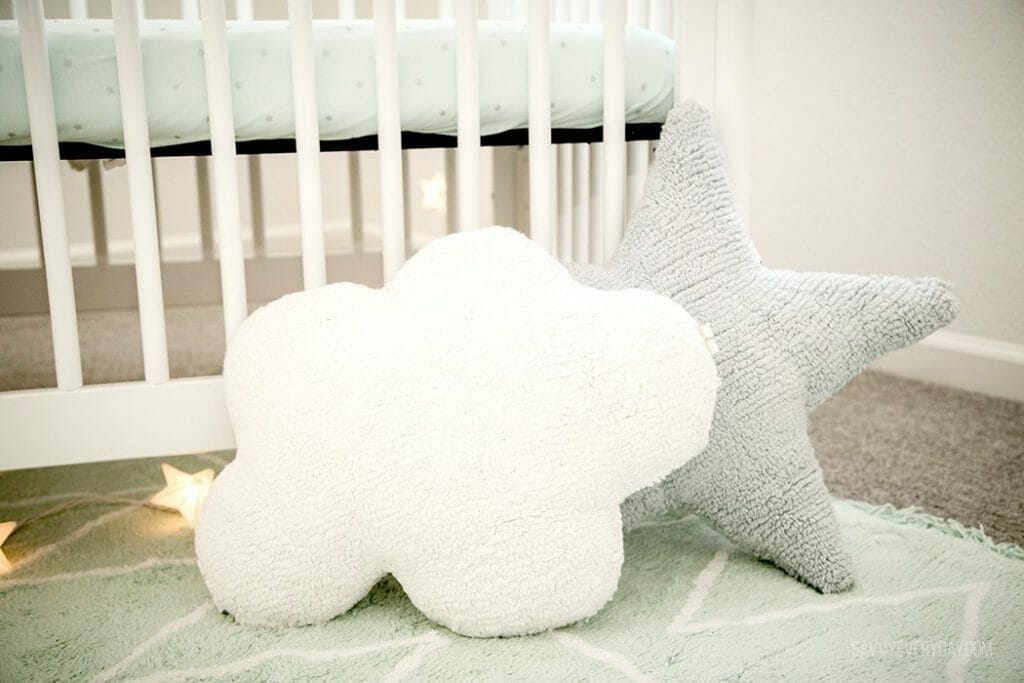 Sparkle Collection Aqua Crib Sheet
Metallic Skylight Dream Blanket
Lorena Canals Happy Mint machine washable rug
More Than the Stars in the Sky Decal
Mint and Metallic Silver Star Decals
Hashmark White & Mint Star Curtains (Similar: Hashmark Clouds in Mint, Gray Clouds, Watercolor clouds.) My mom made these curtains for me from 4 yards of fabric, but Minted sells their custom fabrics as curtains, too.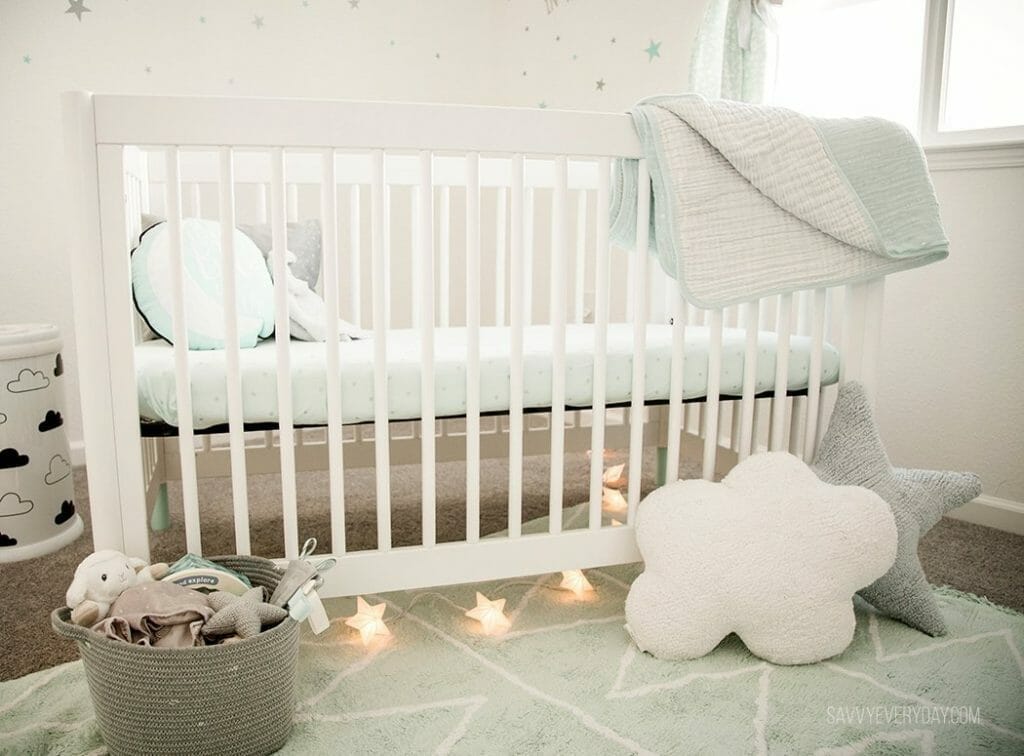 Diapering
I never had a diaper pail when my daughter was a baby and boy am I glad to have one this time around. This thing seriously contains the stink (and it's adorable)! Another must-item for me this time around is a dresser that has a removable changing station on top. It's fantastic that it's attached for safety, but even better that I can remove it when the time comes. I'm also a fan of warming the baby wipes . . . and this super cute crescent moon-shaped light I bought on clearance from Target's Oh Joy! collection (it's gone now).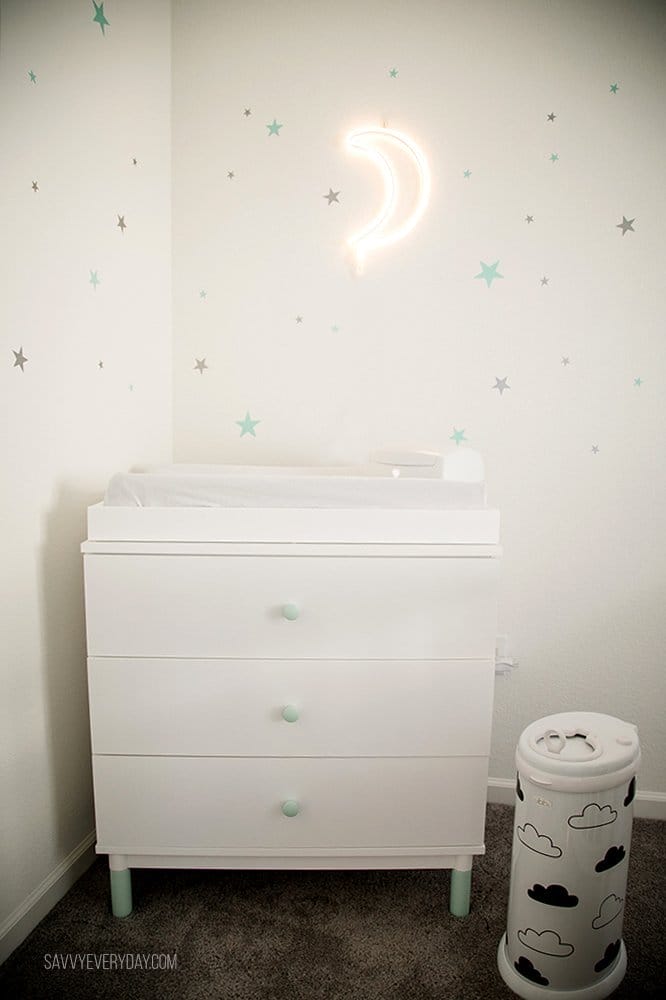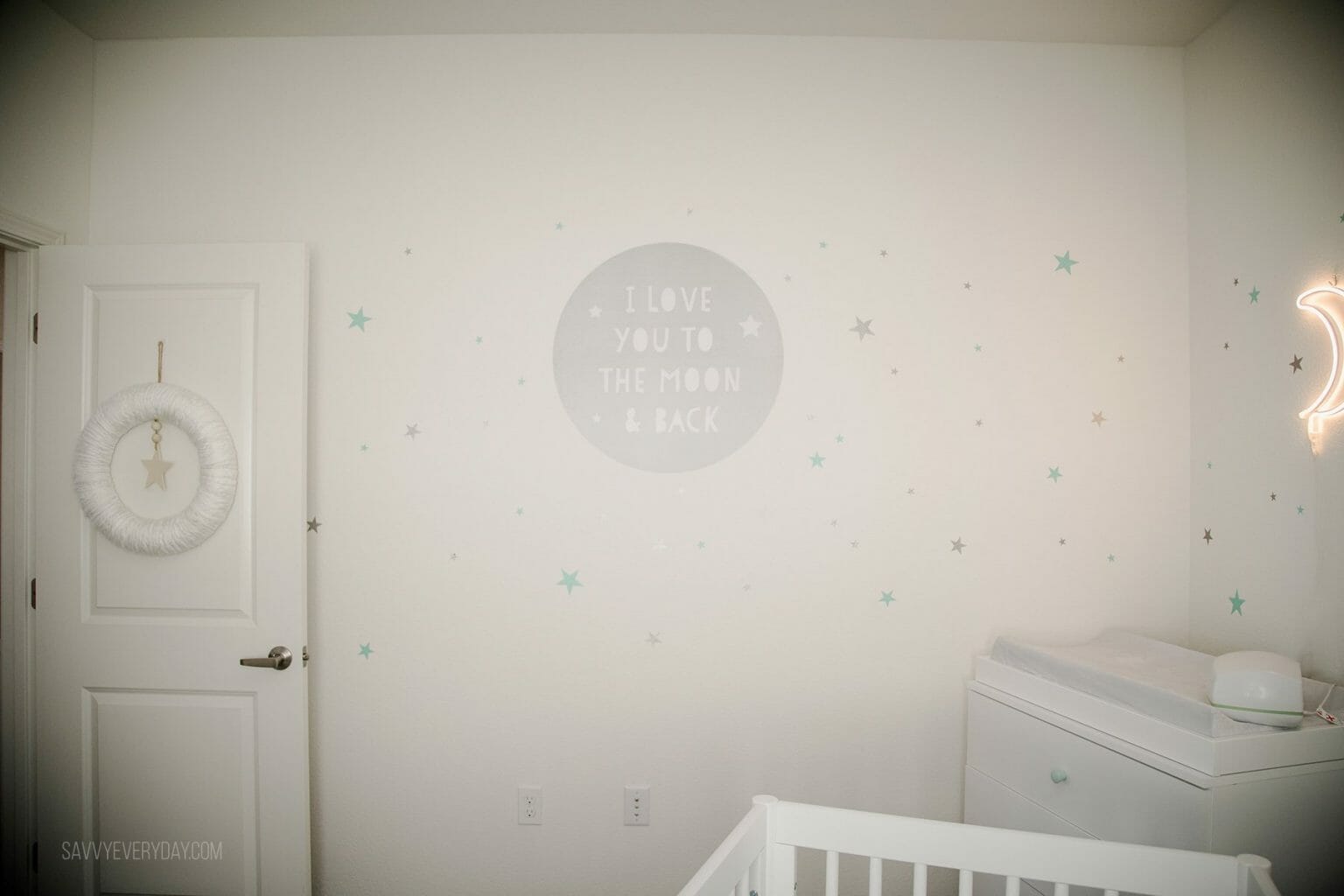 Non-toxic Waterproof Contour Changing Pad
Sparkle Collection Gray Changing Pad Cover
Sparkle Collection Moon Security Blanket
I love You to the Moon and Back Decal
Mint and Metallic Silver Star Decals
Closet
Clothing dividers are another item I didn't have when my daughter was a baby. I made my own to fit with this room theme and color combo (get the free printable, here). I carried the stars over and across the closet doors to tie everything in and decided to use a bookshelf I had for a baby carrier organizer. I'm thinking about painting the bookshelf with some Milk Paint I was sent (it's gorgeous paint), but don't have the dedicated time to do that just yet while taking care of a newborn and attempting to unpack the house. Since my baby shower had the same theme as the nursery room I got a few decorations that fit perfectly in the room as gifts, too!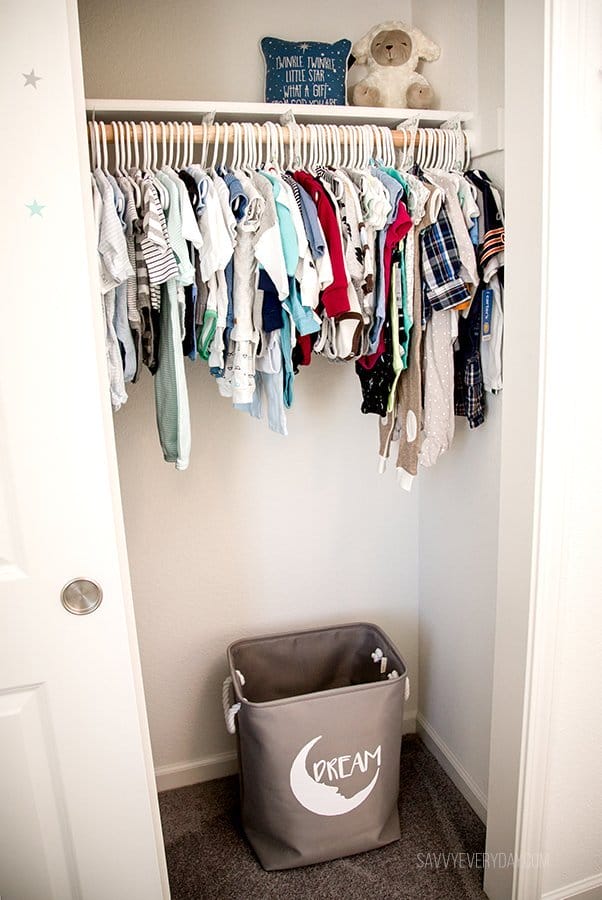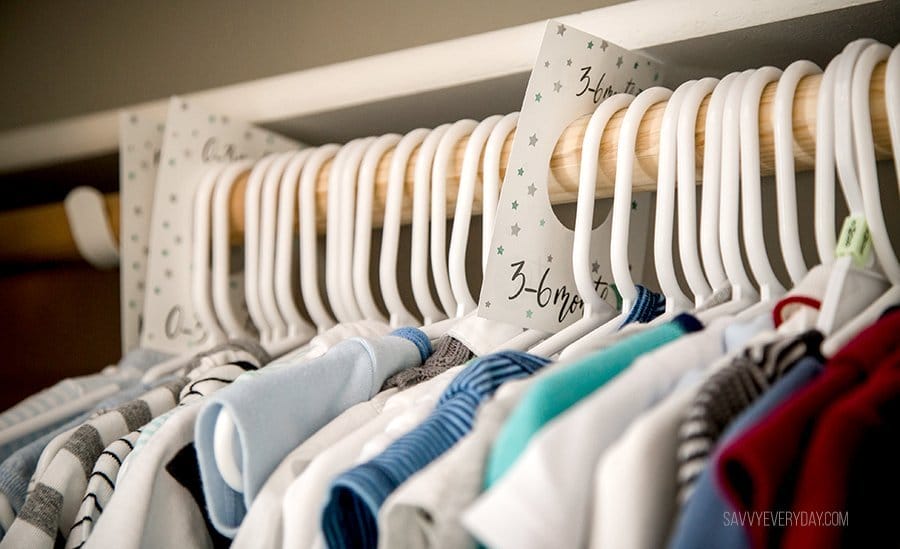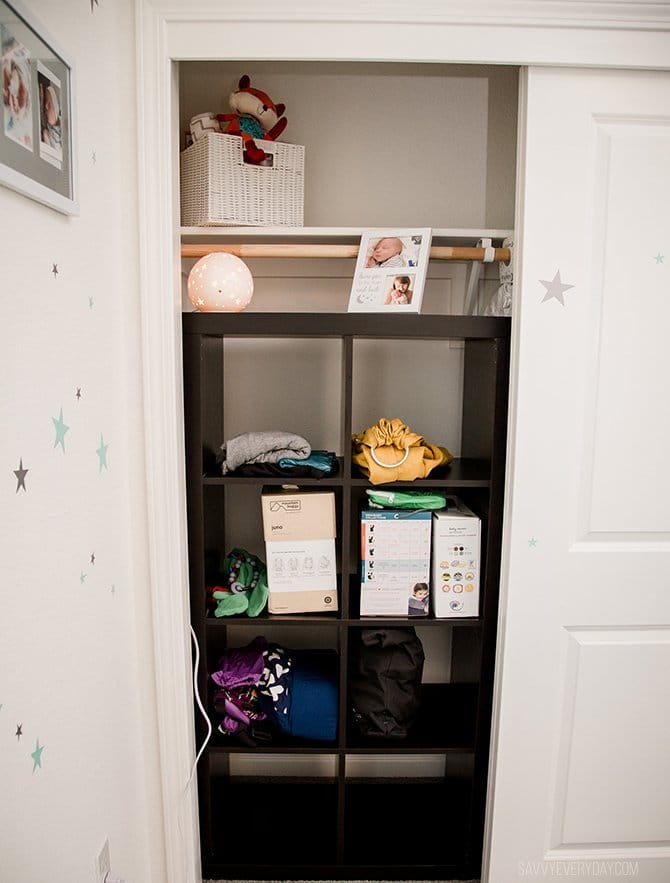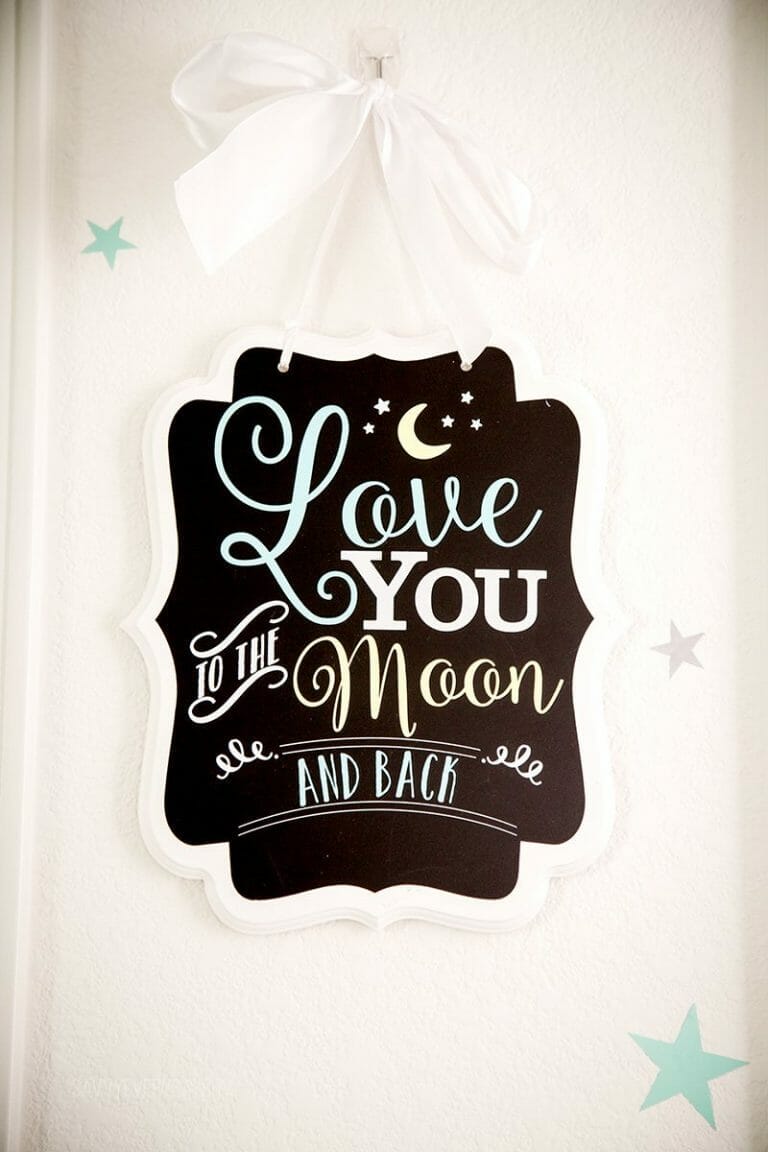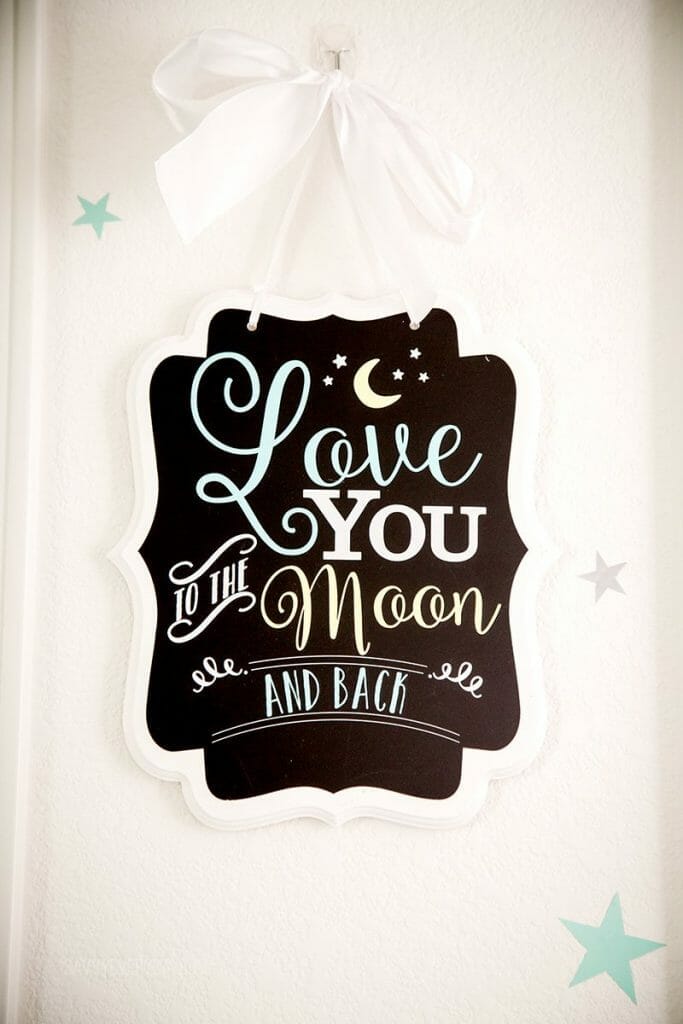 I Love You to the Moon and Back Photo Frame
Baby Prints Photo Frame (Used for three quick pictures for now instead since my essential oils spilled on the ink paper from this kit in my hospital bag.)
Mint and Metallic Silver Star Decals
Hamper (similar)
Check out the Celestial baby registry and clothing divider printable, too!
Title:
Mint and Gray Star and Moon Nursery Design
Mentions:
boy's nursery, celestial nursery, gender neutral kids room, kids room decor, kids room design, nursery room, nursery room design
Keywords:
star and moon nursery design