What I Packed for My Second Birth
I learned a lot about what I do and don't want to bring to the hospital after having my first kiddo, including what the husband needs to pack. So this time around I packed comfort measures— Everything I'd need and want, plus some added items for creating my ideal birthing photos since this might be my last pregnancy. My goal? Make my hospital birth feel like a peaceful home birth. Keep reading to see what I packed for me, my husband and the baby to prepare for my second birth.
This post contains affiliate links and some items were sent for review. All opinions are honest and my own. All hospital photos are by the wonderful Emily Shores Photography.
---
Related: Free Diaper Bag Checklist Printable
---
Comfort Measures
Hypnobabies Guide: I started the Hypnobabies Home Study Course at about 30 weeks preggo after learning about it as an option through the doula training I was doing. The videos of moms birthing using this method versus others are just amazing! I started this pregnancy with a lot of anxiety and fear left from a negative birth experience around S' delivery and this program helped me to create a more positive pregnancy with coping tools for my stress (and between moving twice, having dental surgery, and getting hit by a car there was stress!).
The course includes a quick reference guide that you can bring with to the hospital, as well as comfort measures, cheat sheets, papers to post around the birthing room, and some audio tracks to listen to while going through the different birthing stages. I packed it all. To Learn more/order, CLICK HERE (save 10% with code npsaves)!
Pretty Pusher Delivery Gown: Just because you're birthing in a hospital (if you are) doesn't mean you need to feel like a medical patient. There's nothing wrong with you, you're giving birth and it's wonderful! Skipping the hospital gown and wearing your own clothing or maternity gown helps to create a happier birthing environment where you feel more like you.
Travel Aromatherapy Diffuser: For me, maintaining a peaceful environment requires almost all the senses, so I wanted to smell a faint lavender oil in the air while listening to my Hypnobabies tracks and feeling support from my partner and doula.
Stable Birthing Ball: This is super important! A birthing ball is amazing for preggo exercises but it's also a great comfort measure tool during labor.
Instant Cooling Towel: I chose to skip the awkward bags of ice and pack a cooling towel in case I started to burn up during labor. It's compact, cools instantly after adding water, and is reusable!
Plastic Bags/Wet Bags: I packed a few sandwich-size bags and giant freezer bag in my main hospital bag in case I needed them for ice, soiled clothes or whatever else might come up.
Post-Birthing Items
Plush Robe: It's all about feeling comfortable in your birthing room, and a plush robe helps you to do just that!
Bedding: I packed a few pillows and a soft comforter for my recovery bed for better pictures and a more comfortable stay.
Soft Grippy Socks: The hospital will give you grippy socks to wear but they aren't the most comfortable or flattering so I packed my own moisture-rich socks. Some people choose to bring slippers instead, but I like that these socks keep my feet warm and allow me to walk around like slippers would.
Nursing Gown: I wasn't sure if I'd be comfortable in pants after delivery so the idea of a nursing gown sounded perfect. I picked this one up on sale.
Clothes: Be sure to bring some spare loose/comfy clothes for when you're discharged.
Large Bath Towel: Hospital towels can be tiny . . . and they're hospital towels. I opted to bring my own soft and comfy towel so it would actually cover my body.
Toiletries: From makeup to toothpaste, be sure to pack for washing up. I brought my hairdryer, too.
Granny Panties: There's no telling how you're going to feel after delivery, but sore is probably top on that list. Comfortable undies that don't have a tight elastic waist on them are best for recovery.
Newborn Items
Baby's First Outfit: I don't wash a ton of baby clothes before birth because you just don't know how fast they'll outgrow stuff or which size they'll really fit in once born, but I do wash a few first outfit options to pack for baby.
Mouse Hat: This adorable hat also shields baby from radiation!
Clean-Touch Ink & Paper: I packed the ink and paper from my Pearhead Babyprints Frame set so that I could get baby's first prints at the hospital. I didn't get S' prints until she was much older and totally regret that.
Car Seat Canopy: I packed this puppy in case it's extra cold, sunny or rainy when leaving the hospital.
Swaddling Blankets: I couldn't decide which one so I packed a few muslin blanket options, as well as a velcro swaddle.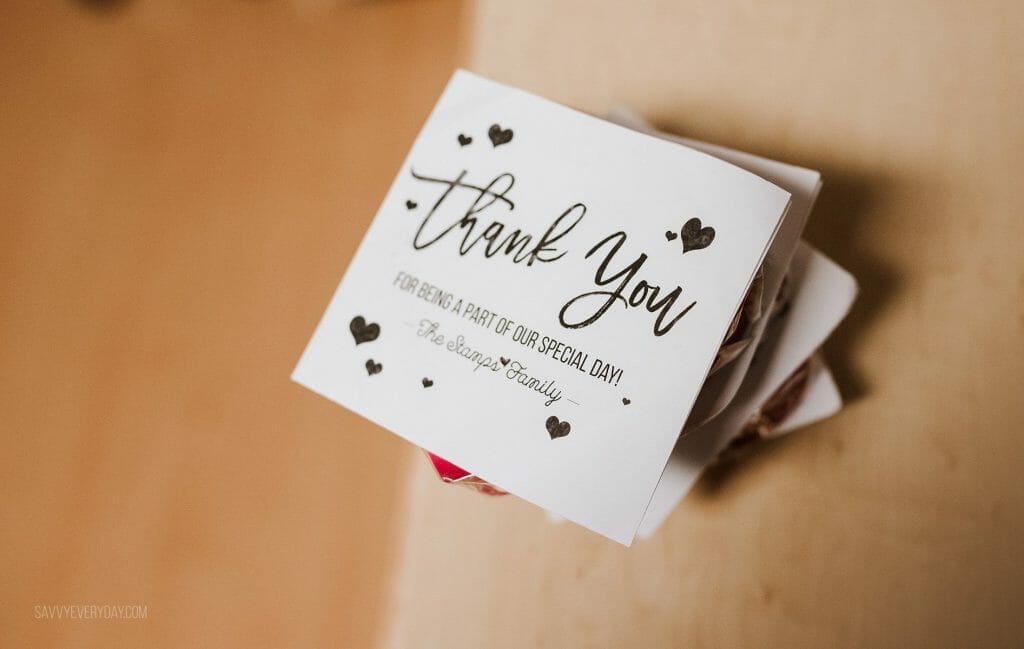 Husband Items
The Birth Plan: Because I was doing Hypnobabies,— which requires deep relaxation and focus— handing out the birth plan fell on my husband's to-do list. I had my birth plan typed up and attached in the form of a thank you note to little heart-shaped boxes of chocolates for each of the nurses so that the hubs could easily hand them out and the nursing staff was more likely to actually read and share the info.
Gum or Breath Mints: Bad breath can definitely interrupt any positive feelings or relaxation you're trying to establish with comfort measures, so this is important.
Swim Trunks: Showers are amazing during contractions or "pressure waves," but the nursing staff doesn't need to see your butt naked hubby, so he should prob bring a pair of trunks for supporting your relaxation in the shower.
Large Bath Towel: Because hospital towels can be tiny and he can't use mine.
Spare Clothes: Just in case he gets some blood or poop or you know . . . whatever on his clothes this it's best to pack spares. Plus, he'll want to change after staying overnight in the hospital with you.
Toiletries: A toothbrush and toothpaste are essential, but a towel and other items to help him feel more like himself and less like a person who has been up for 13 hours in the hospital are also important.
Chargers: Not knowing how long we'd be at the hospital, I packed a phone charger in my husband's bag for use to share.
Wagon: It's a lot easier carrying my bag of items, the husband's bag of items, the birthing ball, the pillows and blankets we brought and any other items picked up at the hospital after the birth when there's a wagon to help hold it all. It still might require a few trips to the car, but a wagon can be a huge help.
Title:
What I Packed for My Second Birth
Mentions:
birthing, dad-to-be, hospital bag, hospital birth, mom-to-be, ne parent, new baby, packing, parenting tips, pregnancy, second birth