What I Packed in My Hospital Bag
It's been a little over 4 years since I gave birth to Savannah, but I thought it would be fun to share what I brought in my bag . . . and what I actually used, aside from a general "What to Pack in Your Hospital Bag," which I'll add later, too. Look through and let me know if you've tried any of these items and what you packed for your little one's arrival!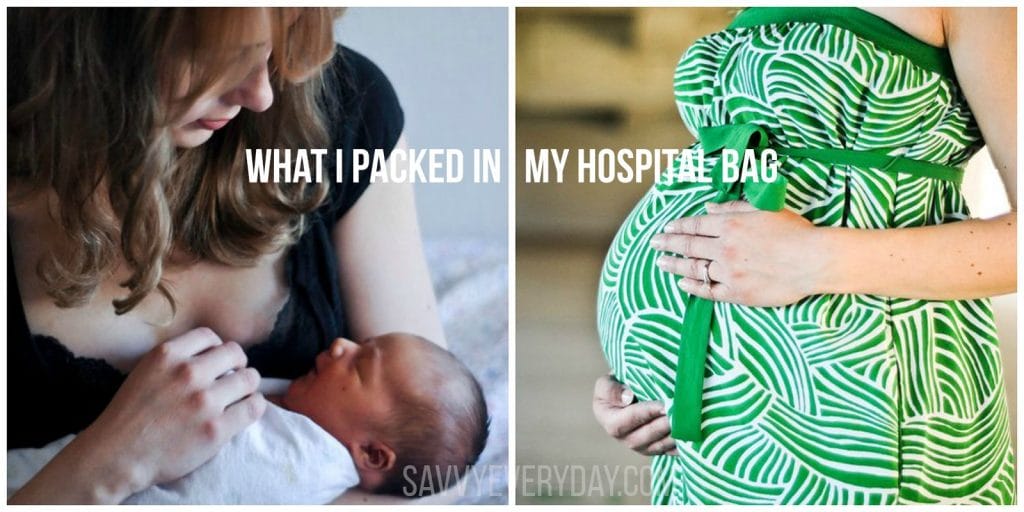 This post may contain affiliate links. Thanks for keeping Savvy Every Day running!
1. Soothing Kit

I got this lovely Beginning by Maclaren 7 Piece Travel Kit For Baby ($24, Dermstore) in a goody bag at my very first SF Birth & Baby Fair. Everything in the kit smells amazing, but I especially wanted the room spray and candle in the hospital room with me. I think I might have used the spray but didn't get to the candle. After Savannah was born I used the room spray a lot, and the massage oil when taking a baby massage class, and after bath time.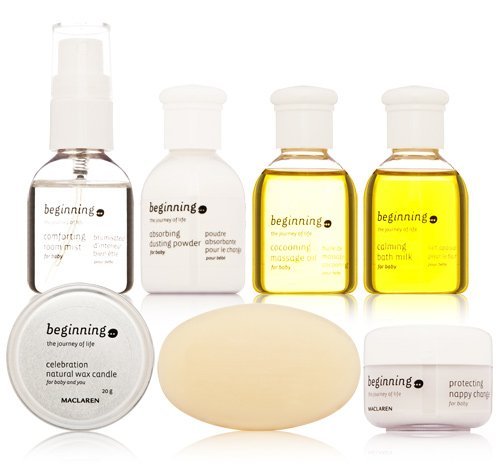 2. The Hospital Bag Itself

I bought this Loved bag by Heidi Klum at Motherhood maternity and I just adored this bag (sadly don't have it anymore and can't find the image online.
3. Music
I set up a Push Playlist and put it on my iPod for me to listen to at the hospital to take focus off any pain and make it more fun. Yea, that didn't happen. There was even a point where I wanted everyone silent so I could focus.
4. Push Dress
Instead of wearing an uncomfortable hospital gown, I wanted to wear something of my own while delivering so I bought an I Dream of Sushi Pretty Pusher. Once at the hospital I changed into my Pretty Pusher (the only style they had at the time) and started labor. Since I was only 1 cm dilated but S' heart rate was over the top, the hospital induced me and broke my water. Going in, I planned on a natural birth, but by about 9 cm I asked for an epidural because their breaking my water quickly like that was quite painful. They had me take off the Pretty Pusher and wear one of their gowns then because the slit in the back wasn't low enough (I think Pretty Pusher has made it lower since then). Side note: I regret getting the epidural because I was so close without it, and it made it hard for me to feel when to push on my own.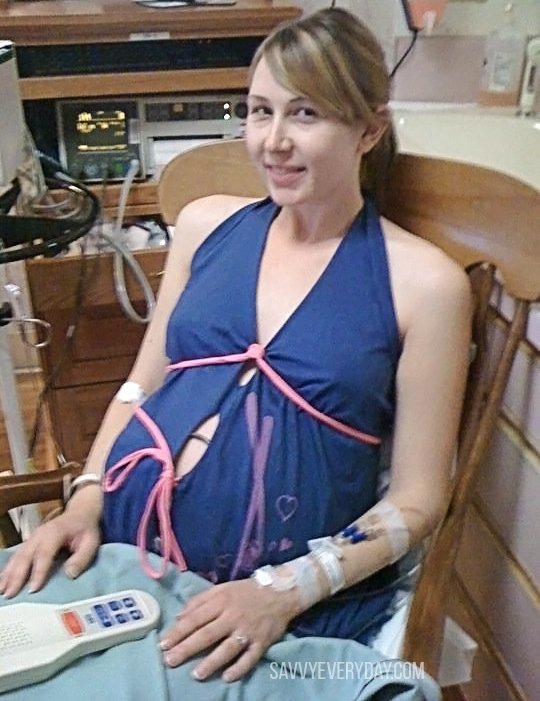 5. Baby Outfits
I wasn't entirely sure how much Savannah would weigh when she was born so I had a few newborn outfits picked out for her and kept in my hospital bag. When she was born I actually just kept her wrapped in the blankets until the hospital photographer came around for a picture, and discharge when I dressed her up to go home.
6. Personal Care Items
This includes makeup (yep, thought I'd be wearing that and have pretty birthing photos but it didn't happen), which I put on after my first shower the next day, a toothbrush & toothpaste and all my shower items. I'm so glad I brought this stuff. Whether you think you'll shower at the hospital or not, bring it!
7. Clothes For Discharge
I packed a change of clothes for me to wear the next day, too. Changing my clothes after a shower and finally being able to use the bathroom without complications (yea, I went there, TMI town), well, it was so nice. I was up late delivering Savannah (you can see the circles in my Pretty Pushers pic above), then all night just staring at her in awe once she was born, so the shower was necessary to wake up and get refreshed. The picture below is actually from when I first got home from the hospital. Big difference in eye circles, right?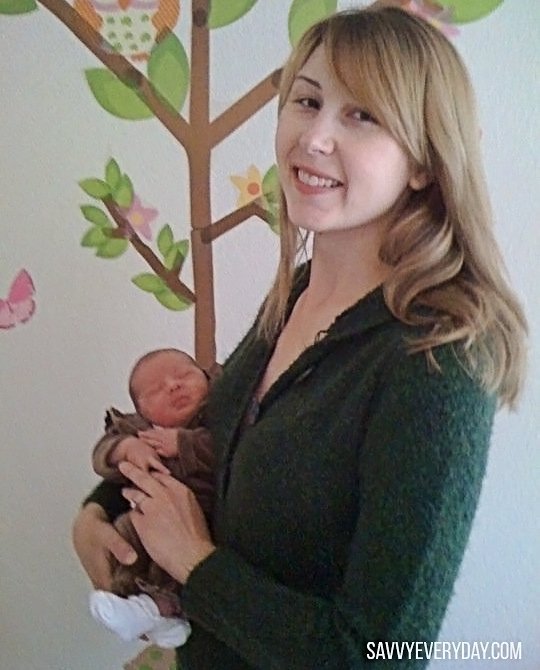 8. Balance Ball
So my balance ball (the kind with sand inside for stability) didn't actually fit in the bag, because mine was already inflated, but I totally recommend working through contractions on a balance ball over sitting in a bed or rocking chair. I was on this most of the time and everything went very smoothly with it until the hospital staff told me I had to go in the bed because they were breaking my water and what not, then do the rest there.
9. Birth Plan
Yea, I packed my birth plan and immediately handed it to an RN (like she was going to read it), then I went in the hospital room and the "birth plan" was a thing of the past. What I learned from this is that birth is always different each time, and with each person. It can be very unpredictable so it's great to have a plan, but you need to understand that things will likely not go that way. Another bit of advice I have from that experience is to advocate for yourself. Since I was in a hospital room I had to make sure whatever I did was within their rules, but it was also my birth, so I should have been more vocal (and brought more advocates) about what I wanted in my birth. I learned about doulas after having my daughter, and I kind of like the idea.
10. Slippers
The hospital gives you grip socks to walk around in after giving birth, and I recommend you use those instead of any other soft slipper or socks you might bring. I could barely walk after birth because of the epidural and would have slipped if I used my own slippers.
I hope this list helps to give you a few ideas of what you may or may no need in your birthing bag. If you've already given birth, please share your did and didn't needs in the comments below!