The Ultimate Star, Moon and Cloud Baby Registry
Nursery rooms and baby showers have a theme, so why not your baby registry? Focusing on a theme can help make putting the shower together a bit easier, and also help ensure that the mom-to-be gets items that she actually needs and wants for the new baby. Since my nursery room is star, moon and cloud themed with gray, white and mint as the main colors, I created an ultimate star, moon and cloud baby registry to share! From something for the big sis or big bro-to-be to items needed for diapering (minus the given wipes & diapers) and bedtime, you'll find this is a super complete list of musts for families expecting for the first time or again. Be sure to enter the giveaway at the end!
Some items in this post were received for review. May contain affiliate links. All opinions are mine alone. Thank you for your support!
Sleepy Time
1. DockATot Delux in Mrs. Mighetto Night Night: Naptime and playtime just got a lot easier! Use this as a space for tummy time, cushion for under a play gym, or as a safe space for baby to sleep between feedings. I'm so excited to use this during the day while the big sis is at school and it's just me and baby.
1. Bébé au Lait Twilight Nursing Pillow: Not only is this gorgeous pillow shaped like a crescent moon to snuggle your body for feedings (or a laptop during work time), but the pattern is adorable!
2. Name Bubbles Star Write-On bottle Labels: Whether you're just trying to remember when your breastmilk was pumped or a bottle was made, or if you're trying to let day care know which bottles belong to your kid these star bottle labels are a must! They can withstand the bottle being warmed up and you can erase and re-write all the info on them.
3. Gel Pads for Breastfeeding: I remember buying these when I was breastfeeding Savannah and oh my goodness they are a blessing. If you plan to breastfeed, be sure to get these or something similar to soothe the aches that come with nourishing your little one.
4. Baby Zala Multi-Use Shawl: I'm not a minimalist per say, but who doesn't enjoy items that have multiple uses to cut down on the clutter? This shawl is unbelievably soft, super fashionable, and works for nursing if you feel like you want to cover up.
1. Just Born Sparkle Collection Blue Gown and Hat Set: The moment I saw this outfit I knew it would be the perfect first outfit to put on baby before leaving the hospital. It fits my star theme and is a great price.
2. Cat & Jack Sleep Gown 2-Pack: This particular 2-pack includes a super cute organic cloud gown!
3. Cat & Jack 5-Piece Bodysuit Pack: Again, great price for a set and super cute stars.
4. aden + anais Long Sleeve One Piece: I am totally digging the star metallics that are popular right now and this is no exception — It's gorgeous.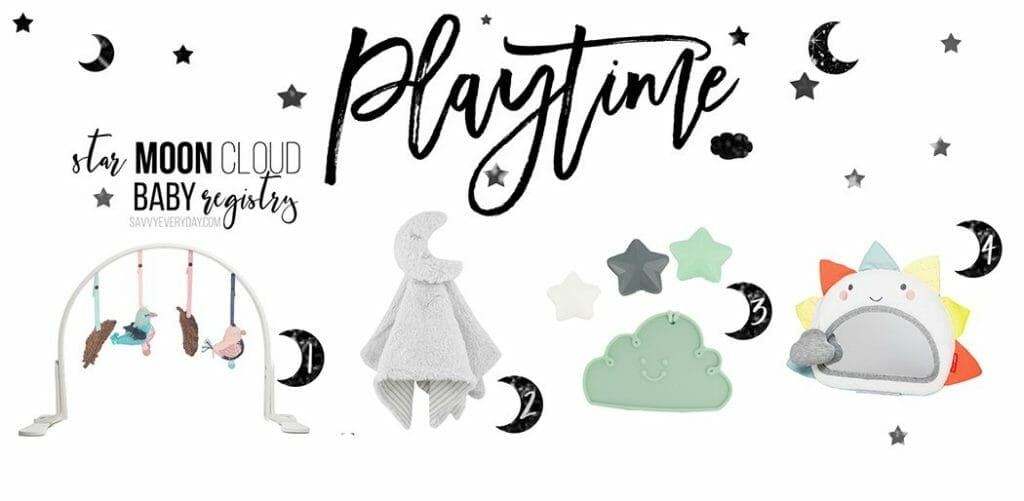 Playtime
1. Finn + Emma Feather Play Gym: This isn't a star, moon or cloud item, but birds are in the sky too and it's simply a beautiful item! I love how Finn + Emma products are made from the safest materials and with simple, functional design in mind. I plan on using this adorable play gym over the DockATot.
2. Just Born Moon Plush: Great for making babies laugh during diaper changes, but also for a ton of snuggles once the kiddo gets older — Win!
3. Chomp Chew Beads Cloud & Stars Teether: Since teething time is inevitable, why not make it fun? This adorable cloud teether has little grips on the back to massage the gums and make holding it easier. Pair it with one of Chomp Chew Beads' star silicone teething beads for a super cute personalized teether! Ask them about their Starstruck DIY teething necklace kit made exclusively for Savvy Every Day, too! It's a silicon bead kit made up of my mint, gray and white registry/nursery room colors that allows you to make several of your own teething necklaces. Use code SAVVYEVERYDAY15 to save 15% off until March 31, 2017.
4. Cloud & Sun Activity Mirror: Isn't this adorable? I love how unique the design is!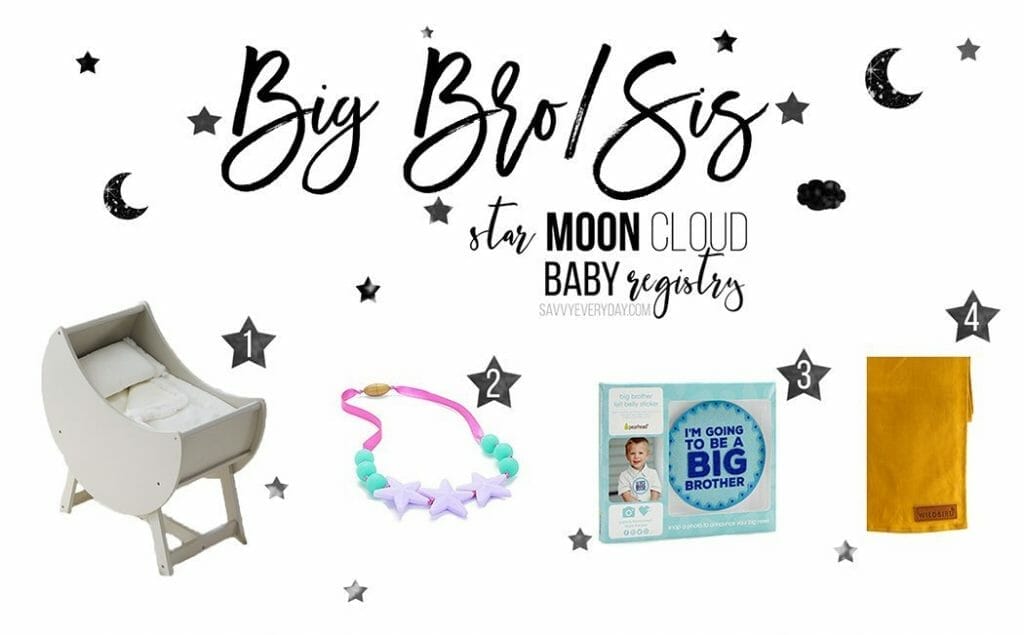 Big Sis or Bro
1. Baby Doll Moon Bassinet: In case you're able to get your hands on the moon bassinet I mentioned earlier for Sleepy Time, this would be an adorable "just like mommy" item to get the big sis or big bro.
2. Chewbeads Broadway Jr. Necklace: This teething necklace totally fits the star theme but is also functional, fashionable and fun for kids. It glows in the dark and helps kiddos to feel like a big helper or "just like mommy" when baby is teething.
3. Big Bro Felt Sticker: Super cute sticker for big-bro-to-be to wear at the baby shower and on delivery day. There's also a Big Sis Felt Sticker to help big sis feel a part of the baby shower festivities and special on delivery day.
4. Mini Ring Sling: How cute would it be to get a ring sling for big bro or big sis to babywear their own doll while mama wears the new baby? A friend of mine bought me a gorgeous golden ring sling (kinda like the stars in the sky at night) and a matching mini for my kiddo. It's just the best!
Mama
1. Wonderment Jewelry Star & Moon Mama Metal: The first time I saw Alicia's designs I was ecstatic! I'd been hunting for functional jewelry that fit my theme, and what's better than mama metal?! This wasn't around when S was a baby so I was super excited to get a custom star and moon necklace from Alicia for my art nouveau maternity photos. I'm even more excited that she's giving one away to one lucky reader in this post, too! (Read to the bottom of the post for details on how to enter.)
2. Pearhead Baby's Little Organizer: If I don't have a designated spot for certain things they end up here, there and everywhere . . . and really hard to find when I'm looking later. This organizer helps keep everything from first ultrasounds and bump photos to hospital documents all safe and secure in one spot. It even includes tabs labeled for everything that you may need to keep track of during baby's first year. Fantastic gift!
3. Pearhead Gold Star Milestone Stickers: This is in the Mama category because we all know it's mom who cares about photographing each and every month. I'm hoping to design some fun milestone cards for tracking my little's growth but in the meantime added this to my registry because there's a 99% chance I won't get around to making my own and these stars are perfect.
4. Pearhead Babyprints Frame: I love framed baby prints. When S was born the hospital told us they didn't do baby prints so this time around I was sure to get this set from Pearhead so that I can take the no-mess ink and paper with me in the hospital bag and get those very first prints before I forget. I recommend adding this to your registry for sure.
5. Ring Sling: There are several ring slings I want . . . and a ton of woven wraps with stars on them, but I really like this golden one that reminds me of the bright Sun or stars in the night.