Bohemian Wilderness Themed Baby & Toddler Shared Room
While nesting in preparation for Nora's Birth, I decided to convert my office into a shared room for Nora and River. Though it's a fairly small room, the long layout allows each kiddo to have their own side, as well as a shared space to play in. River's side of the room is all about adventure in the mountain wilderness while Nora's side of the room is airy bohemian florals. It really came together nicely and is one of my favorite rooms in the house.

Both kids still co-sleep with us but it was important that they had their own space for toys as well as beds for naps/rest whenever needed. Though I really enjoy designing and decorating the kids' rooms, our budget doesn't allow for a big overhaul all the time so I wanted to give both Nora and River their own unique spaces in a shared room that would compliment each other and also grow with the kids as they get older.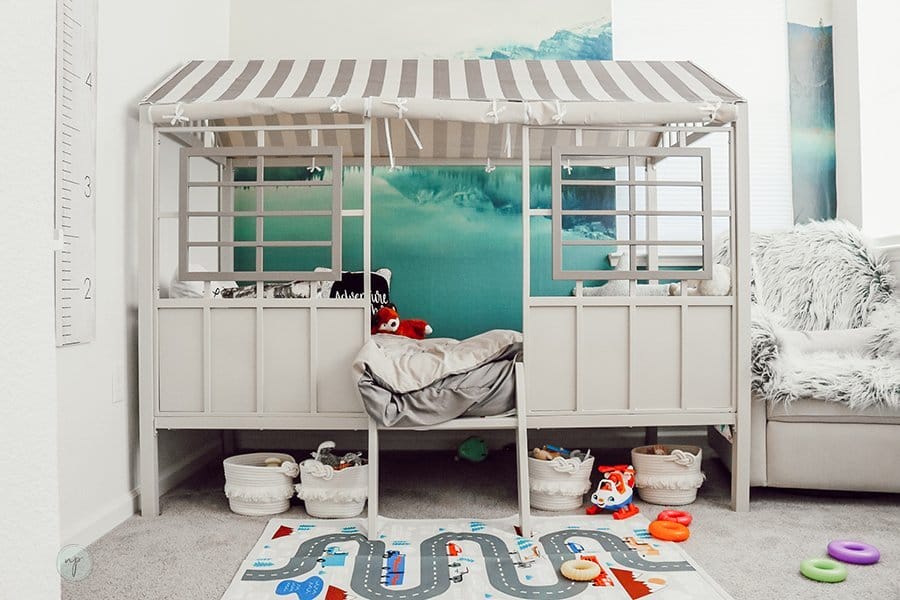 Mountain Themed Side of the Shared Room
I knew that I wanted to base River's side of the room on his name so I hunted for wallpaper with lakes, rivers or some sort of water element. It took a while to find one that wasn't $400+ (I got it for about $70). From there, I found his cabin inspired bed. Once I saw it I kind of had to have it. There was no other bed that would do for that room. This made for a tight fit with a glider/rocking chair that we had, but it works. I absolutely love the mountain adventure side of things. The little mountain road playmat and fringe baskets really fit well in the space too. See more of River's room, here.
---
Shop This Space

---
Floral Bohemian Side of the Shared Room
Figuring out a cohesive theme for Nora's side of the room was really difficult because I wanted it to either compliment River's wilderness side of the room or be a stark contrast. Since I didn't know what her name would be I couldn't find my way to a theme based on that. I was really focused on the fact that she was due in December and thought about wallpaper with snow-covered birch trees or decals of holly and other festive florals. I also considered a sort of desert theme with a cactus growth chart and the Sun pillow that's in her crib in the photos. That theme led me to pick up some paler floral items that might lend themselves to the desert, which made her space very floral.
I switched out the mint legs and knobs on the Babyletto Gelato crib that was in River's old nursery room for the natural wood ones they originally came with for a more neutral look. Then I added a pink canopy that used to be in my eldest's room and a string of battery-operated sparkly LED lights. Target had some cute celestial ornaments around Christmastime (metallic stars and moons) so to make Nora's space more bohemian and also pay homage to River's old celestial nursery theme, I picked a crescent moon to decorate a ring of well wishes that was made by guests at my Mother Blessing. The final touch? Nora's name. Once we picked a name for her when she was born, I was able to order "Nora Noelle" in wooden letters from a friend for the wall. See more of the space, here.
---
Shop This Space

---
Center of the Shared Kids Room
Between the rugged wilderness and the soft florals is a neutral area with a dresser/changing table and space for the kids to play. I also brought in a cloud bookshelf from River's old cloud, moon & star themed nursery to match his new wilderness/outdoors side of the room and paired it on a wall with a lovely gold shelf that represents Nora's side of the room.
Since this room was built to be my office we had to take out a closet shelf or two to install a hanging rod for their clothes. I like to put pants, pajamas and socks in dresser drawers and hang everything else because it makes finding clothes that fit so much easier with kiddos under 2.5 years old. I'm also a fan of clothing organizers so I made River some mountain-themed organizers (get the free printable below) for his side of the closet and plan to hang all of his clothes on only grey hangers. In the coming months, I'm hoping to make some floral clothing organizers for Nora's side of the closet, but I'm using the celestial clothing organizers from River's old room with white hangers in the meantime.
It's a fairly deep closet so there's space you can't quite see in the photo — it makes the perfect space for storing large toys on the ground and little ones in the baskets on the shelves. I have some boxes that I still need to put away in the proper place there as you can see in the photos too haha.
---
Free Printable: Mountain Themed Baby Clothing Organizers (Newborn-2T)
---
How do you create unique spaces for your children in a shared room?
Title:
Bohemian Wilderness Themed Baby & Toddler Shared Room
Mentions:
baby's room, family home, floral nursery room, home design, kids room, kids room design, kids room ideas, m, mountain themed kids room, nursery design, shared kids room, shared room, sibling room, toddler loft bed, toddler room shared kids room inspo, unique rooms, unique spaces
Keywords:
shared kids room, shared room