11+ Clever Halloween Costumes for Pregnant Women
There aren't many options for pregnancy costumes at the store — let alone unique ones— so we've rounded up a list of some of the best preggo costumes we've seen around social media — including a pregnant Morticia Addams costume. Whether you're looking for an elaborate Halloween costume you can wear out to a party with your partner, a simple outfit for going out solo, or a cute costume to wear while taking the kids trick-or-treating there are plenty of options in this list of clever family halloween costumes with a pregnant mom. Take a peek!
Pregnant Morticia Costume
Who could forget the Addams Family? Morticia was pregnant in Addams Family Values, making this pregnancy costume for couples or families by Melanie at Loft 3 Photography perfect for this roundup! Carry around some grey knitting for the full effect.
Clever Pregnant Housewife Costume
There's been a long-running joke about the housewife who has an affair with the milkman, making this milkman baby costume Pinterest user, Vanessa, created when she was 8 months pregnant all the more hilarious. It's relatively easy to make using items you have, too! Just look for a blank cap to write "Milkman" on.
Winnie the Pooh Costume
Here's a totally family-friendly clever pregnancy Halloween costume you can also wear without peeps in coordinating costumes— Winnie the Pooh! Simply pick up an adult version of the costume at the store (or online) and walk comfortably this Halloween. Instagram user Sara added coordinating nail polish and a sweet bear nose to her costume.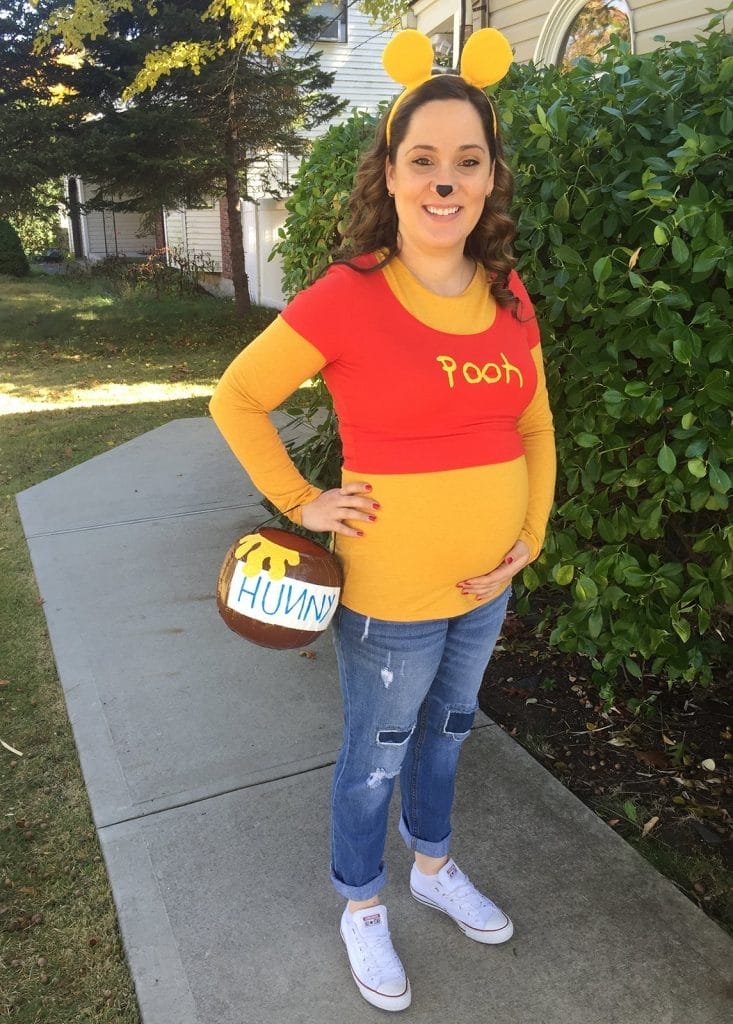 Kanga (With Roo) Costume
Not a fan of being Winnie the Pooh but love the stories? Instagram user, Kaylan, came up with the idea of being Kanga with Roo instead! "After all, my son was a little jumper. So I went online to look for ideas but I didn't like any of the costumes. I bought a cheap $15 dress from Forever 21 and some material from a craft store and made one myself. The ears are also handmade. I sewed two ears, stuck thin flexible wires through and fasten them to a headband." Talk about an adorable clever DIY pregnancy costume!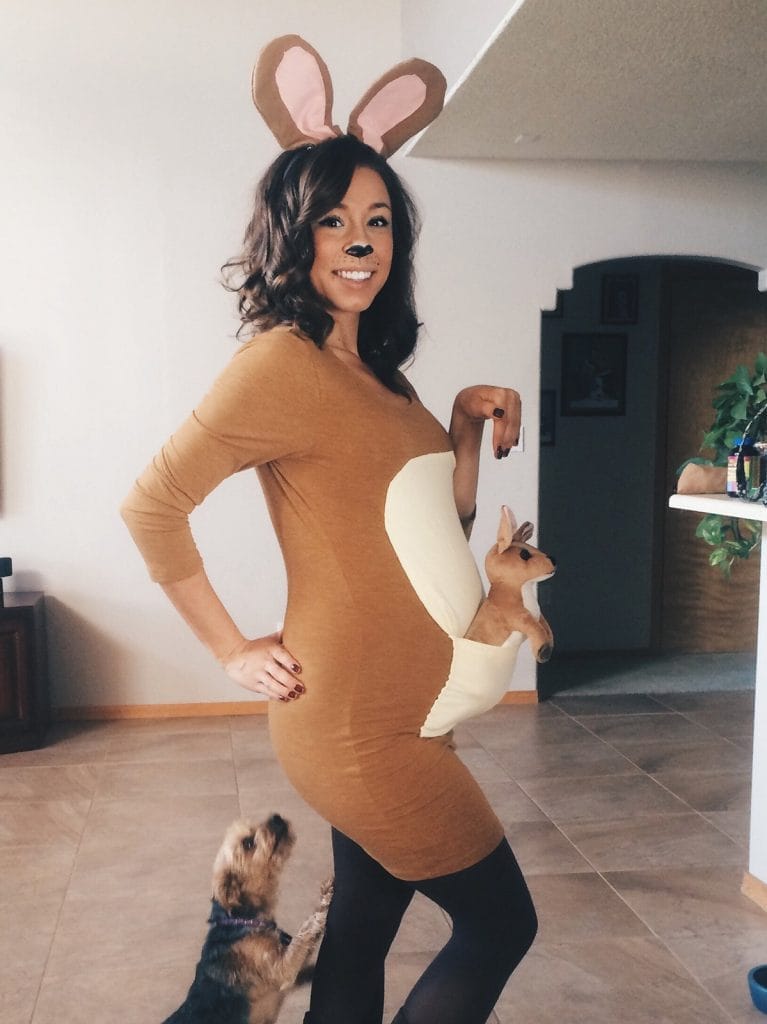 Pregnant Juno Costume
One clever family halloween costume with a pregnant mom that's been a hit for years is Juno. It's perfect for couples and doesn't usually require buying anything. "Our Juno couples costume was a last-minute, no cost costume idea we threw together for a Halloween party. I saw the idea on Pinterest and then looked in my closet for similar clothing." — Sheila of With Love, Sheila
Milking Cow Clever Pregnancy Costume
This milking cow costume is a funny play on the "feeling as big as a cow" concept and the fact that moms sometimes feel like a milking cow when their little is a newborn. Instagram user, Tori, put this ensemble together using a black maternity shirt and pants, some paint, and bottle nipples!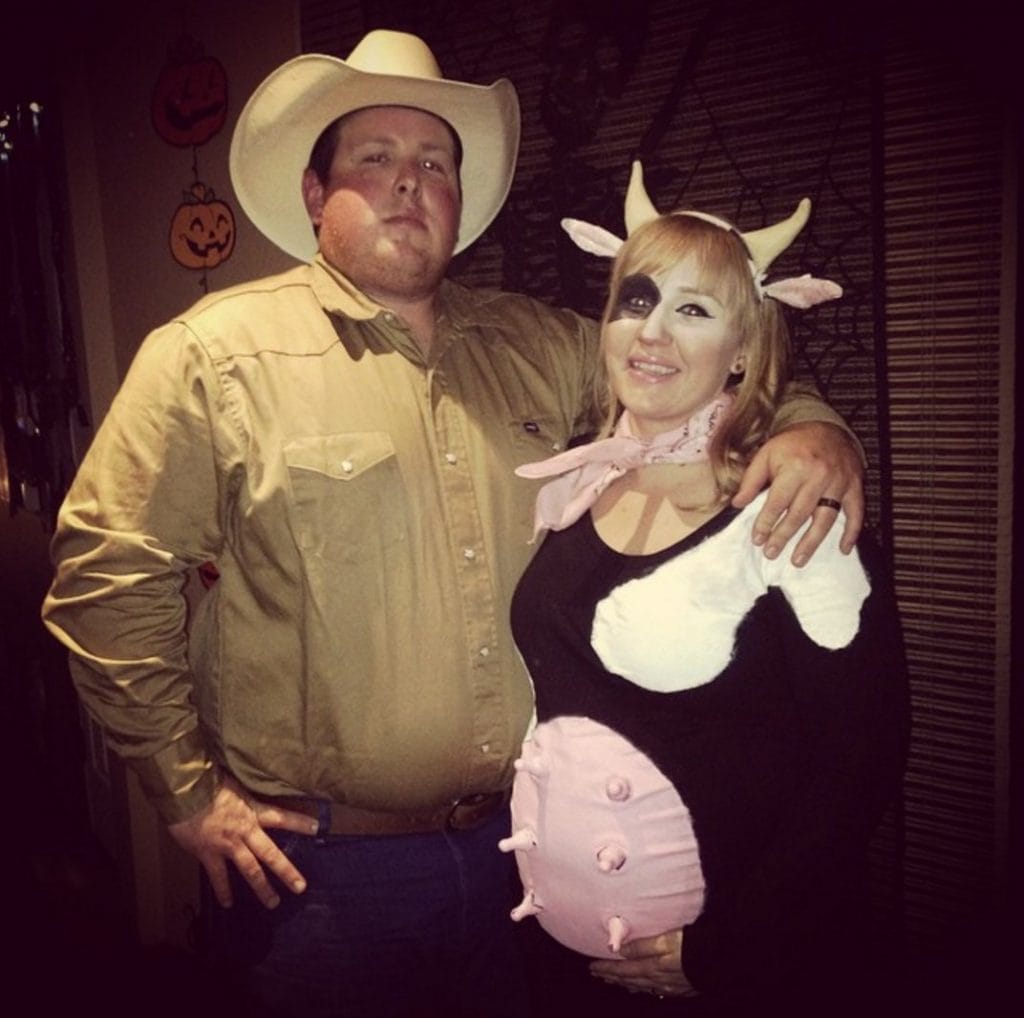 Snowman Costume for Pregnant Women
Love snowtime but want to participate in Halloween while preggo? This snowman costume by Facebook user, Robin, is perfect! Just put on a white shirt, wrap a scarf around your waist and add felt for the buttons and carrot nose for this clever Halloween costume for pregnancy!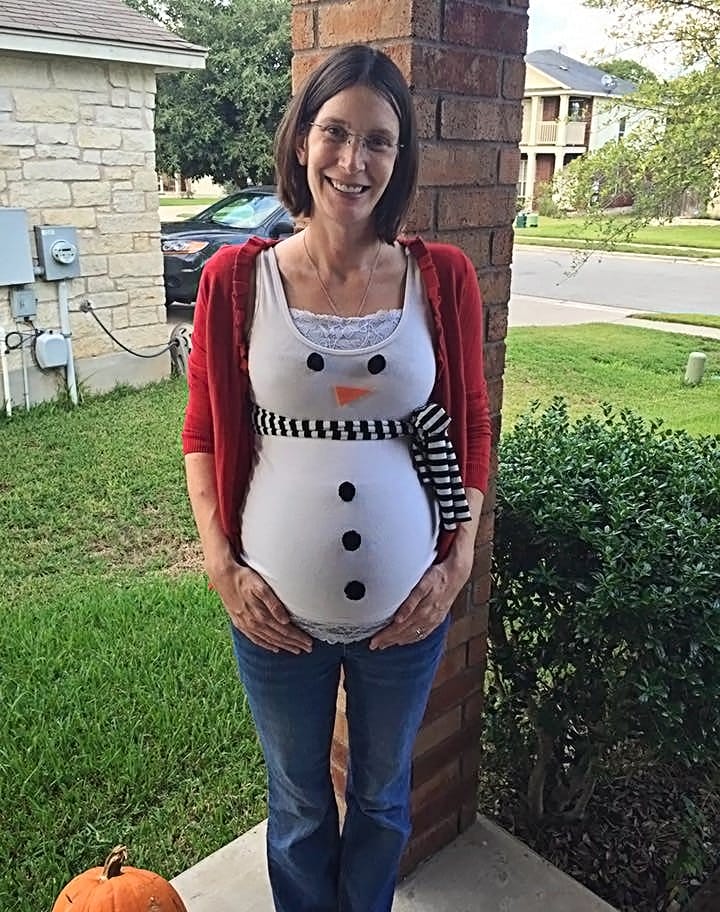 Under Construction Pregnancy Costume Idea
Have you seen the "bump ahead" maternity shirts? This solo or couples costume falls right in line with that! Instagram user, Sara, shares that she made the clever pregnancy costume using $5 hard hats and a $1 tool belt both from Home Depot. She printed the signs and stuck them on stir sticks to complete the look! "Hubby had a reflective vest already (for reasons unknown to me still). I got the idea from those pregnancy announcements that are by the bump ahead signs."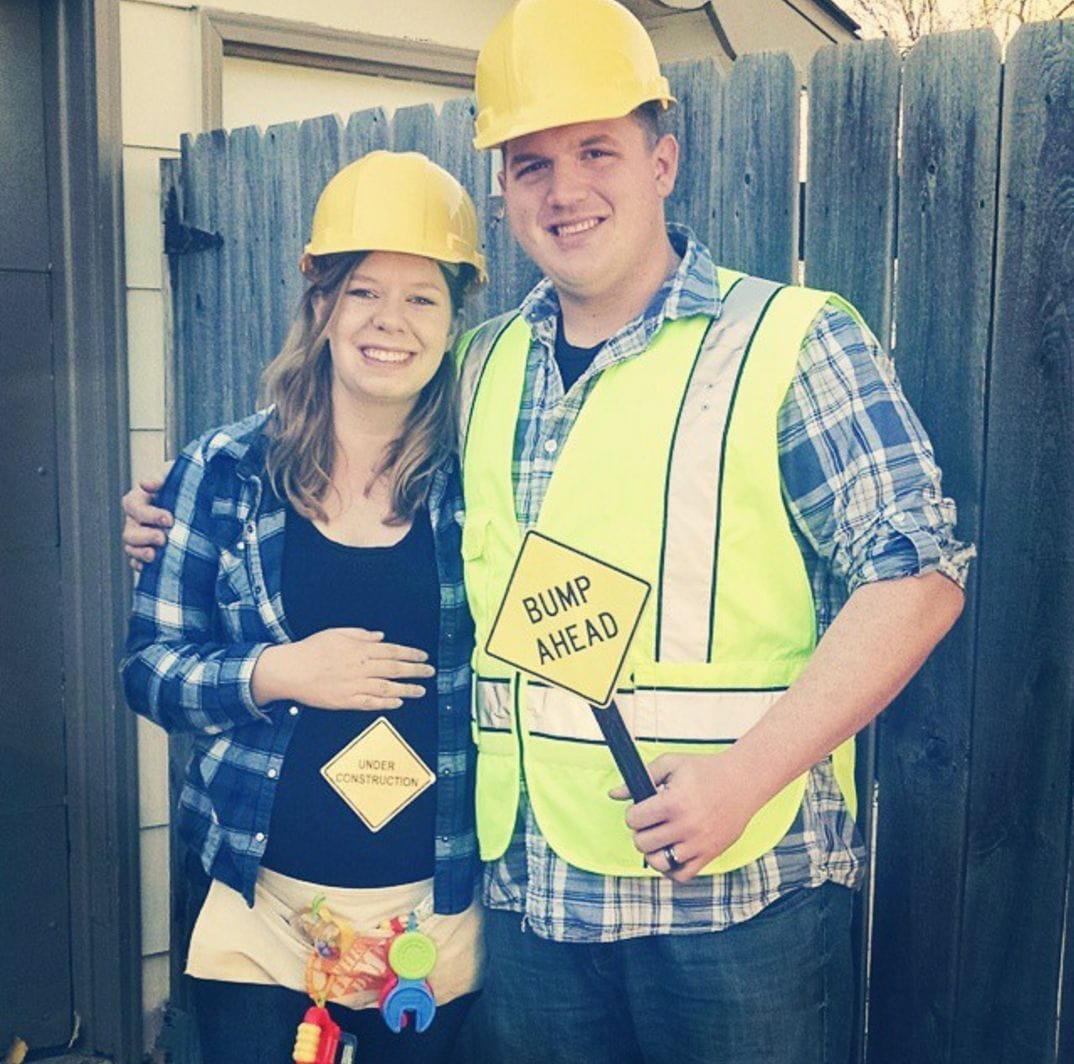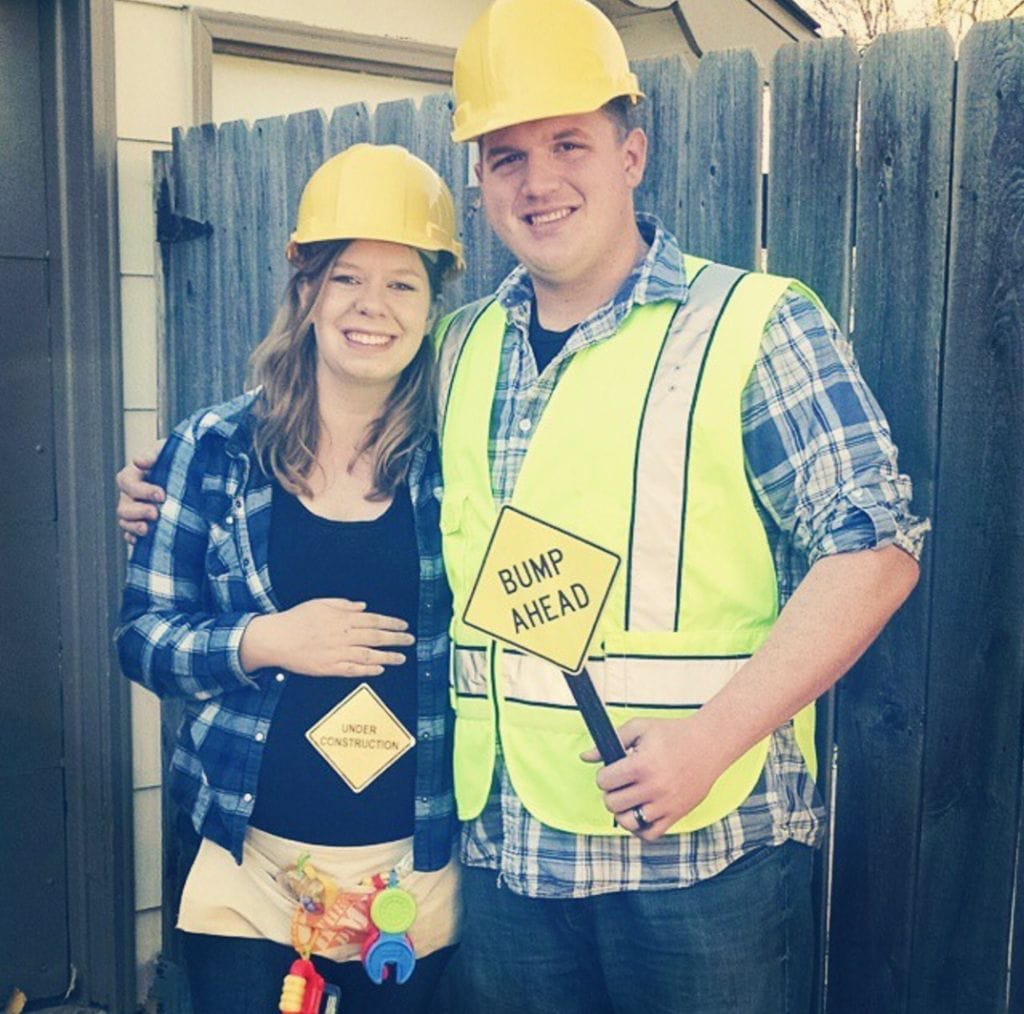 Pregnant Violet Beauregard Costume
Just because your little isn't the size of a blueberry anymore doesn't mean you can't be one! How cute is this clever Violet Beauregard pregnancy costume complete with an entire family dressed to the Willy Wonka movie theme? "I'm not really sure how I came up with the idea. My due date was No. 8 and my belly was comically large. My daughter loved the movie too (the original!) so it worked out perfect!" — Pinterest member Angela of Harlow Bliss Photography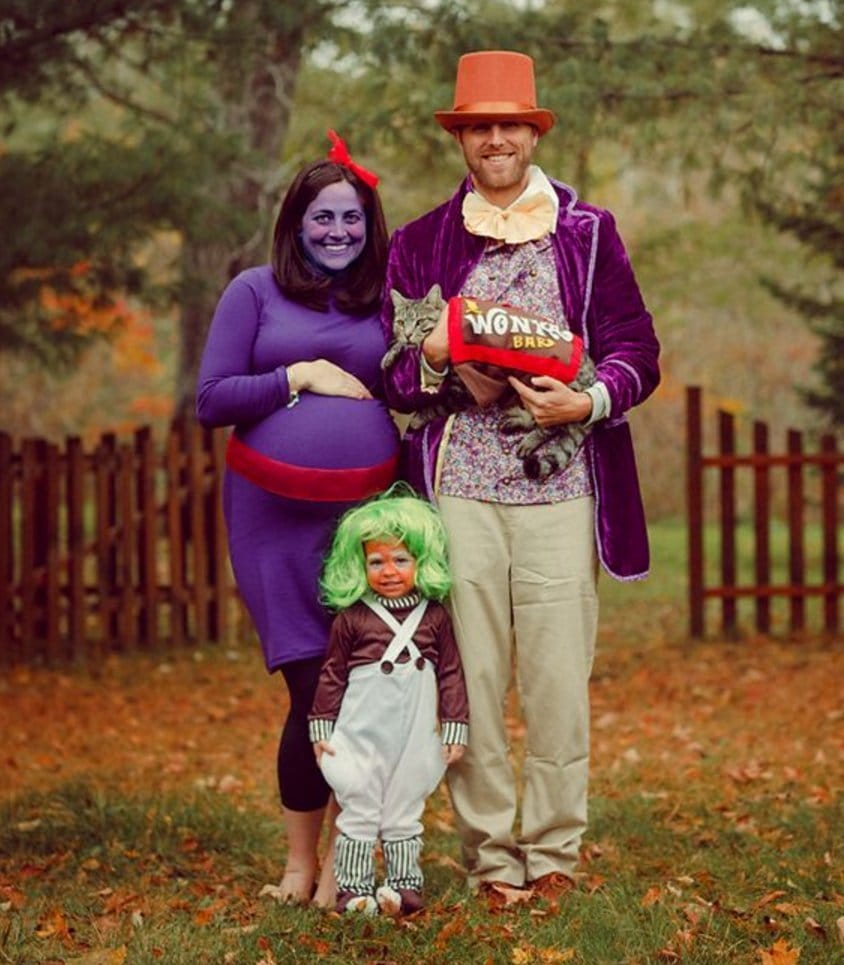 Clever Cat With String Pregnancy Costume
We all know how cats love their string! This cat and ball of string costume by IG user, Kylee, is adorable! "It's just made out of yarn hot glued to my shirt," she shares. Super simple pregnancy costume idea!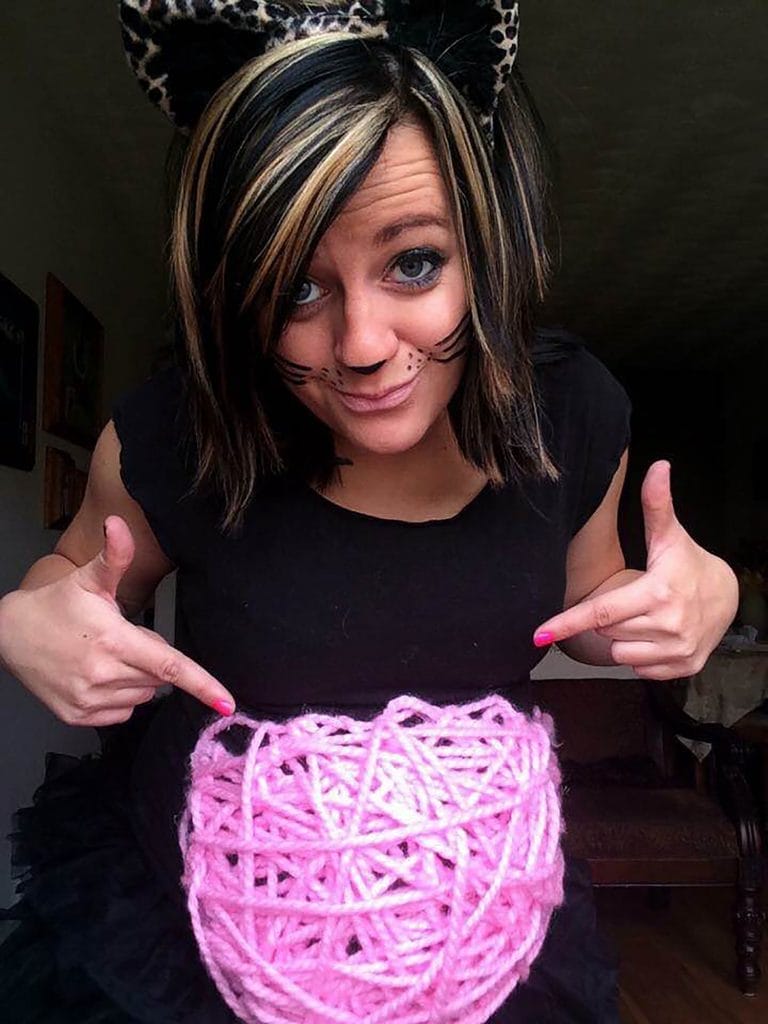 Cliche Pregger Costume
I think this must be the easiest clever pregnancy costume of all — Wear something comfy and bring along an empty carton of ice cream (maybe Three Twins if you're having twins) and a few pickles (I opted for a bag of pickle slices). After all, pregnant mamas want ice cream and pickles, right? Add some fluffy PJs and slippers, put your hair in a messy bun and this is gold. Photo by Sincerely, Me Photography.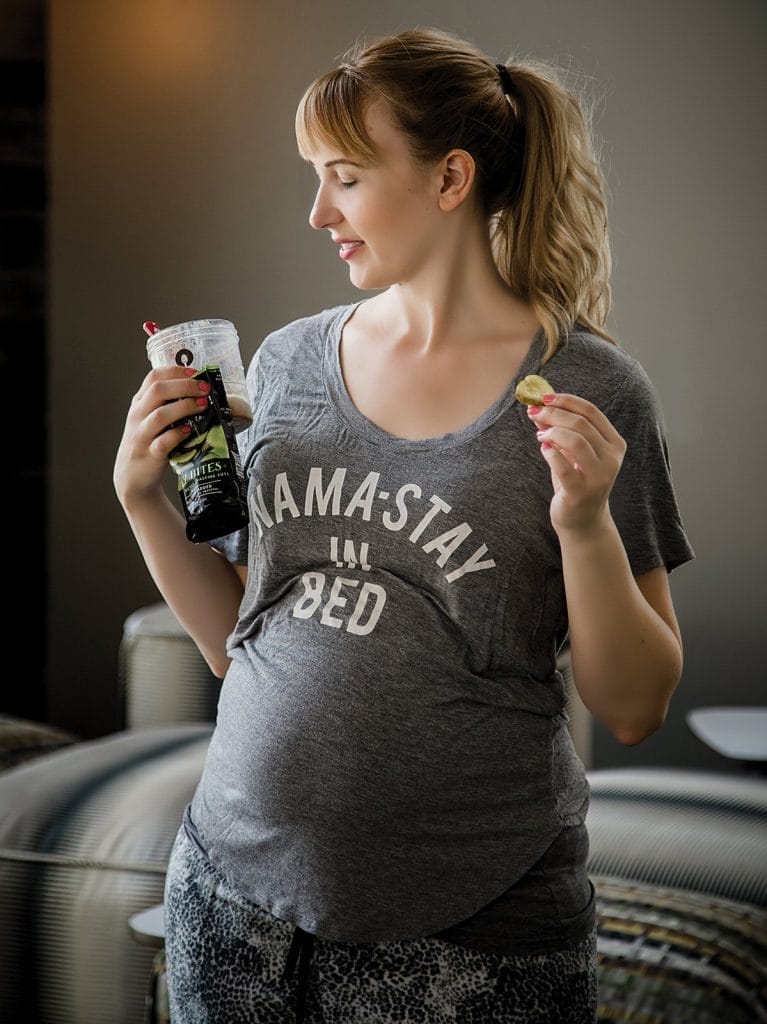 Other Clever Pregnancy Costume Ideas
Preggo Brittany Spears: Dress up similar to her Oops I Did it Again or Oh Baby Baby music video if this is your second kiddo.
Gumball Machine: Grab some red felt and glue on some tiny pom pom balls.
Preggo Waitress: Inspired by the movie Waitress, this costume requires a mustard waitress dress (add a collar if it doesn't have one) and pie! Bonus points if you curl your hair.
Alison from Knocked Up: This one's best if you have a curly-haired guy to walk around with you. But the costume is pretty much just a green tank and jeans, or regular kinda clothes with a bun.
Angie from Baby Mama: Since Baby Mama was a comedy this costume requires going a bit over the top. Add pigtails, makeup, and a slushie drink of sorts.
What are you going to be for Halloween? I hope this list of clever pregnancy Halloween costumes gave you some great ideas! Looking for family Halloween costume ideas? Check out this post.
If you loved this Halloween post, I think you'd love these ones too:
20 Halloween Candy Alternatives for Sensitive Kids
Toddler-Friendly Halloween Porch Decorations That Are Cute