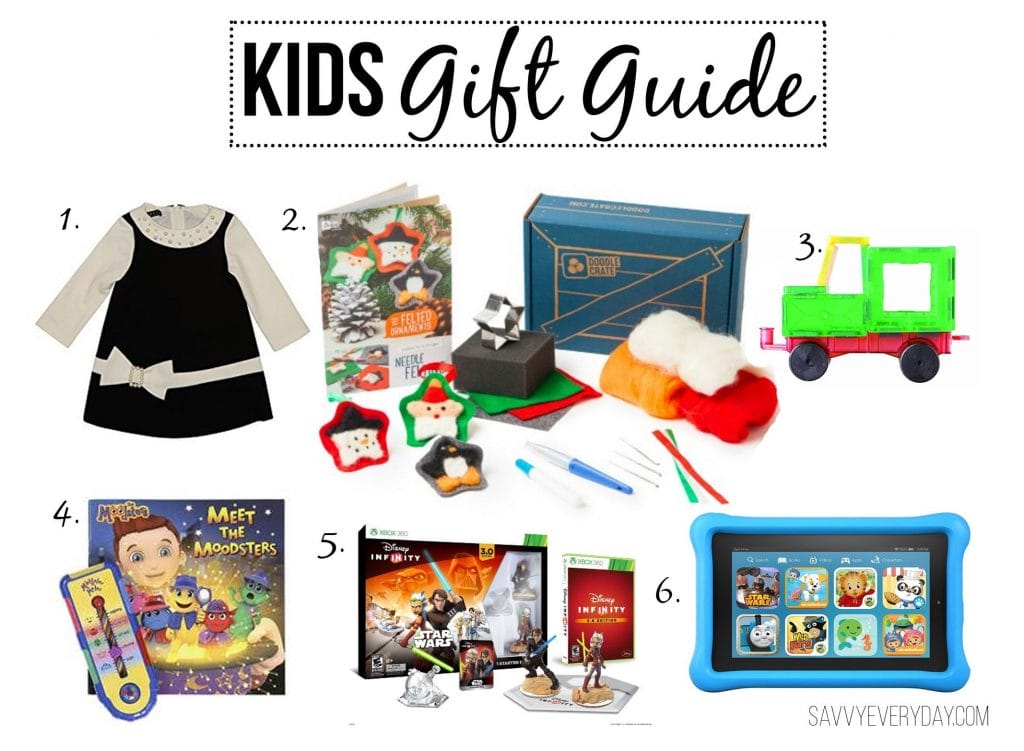 Not sure what to get the kids, or grandkids? It can be tough when they want everything in every single commercial on TV. Here's a simple list of items that could be great for ages 3 and up to get you started!
1. Perfect Harmony Bow Dress: These adorable outfits are perfect for the next holiday party, or a very special dress under the Christmas tree for babies, toddlers and preschoolers. My daughter is wearing the Perfect Harmony Bow Dress pictured above for Christmas. It's classy but still kiddo-approved. Best of all, she doesn't complain that it itches when she wears it! (25% off the site for Black Friday)
2. Kiwi Crate Subscriptions: Whether your kiddo is 3 or 18, there's a crate subscription for them! This is the perfect solution for gifting that allows for family time, or simply a fun activity. Plus, kids love to get their own mail. Koala Crate offers hands-on learning for little explorers, while Kiwi Crate allows kiddos ages 5-8 to explore, tinker and create. Personally, the original Kiwi Crate is one of my favorites. I reviewed it last year, here. Ages 9-16 and older may enjoy Doodle Crate, made for those who enjoy a good craft, art project or DIY. My sister actually has her own subscription to this so I was excited to try it out. I received a felt ornament project in the mail that was cute but definitely too old for my 4-year-old. I also tried out the Tinker Crate (my 8-year-old nephew's favorite), which is said to be appropriate for ages 9-16 and over. This one was a bit too advanced for me I suppose, but I really enjoy watching my nephew work on these experiments. (60% off your first month for Black Friday)
3. Playmags Magnetic Tiles: These are a slightly cheaper version of Magna Tiles, but said to be award winning. I especially like this set because it can be used to make the typical castle, house or box, but also a truck or caboose! These shapes are perfect for ages 3 and up to explore critical thinking while building, and also learn about shapes and colors.
4. The Moodster Meter: This toy and book set is a great gift for the kiddo in your life who sometimes has difficulty communicating how they feel or understanding emotions. Ages 3 and up get to read along as Zack tries to understand his emotions. Kids learn vocabulary for expressing how they feel and can share those emotions using the included meter!
5. Disney Infinity 3.0 Edition Starter Pack: According to my sister this is the game for kids in my nephew's age group this year. I'm thinking anything Star Wars is pretty much a win, so it had to be included in this list. The game is available for a bunch of different consoles, too. Best for ages 6 plus (then use your parental judgement), and it looks like the price is about the same for all consoles but slightly cheaper for X BOX ONE users.
6. Fire Kids Edition: If you're looking for a tablet to get the kiddo, why not get a real one instead of a "kiddo toy" version? The Fire Kids Edition comes with a 2-year warranty against spills and breaks, as well as a 1-year subscription to Amazon FreeTime Unlimited for all the kids apps and shows you would like, free! Download as much content as you would like then set parental controls for when the device will turn off after X number of hours used, or what apps and sites it won't allow.
Are any of these items on your list for the kids? What are your favorite?
I received a Biscotti dress, Doodle Crate and Tinker Crate, as well as Moodster activity to review for this guide. All opinions are my own.