Not sure what to get the lady in your life? Check out this list of 8 great wellness options. Whether it's about keeping her healthy or sane, these items are all pretty awesome (and under $150).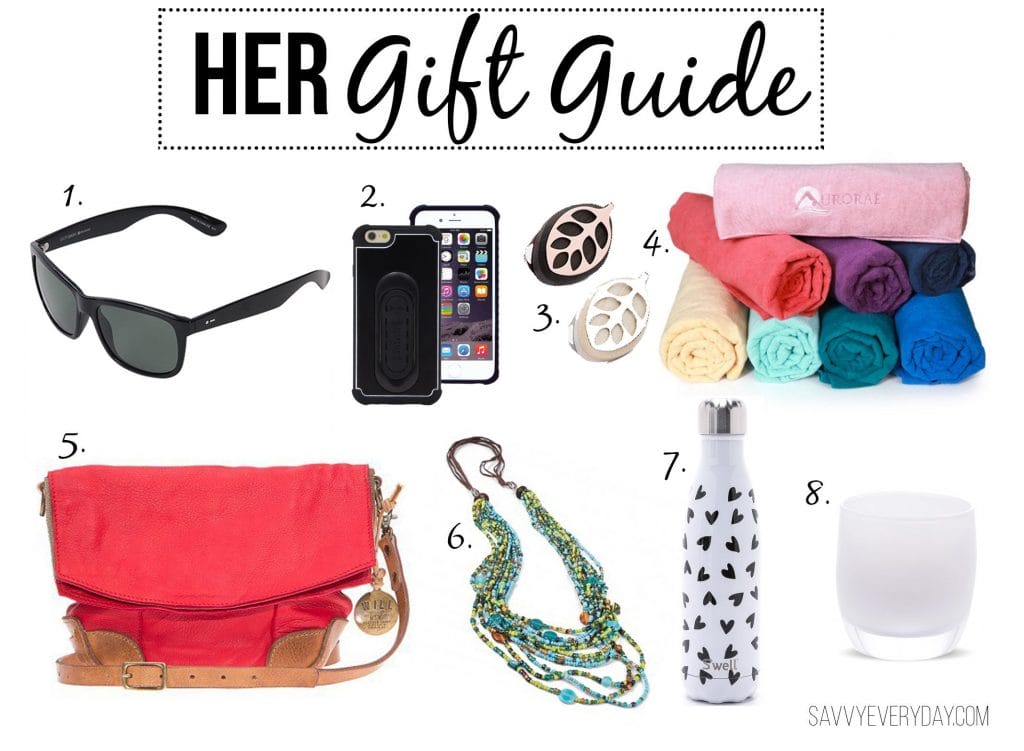 1. Dot Dash Poseur Polarized Sunglasses: Sunglasses are just as important in Winter as they are in Summer, and these Dot Dash Poseur Polarized Sunglasses are perfect for an snow glare while hitting the slopes for a sledding or ski day. I picked a pair of these up while shopping holiday gifts at SwimOutlet.com and am so excited about them. They're comfy, chic and protect your eyes with UV 400 Sun protection. $24
2. Scooch Clipstic Pro: Remember the days of slap bracelets? Well, now you can be an adult but still play with one. The Clipstic phone case includes military grade protection, but also a back piece that pops in and out like a snap bracelet for phone grip, placement in the vents while driving or a comfortable hands-free call. I've been pretty obsessed with mine, and love how the snap bracelet like stand can sit vertical or horizontal for me to enjoy a show or look at something while on the computer. $40
3. Bellabeat Leaf: This gorgeous little activity tracker is for those of us who don't want to wear a bulky watch thing to events or everyday life. The Leaf clips onto your shirt, the provided necklace or bracelet to be worn a variety or ways depending on your needs. It comes in Silver, Gold and Rose Gold to fit your style, too. This tracks your menstrual cycle, sleep, steps and activity, but also offers breathing exercises and cool health tips in the app. I'm trying to test one out now (I received one that didn't work so they're sending another) and honestly cannot wait to use it all the time. I'm so sick of trying to track my period on my iPhone calendar or somewhere else (I always forget), and this is definitely more me for activity tracking. $120-$150 for Silver and Rose Gold, $250 for Gold (out of stock).
4. Aurorae Sport & Beach Towel: While she's getting fit with her new Bellabeat Leaf, why not have her use a giant microfiber towel that instantly wicks sweat and moisture for the perfect yoga, barre or poolside towel? This towel is lightweight, easy to carry and comes in some nice colorful options. Pair it with a few wellness gifts like the Bellabeat Leaf, a Jamba Juice gift card or a massage. $25
5. Will Leather Goods Hazel Crossbody: This purse is stylish, slouchy in just the right way and comes in a gorgeous bright red, rust brown or black/brown with a "Weaver's House" fabric inside. The red is the only one in stock right now and it's on sale online, but may be in the new SF store once it opens in a few days! $147
6. World Vision Balinese Multi-strand Necklace: There's no gift better than that of knowing you've done something to improve the life of another person and you're appreciated. World Vision collects money for families and villages to afford things like goats, soccer balls, clean water, training, and other needs (85 percent of donations go to the workers/families), and also offers artisan made goods like this necklace made by a woman in Bali who strives to work so children can go to school in her area since she never could. Each gift (monetary or via a product purchase) is tax deductible (minus trade value of product if you're buying an item) and made with care. I'm giving away this necklace to one lucky reader at the bottom of this post! $85
7. S'well Dark Hearted Water Bottle: I'm personally obsessed with hearts and sparrows so this was an immediate want for me this year, but it also pairs well with a meaningful wellness gift like the Bellabeat Leaf, Aurorae towel and Bali necklace above. It's important to stay hydrated in Winter, and you should let the person you care about via these sweet hearts. This beauty is 17 ounces and keeps drinks cold for 24 hours or hot drinks piping for 12 (I think the hot cocoa is calling). $40
8. Glassybaby Hope Votive: Founded by a mom while battling cancer who discovered that other patients could use the hope of a votive light, Glassybaby is a family run, charity-driven business that utilizes the skills of glass artists on a full-time basis so that they're guaranteed work. Every Glassybaby votive or drinking glass (though you can use the votives as a glass, too) gives back to a special cause. When I went to the pre-grand opening of the Glassybaby store in Berkeley the Hope votive that donates 10 percent of sales to the Seattle Children's Hospital Emergency Patient Assistance Fund really spoke to me. Glassybaby has given $3 million to charity so far! $44
Balinese Multi-strand Necklace Giveaway

Rules: Must be age 18 or older at time of entry. Open to U.S. residents only. All entries will be verified, all rules must be followed. No spam or fake accounts will be chosen. Winner will be notified that they won by Dec. 3, 2015 and have 24 hours to respond to congratulation email before another winner is chosen. No cash replacement. This giveaway is not associated with Facebook, Instagram, Twitter, Pinterest, or YouTube.
I reviewed most of the items included in this guide to verify that they are a good fit. All opinions are my own. I hope this is helpful for your shopping this season!