Summer is the perfect time of year for a family road trip. The kids are out of school and you have just enough vacation time saved for an extended weekend adventure, or maybe even a big getaway. My family usually road trips from Nor Cal to So Cal at least 2-3 times a year, and there are some essentials (besides a great car seat) that we simply could not drive without. Keep reading for my list of must-bring items, and tell me in the comments what your family has on their must-bring list!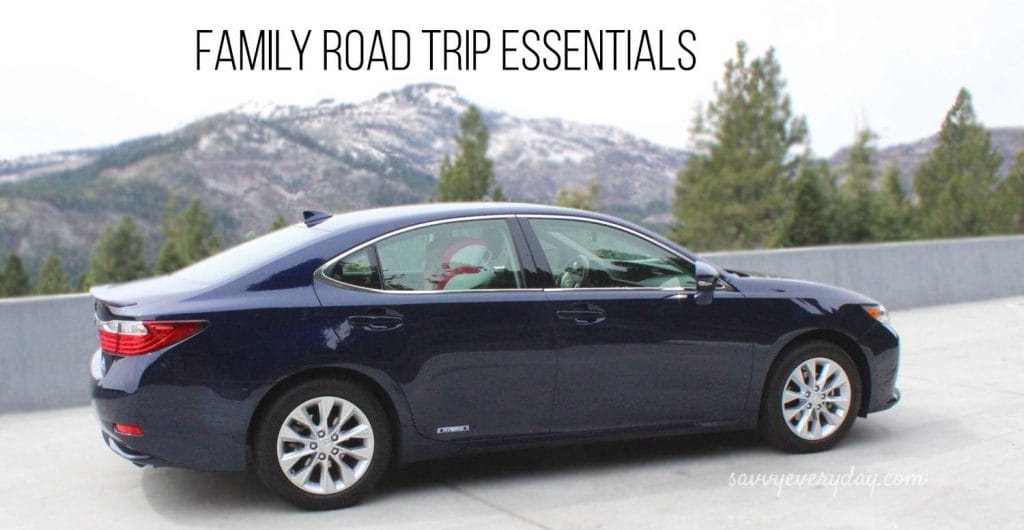 The following may contain affiliate links

1. Snacks
Though it's important to stop the car to let the kiddos stretch, use the potty or get a diaper change every few hours of your trip, they may need a snack between stops too. Reusable snack bags and containers are fantastic for this because you can use them then clean and refill later. Here are a few I like for the car: Zoli Baby On-the-Go Snack/Formula Dispsenser ($15), Skip Hop Bento Clix 14-piece Mealtime Kit ($24), BooginHead Pack 'Ems ($8). Preschool aged kids may want to hold their own lunch bag with snacks (at least mine does), too, so be prepared to pack a little bag.
2. Leak-Proof Water Bottles
Kids (and parents) need to keep hydrated, but drink containers don't always end up resting upright in a cup holder. Babies drop their bottles, toddlers forcefully throw them and sometimes mom and dad's sharp turns cause them to fling across the car. Check out Sili Squeeze's Spill-Proof Water Bottle for a sort of safer spill-proof water bottle ($16), it's squishy so less dangerous if in an accident. There are also a lot of great canteens and such available (but they may not be as safe if you're in an accident).
3. Kick Mats
If your kids are forward facing, you may want a kick mat on the back of your seat. When kids get anxious during a long drive, the seats can take a bit of a beating, and a mat like the Prince Lionheart Back seat KickMat ($16) are a great way to be sure your seat stays free of mud, streaks, nicks and scuffs.
4. Entertainment
It's always a blessing when the kids fall asleep for a good portion of the trip, but the rest of the time they're sitting there kinda bored. Pack some lightweight and thin paper books (the kind that bend easily), some coloring activities or activity kits and soft toys. Depending on your child's age and level of responsibility you could bring one of those over the lap tables for the kiddo to build Legos in the car, use a AquaDoodle or play with dough, too. Keep the kiddos entertained with family car games like I Spy, children's music CDs, some movies or educational games on a tablet.
Have movies in your headrest? Awesome! You can also put your tablet in a clear pencil case then hand it from the seat for a makeshift tablet holder/TV in the car. Headphones are great so the kiddo can hear what they're doing and the parents can chat or listen to their own tunes, but be sure to get cordless to avoid any strangulation that could occur in an accident or if the kiddo fell asleep a certain way with the cord around their neck. It's also important to get children's headphones that limit the sound to what's safe for little ears. Check out LilGadgets Untangled Pro Children's Wireless Bluetooth Headphones ($50).
5. A Car Organizer
Whether it's up front or safely secured to the back seat, a car organizer makes long drives a bit more bearable. Prince Lionheart offers a backseat organizer ($23) with hooks for soft toys, slots for water bottles and sections for books and coloring activities (or a favorite stuffed toy).
Bonus Cool Trip Savers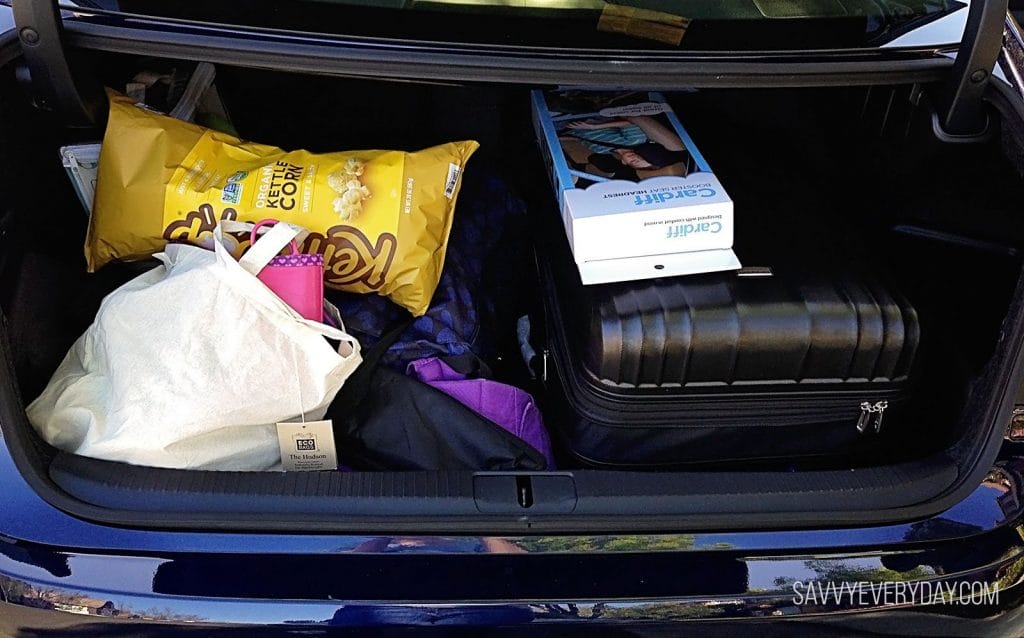 Cardiff Travel Headrest: Once your child moves on from car seat to booster there's something missing — a headrest. Especially in long car rides when kids can slump over, it's great having something like the Cardiff Travel Headrest ($48) installed for kids or adults to lean on when they fall asleep, then rotate back up when they don't want it near their faces. This is such a cool idea, and I recommend trying it out if your child is out of a regular car seat and in a booster or no seat at all in the car.
MyBuckleMate: Tired of the car's buckles falling between seats and making it hard to fit several car seats across in the back? This handy gadget firmly holds up the seat buckles, making it easy to buckle the kiddos in, and fit three seats across. I checked this out and it sadly didn't fit any of our cars, but if you have one of the cars listed online, here, it should work for you. MyBuckleMate ($15) comes in a variety of colors to blend in with your car's seats, or simply just fit your preference.
I was sent MyBuckleMate, a Cardiff headrest and the Prince Lionheart KickMat for review. All opinions are my own.