Visiting California's Great America With Kids
When I was a teenager, girls my age went to Great America to look at cute guys, eat funnel cakes, maybe record a song or two, and listen to some great concerts. After graduating high school I went back maybe twice, but then completely stopped going. I thought it was place for tweens and teens to hang out (and then I had a baby). So when Great America invited me to a writers' event with a lovely lunch and a chance to spend the day at the park, I took the opportunity to revisit with my preschooler. Visiting Great America is definitely different when you're older with kids, so I'm going to share some tips and info for visiting.
Planning
If anyone in your family has different abilities, Great America has special services available to ensure that they have a safe, fun experience at the park. Simply read their Guest Assistance Guide, or guide on how to enjoy the amusement park from the Autism Society. Service dogs are also welcome! More info can be found here.
Great America has some great water areas now, so be sure to bring a swimsuit (sounds obvious, but I saw a lot of kids in regular clothes and white t-shirts playing in the water during my visit) and other proper swim attire, along with sunscreen and a towel if you plan on going in the water. Bring hats and sunscreen, as well as a light jacket, even if you don't go in the water.
Getting In
The Great America parking lot is large and can be confusing. I don't recall seeing designated parking signs showing different parking sections, so you need to be able to remember what the fence or landmarks near your car look like when returning to your car to leave. There are plenty of ticket windows, but only one guest service booth with 1-2 attendees. Once you get your tickets, security looks through your bags and stroller, like at any theme park, but they also wand you and your child (with your arms out and legs spread, like you're at the airport) before you can proceed into the park. Once in, there are lockers to store items you don't want to lug around, and wheelchairs and strollers for rent. A single stroller costs $12 to rent, while a double is $18 for the day, plus a refundable $5 deposit.
Eating
Outside food isn't allowed in Great America, but there are picnic areas just outside the park gates where you can enjoy food from home before entering the park. There are concession stands and dining areas throughout the park with pizza, sandwiches, and seafood. I didn't try the food at these dining areas while I was there since I went to a special lunch (though I think the food was still from the park).
Kiddo Play
Great America has a large area called KidsVille, just for kids and families, complete with its own water park (Kangaroo Bay). You have to walk all the way to the back of the park to get to this area, and for kid safety, there's only one entrance. Kangaroo Bay in KidsVille has a splash pad for toddlers, a mini slide for preschoolers, and big water slides for the adventurous big kids. Inside KidsVille there are about four eating areas, along with some picnic tables and covered eating areas to relax under. One of the eating areas is a Snoopy and Friends reserved party spot, where Snoopy and the gang come to say hello. As for rides, there's one roller coaster and a lot of fun spinning or car driving rides. There's also a construction-themed play area with slides and an overlook space. There are a few rides where the parent can ride with the kids (like the roller coaster and the spinning rides), but there are also rides that require the child to be able to stay seated on their own while the ride is moving. My daughter loves amusement park rides and had no problem sitting, but not all rides are for every kid. Planet Snoopy has even more rides, for little ones, too!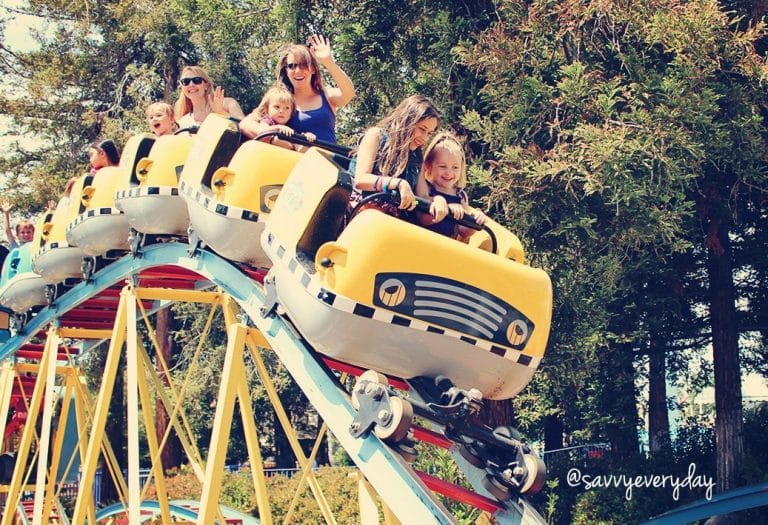 If your family wants to spend the whole day in the water, Boomerang Bay may be the place to go. It's Great America's main water park area with swimming lessons, a junior lagoon, wicked slides, and rafting. This park wasn't open yet when I went to Great America, so I can't really speak to what it's like, but it's open now.
Family Services
Everything family-related is pretty much in KidsVille. There are bathrooms with changing tables throughout the park, and some fun rides that you can all go on together scattered throughout the park as well, but if you are a family with preschoolers and younger, KidsVille is the spot for you. Within KidsVille is a place called Lost Parents, where parents can get bottles warmed, feed baby, and get some emergency baby food or formula. Lost Parents is also where kids are brought when they've been separated from family and don't know where to go.
Special Events
Now through Aug. 15, the park will be showing family movies on a jumbo screen every Friday at around 8 p.m. These Friday Flicks are free with park admission ($38-$48 per person depending on ticket package), and a great way to end a packed day. Great America also hosts a lot of different events throughout the year, including live performances and fireworks (Fridays and Saturdays at 9:45 p.m. during July and August). On July 4 and 5, Great America is hosting an all-you-can-eat barbecue for $15 from noon-3 p.m., with fireworks in the evening on July 5. If you're a past or present military personnel with ID, you can get free park entry during this special July 4 weekend, plus purchase up to six discounted tickets for friends and family to join you.
*Savvy Every Day was given 5 tickets to experience Great America with kids, and participate in a lunch where press information was given. Great America did not tell Savvy what to write, and these opinions are that of Shari Wargo Stamps.

Title:
Visiting California's Great America With Kids
Mentions:
amusement park, california's great america, great america, kids, kids rides, peanuts, snoopy, teenagers, theme park, tweens, water park, water slides