7 Halloween Activities for Little Kids Other Than Trick or Treating
If you're on the fence about letting your kids walk around door-to-door on Halloween (or maybe your kiddo is too little), here are some fun Halloween activities for little kids that still allows kids to have fun celebrating Halloween (but safely).

Halloween Activities for Little Kids
Some great non-trick or treating Halloween activities for little kids include:
spooky movie night
church festival
truck-or-treat
Halloween fight night
amusement park mania
house party
treat shopping
These are all great safe and little kid friendly non-trick or treating activities for the Halloween season that will allow your child to celebrate the holiday without actually going out!
Here is a bit more on each idea:
1. Spooky Movie Night
Instead of making Halloween all about collecting candy and knocking on the doors of strangers, create an annual family tradition that your kids can anticipate with this Halloween activity idea for little kids. Make caramel corn or caramel apples, something fun that you only make together on this special day. Then do a small craft of Halloween game before watching some spooky shows or movies. This is definitely best for older kids, but even the little ones may enjoy an evening of Disney Junior Halloween episodes and family time.
2. Church Festivals
Even if you're not a believer, church is a great place to have fun on or just before Halloween (plus, it's nice to share the culture of different religions with kids). Many churches often hold Fall festivals which are really Halloween parties under another name that allow kids to dress up, play games, and collect candy in a safe environment. Sometimes, there's even free dinner and a jumpy house!
3. Trunk-or-Treat Halloween Activity for Little Kids
Some communities gather together to put on a trunk-or-treat, where kids go to this event and walk around to people who give them candy in what is set up to be a safe environment.
Check Facebook for local truck-or-treat events near you!
4. Halloween Fright Night Halloween Activity
Have older kids, or simply a kid who really enjoys scary stuff? Take them to the local haunted house or ghost tour on Halloween. Some ghost houses even have a good fairy who will walk with the younger kids so they aren't super scared during the haunted walk-through. While this isn't necessarily a good Halloween activity for little kids, it's a great idea to keep the older kids occupied while you do some fun Halloween activities with your younger kids!
5. Halloween Amusement Park Mania
If you're close to an amusement park like Great America, Disney World, Gilroy Gardens, or Legoland, go play at the park with the family! The entire park will be decorated for Halloween, which is kind of fun, and sometimes there are special Halloween events or parties too.
6. House Party Halloween Activity for Little Kids
Not a fan of the Halloween parties around town? Throw your own caramel apple, pumpkin carving carnival of sorts with close friends and family. This way, your kids have fun and get to hang out with their friends … and you know that they aren't out egging a house or getting some creepy items from strangers.
7. Treat Shopping
Malls and stores often offer trick-or-treating from store to store to encourage families to stop by and see what they offer. The kids get some candy, the parents get a coupon to use in-store should they decide to buy some things. This is a great Halloween activity for little kids that you can do multiple times throughout the season!
I hope this list of Halloween activities for little kids has given you some ideas for celebrating Halloween as a family without trick or treating this year!
If you loved this post, check out these other Halloween posts:
8 Clever Family Halloween Costumes You'll Want to Try This Year
Toddler-Friendly Eerie Halloween Porch Decorations
9 Trick-or-Treat Alternatives for Families with Littles
Did I miss any other options? Please share your ideas in the comments below!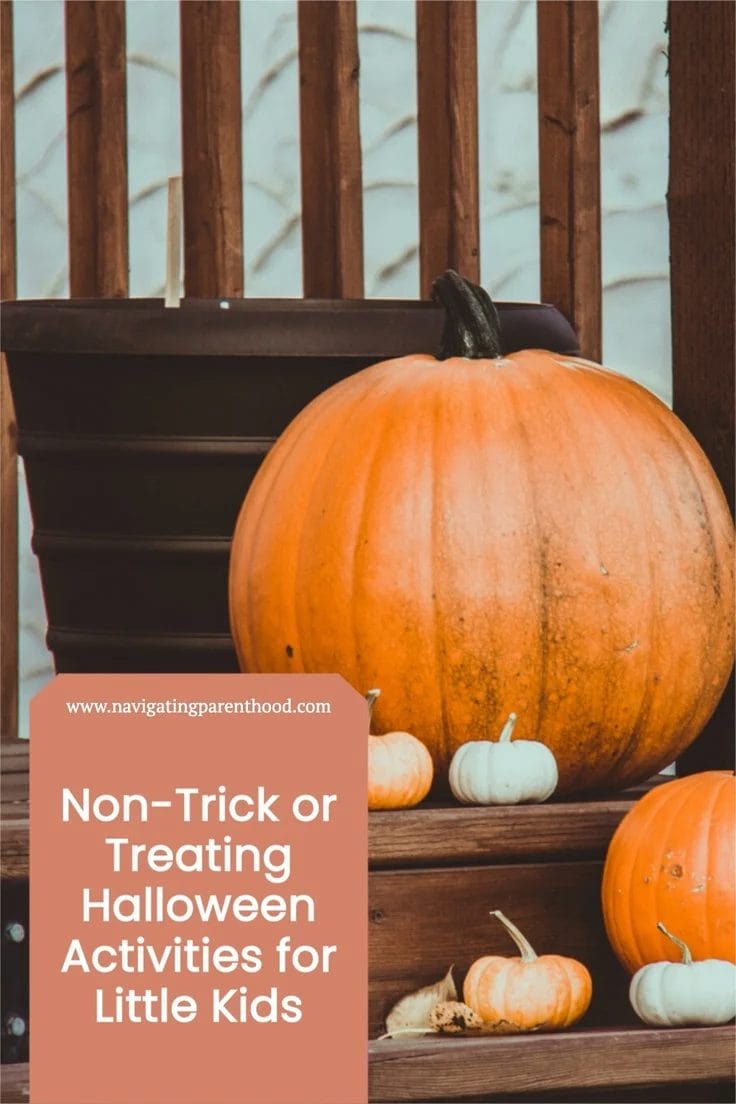 Title:
7 Halloween Activities for Little Kids Other Than Trick or Treating
Mentions:
amusement parks, baby, big kid, church, disneyworld, Family, family time, fright, gilroy gardens, great america, halloween, halloween alternatives, holiday, kids, legoland, preschooler, safe halloween, Savvy Holidays, spooky, teenager, teenagers, teens, toddler, trick-or-treating, trunk-or-treat, tween
Keywords:
Halloween activities for little kids