How We Held the Best Wild West-themed First Birthday Party for My Son
A LOT of changes happen within the first year of a baby's life — it's no wonder first birthday parties are so important to parents. But finding a unique first birthday party idea isn't always easy. We've all heard of the "Wild ONE" first birthday party for a play on Where the Wild Things Are (Amazon affiliate) or a jungle theme, and even "First Rodeo" for a cowboy party. So when I was trying to figure out how to make my son's first birthday party uniquely him it took some time to combine the two popular first birthday themes to create a Wild West-themed first birthday as a spin on "Wild ONE." But this isn't a cowboy rodeo, and you won't find balloons or streamers at this shindig. Wes' Wild West first birthday party was created with natural resources, sustainability, and accuracy in mind. You're not going to want to miss these party details, keep reading!
This post contains affiliate links, which means I may get a small commission (at no cost to you) if you purchase something from my link. I really appreciate your support! Photos by Raising Love Photography and Navigating Parenthood.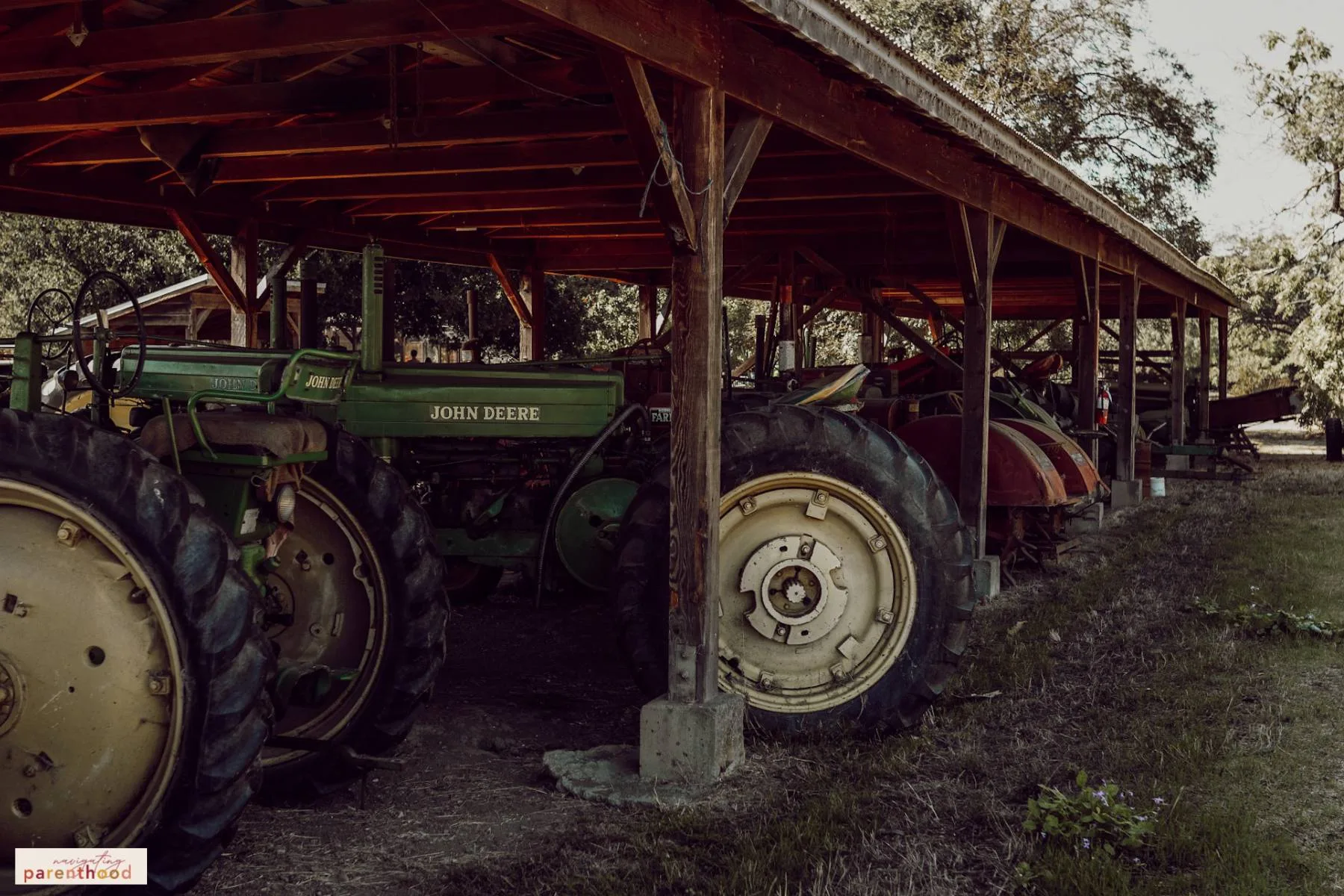 Finding a Western birthday party location
Though I had the Wild West first birthday concept in my mind because my son Wes' full name is Westley — which means Western meadow — and he truly is a "Wild ONE," finding the location was the first step in planning his party. I looked at the different state parks and ranches available in the Bay Area and landed on one of my favorites — Ardenwood Historic Farm. It's a working farm and historic East Bay Regional Park that offers train rides, animal feedings and visits, a blacksmith, and 1850- early 1900s-period activities — the perfect setting for a Wild West-themed first birthday party. This location required a reservation fee and then a separate entrance fee for each guest so I really followed the RSVP headcount closely to be able to give the front desk a list of names attending. Toward the end of the party, I paid for everyone who actually came. Checking in with your location about specific rules is really an important first step before buying decorations or planning out the food and activities.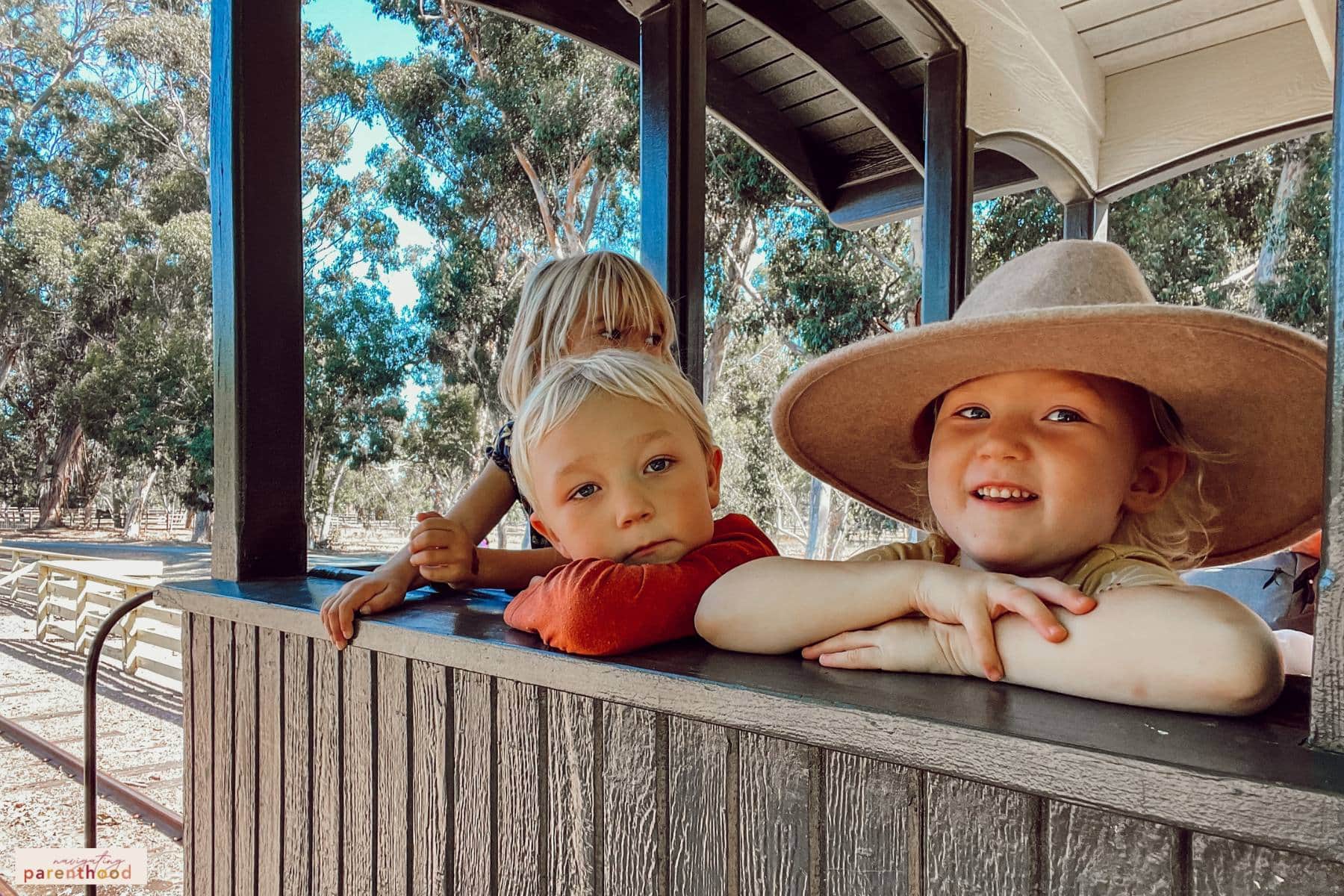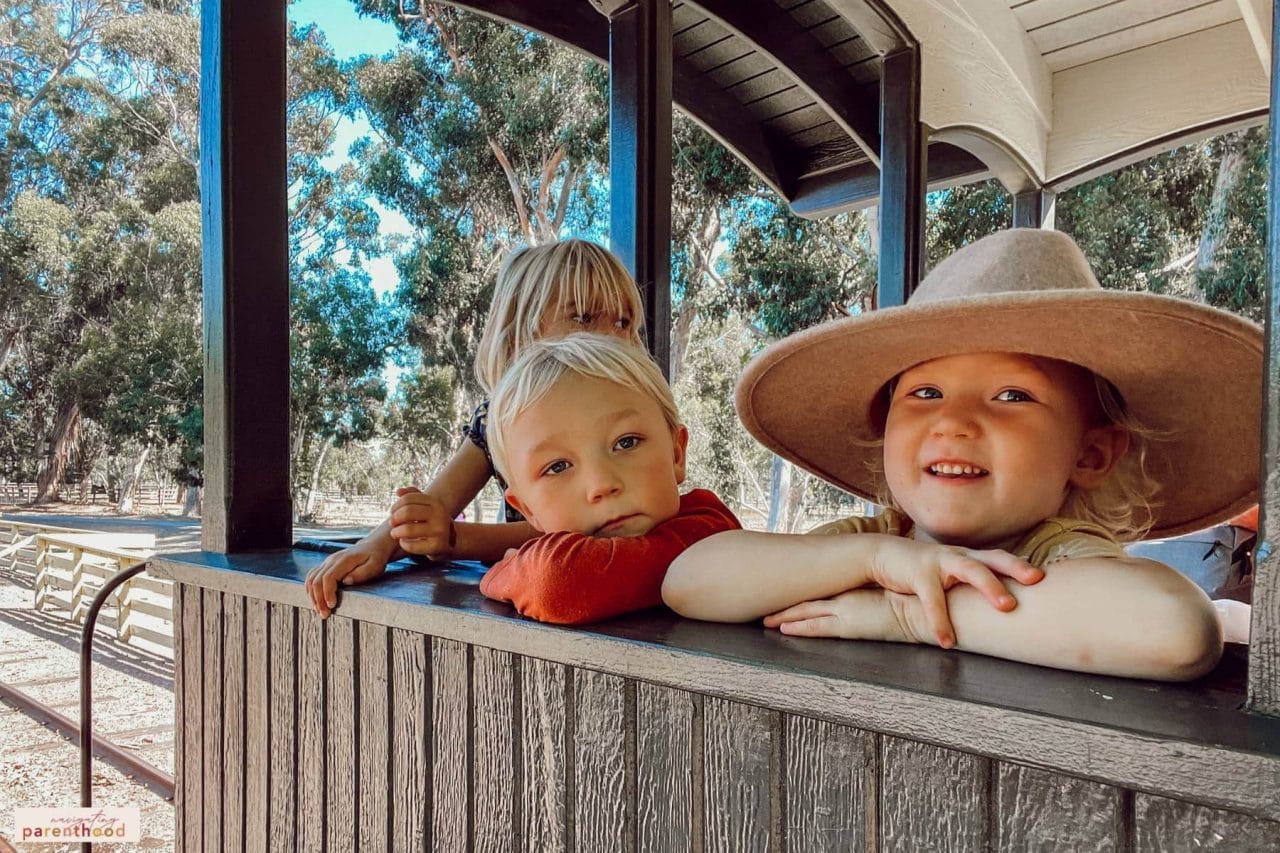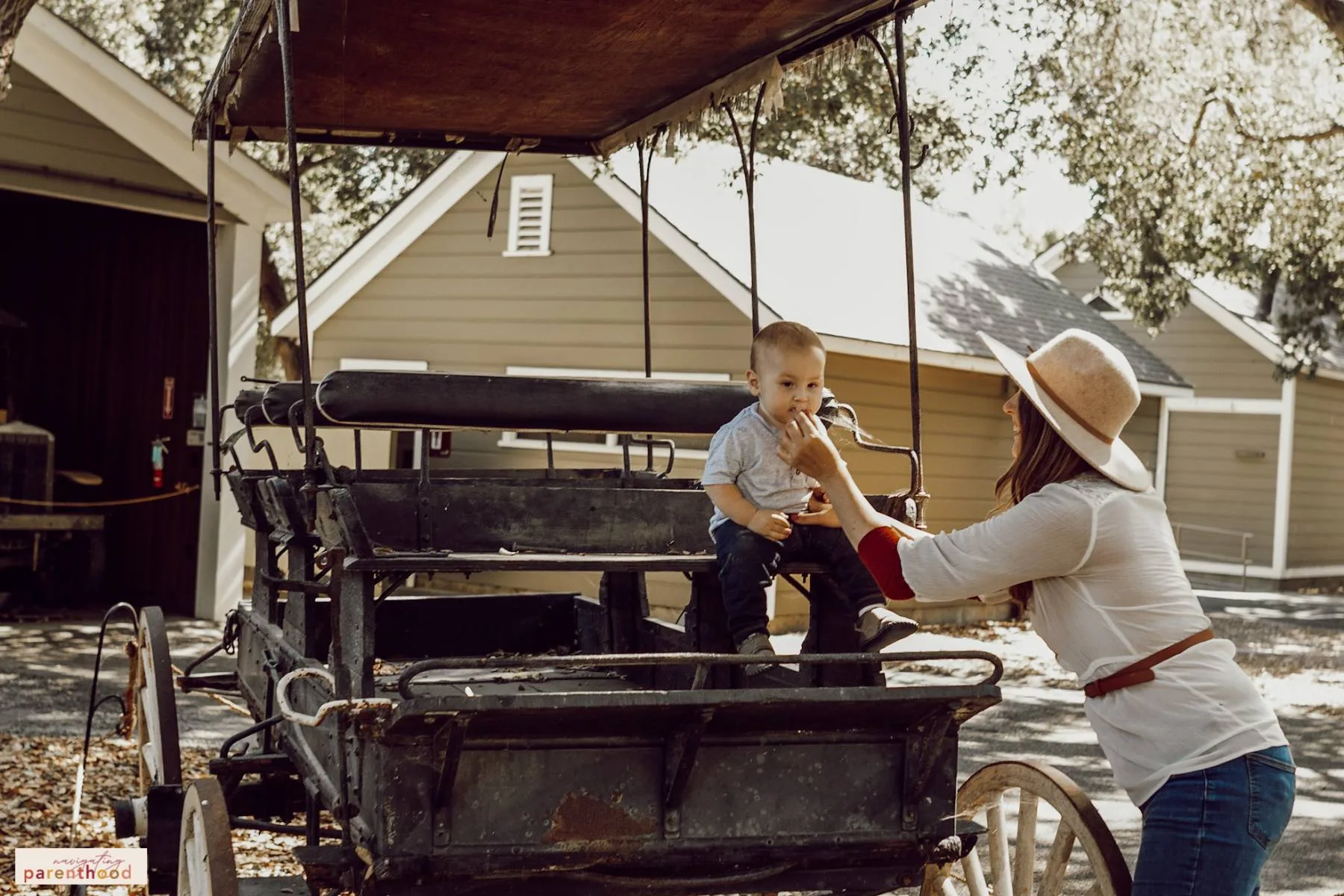 Western birthday invitations
To save time, money, and the environment, I sent out digital invites to friends and family for Wes' Wild West first birthday party using Green Envelope. This was the first time I've used Green Envelope for invites and I'm really glad that I went this route! Because I was leaning into the Wild West feel (think early 1900s desert, horses, and way of life) more than the modern concept of the cowboy, I didn't want a first rodeo birthday invitation or cowboy theme with the typical bull horns on the invitation so I was excited to find the perfect desert themed birthday invite! A Green envelope digital first birthday party invite allowed me to send the invite via email to the guests who check their email frequently, and an invitation via text to the guests who are more likely to click the link to open the party invitation that way. I love how animated and beautiful it looks when someone opens the invite, too. The best part was being able to add a location map, links to specific gift registries or party info, and comments or updates that are sent to all party go-ers via Green Envelope. I could see if attendees could come or not, and even if they have a plus one!
Sustainable Wild West birthday party decorations
With a setting that speaks to a party's theme, you don't need things like balloons and streamers or one-time-use decorations to make it look Western. (Ardenwood Farm actually has rules stating that modern items are not allowed, too, which helped me stick to the sustainable Wild West theme.) But, I still needed to think of ways to make the party feel like the Wild West and look the part … right down to the food and activities.
To do this, I carefully curated items that spoke to the theme when choosing food table decor, platters, pans for plates, the stainless steel tumblers donated by Klean Kanteen, pitchers, and cloth napkins! I added burlap and a plant to some of the tables and created some wooden signs that I've already reused a few times and made sure that the activities spoke to the theme. The cowboy hats and pretend mustaches for guests to enjoy also set the Western feel of the event. Really, every aspect of the birthday party played a role as "decorations."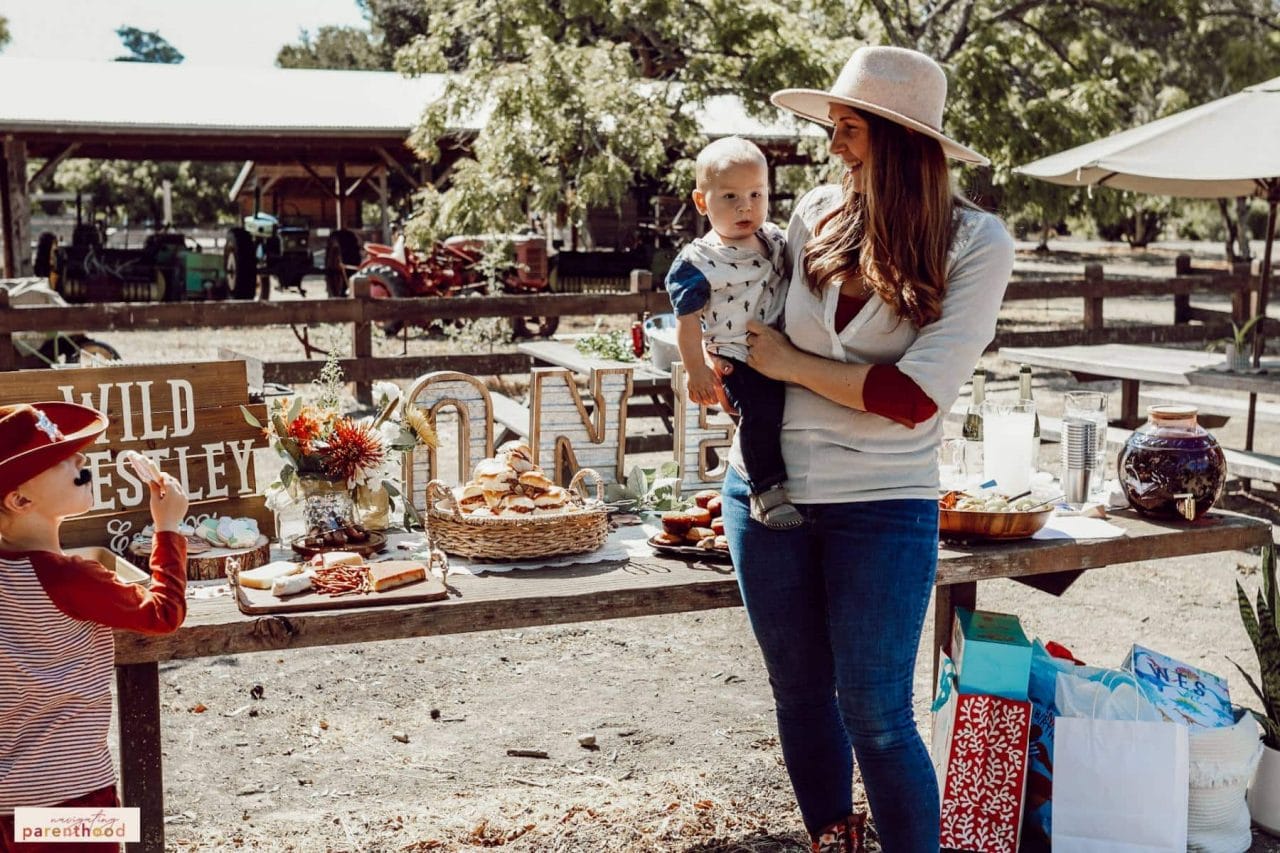 Shop
Wild West birthday outfits
The outfits worn for Wes' Wild West first birthday were pretty special. Wes wore a cactus pattern shirt that belonged to his brother, River, when he was a little older than Wes, paired with jeans and adorable Pediped Originals shoes as his age-appropriate cowboy boots. I wore Wild West cowgirl boots and an auburn shirt I got from Zulily with a Western hat, a vintage leather Coach purse that belonged to my late grandmother, and a brown vegan leather belt over a white blouse I wore for Wes' newborn photoshoot. My oldest daughter wore a brown and white striped maternity dress that I wore while pregnant with Wes (and with a belt, it looks amazing on her). River wore the same red/copper striped shirt that he wore at Wes' newborn photoshoot — isn't that special?! — with a cowboy hat and mustache. My youngest daughter, Nora, stuck with a Fall-themed dress and some cowgirl boots for her Wild West garb. My husband sported a fun desert floral top I found on Amazon (affiliate) with cowboy jeans. Our oldest kind of wore his usual clothes (teenagers haha).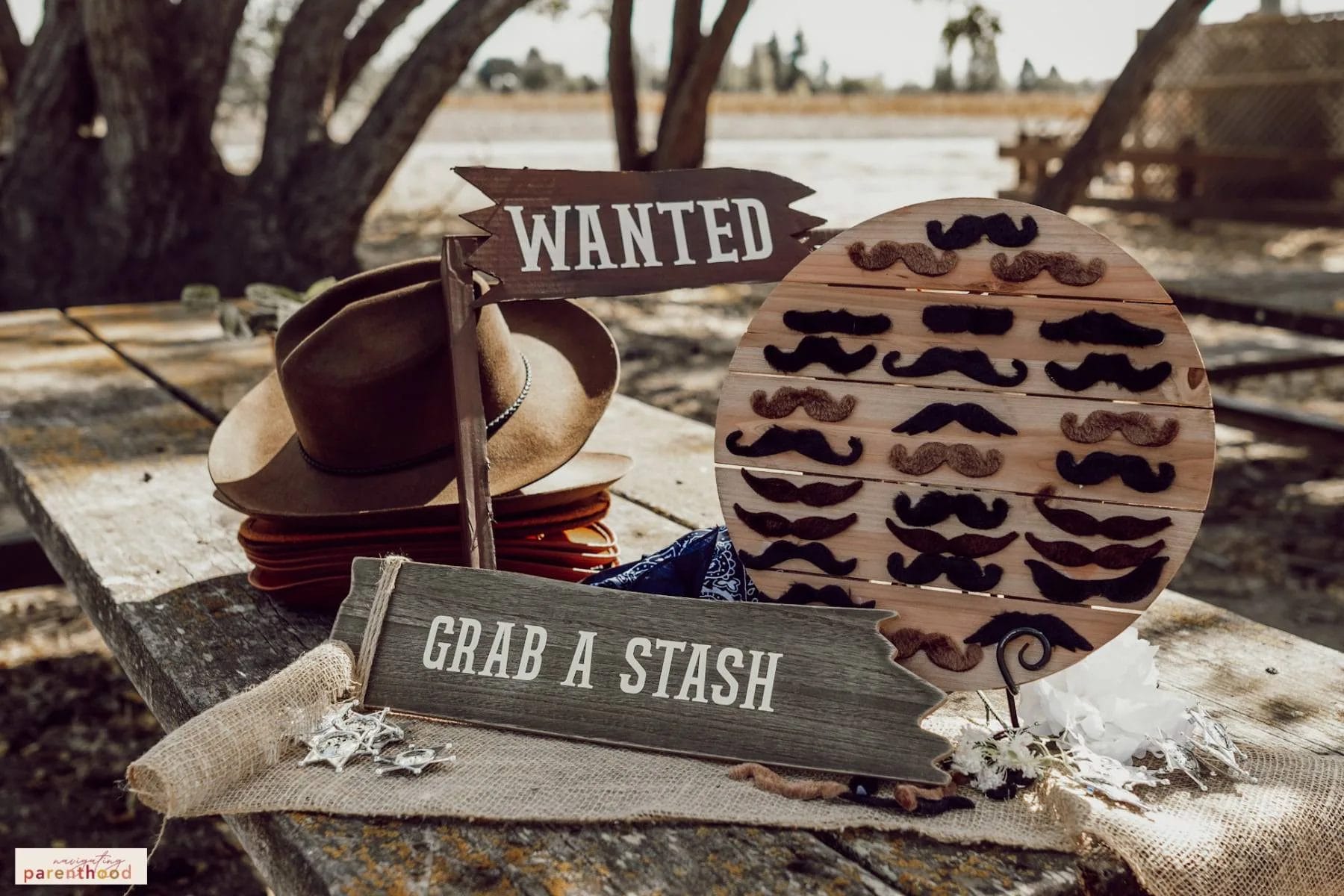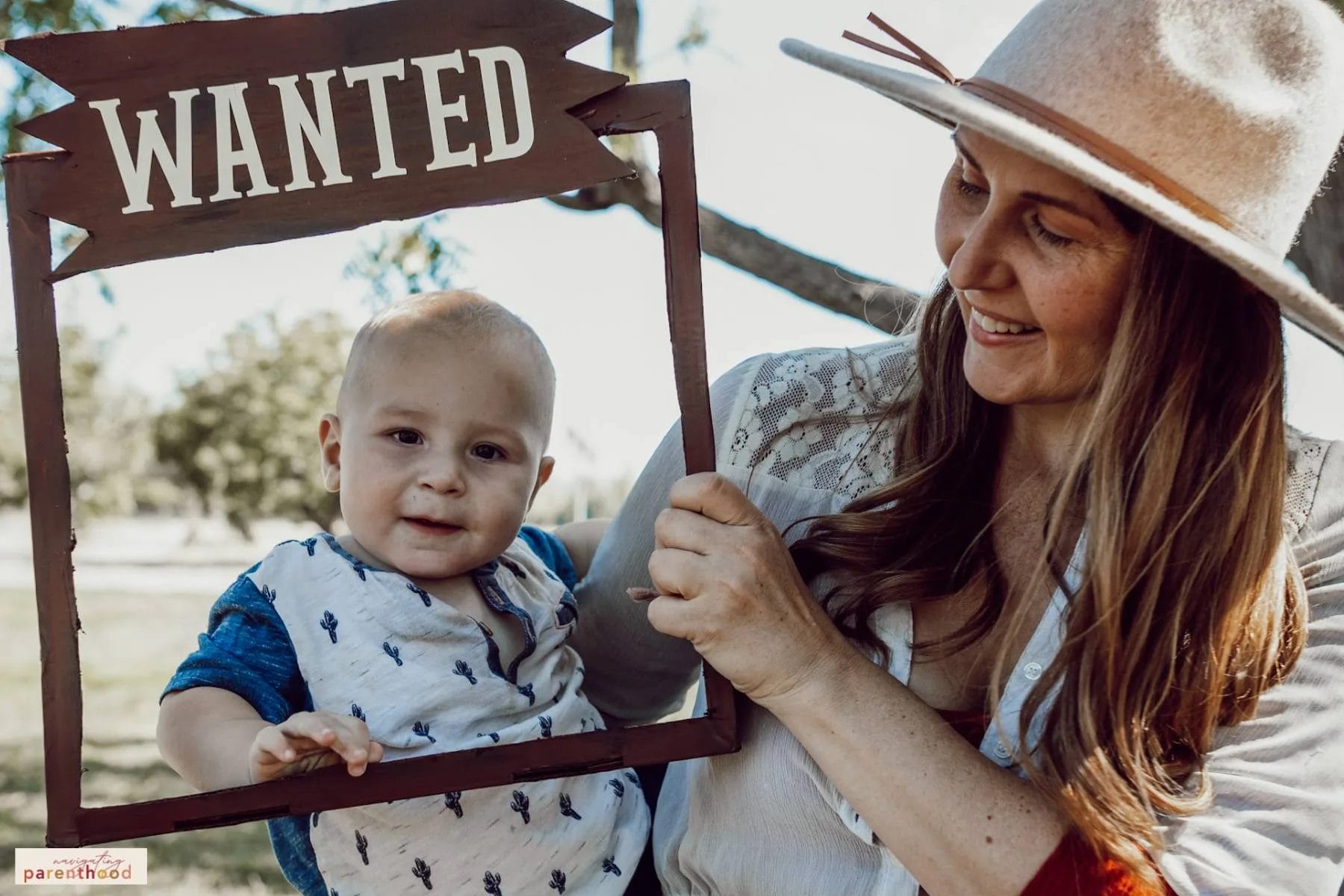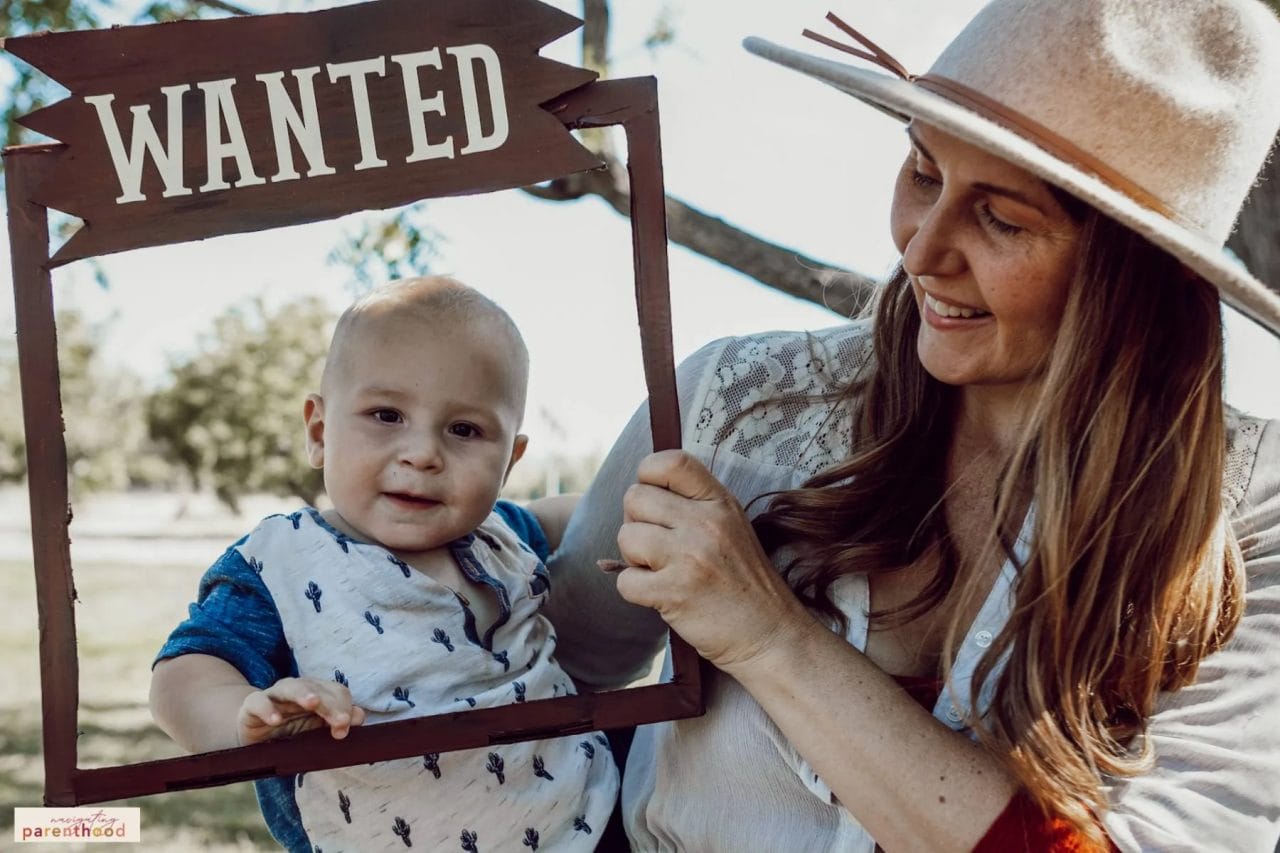 Simple Wild West first birthday party foods
The party location and theme each influenced the event's food differently. So the main wild one birthday party food ideas we went with were heavily influenced by the old West — cornbread and pulled pork. Because we were hauling everything to an outdoor location at the very back end of a farm, I created a menu of finger foods so that we didn't have to add a bucket of stainless steel utensils to our list of things to bring in. So the pulled pork sliders were pre-prepped in sweet rolls then there were cornbread muffins, crackers & cheese, assorted fruits, lemonade, water, and tea (for Arnold Palmers), and cookies & cupcakes for dessert.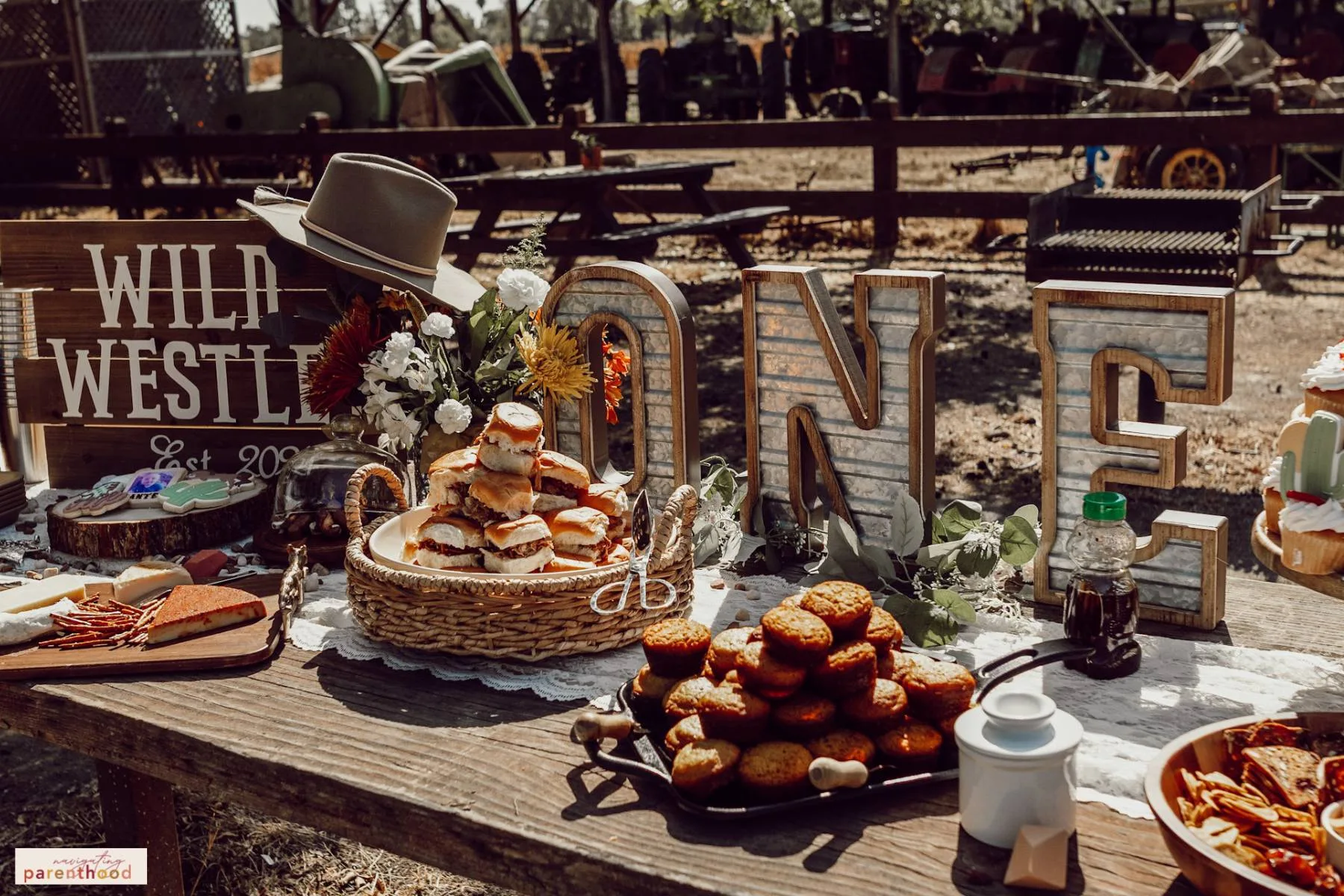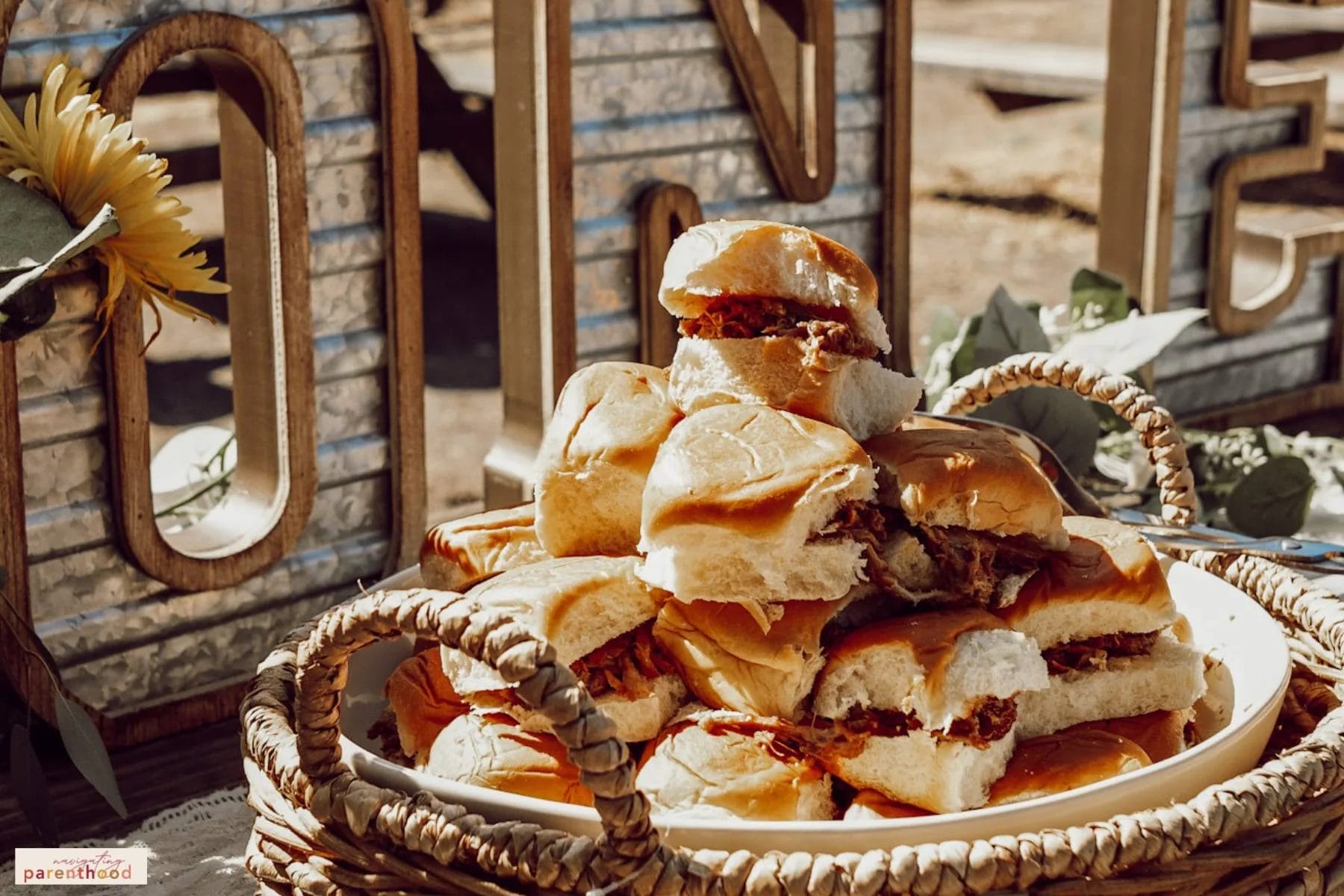 The desserts are really what made the food area shine, though. We had cupcakes with strawberry slices on top and use several wooden cake stands of varying sizes and heights to create a tier to match the height of a birthday cake. Leanna at Sweets for Belle created an assortment of sugar cookies specific to our Wild West(ley)'s Wild ONE first birthday. These beautiful cookies really put the finishing touches on his birthday party. Some cookies looked like a WANTED poster with Wes' picture on them, others were the number "1" with a pretty Western desert floral design, and then there were little cowboy hats, horseshoes, and horses to complete the assortment.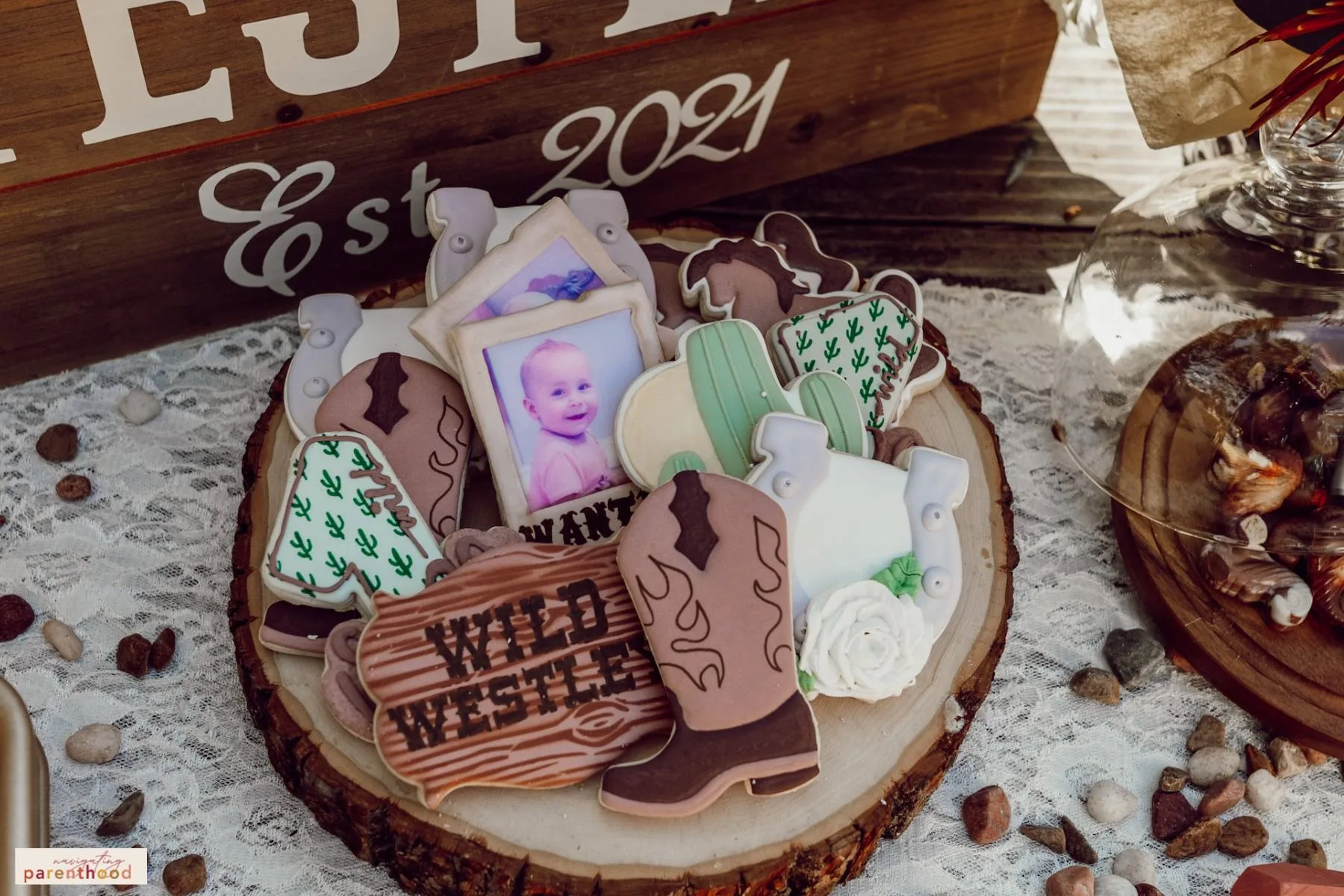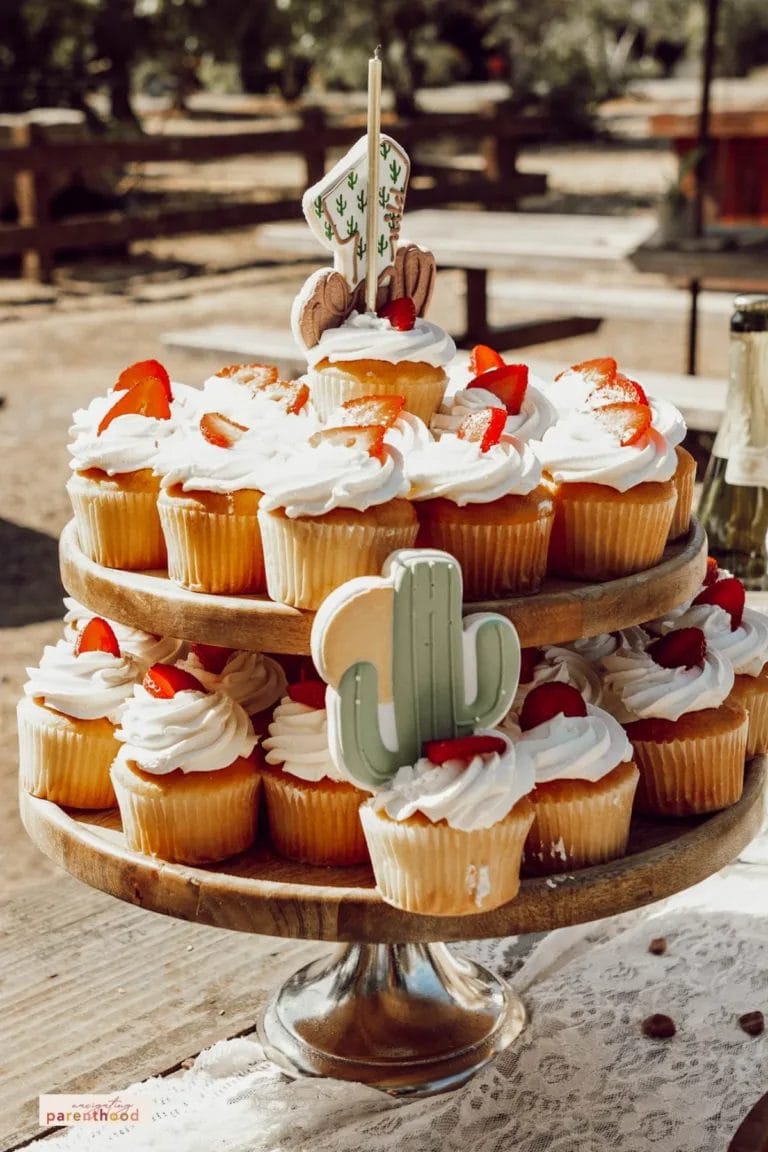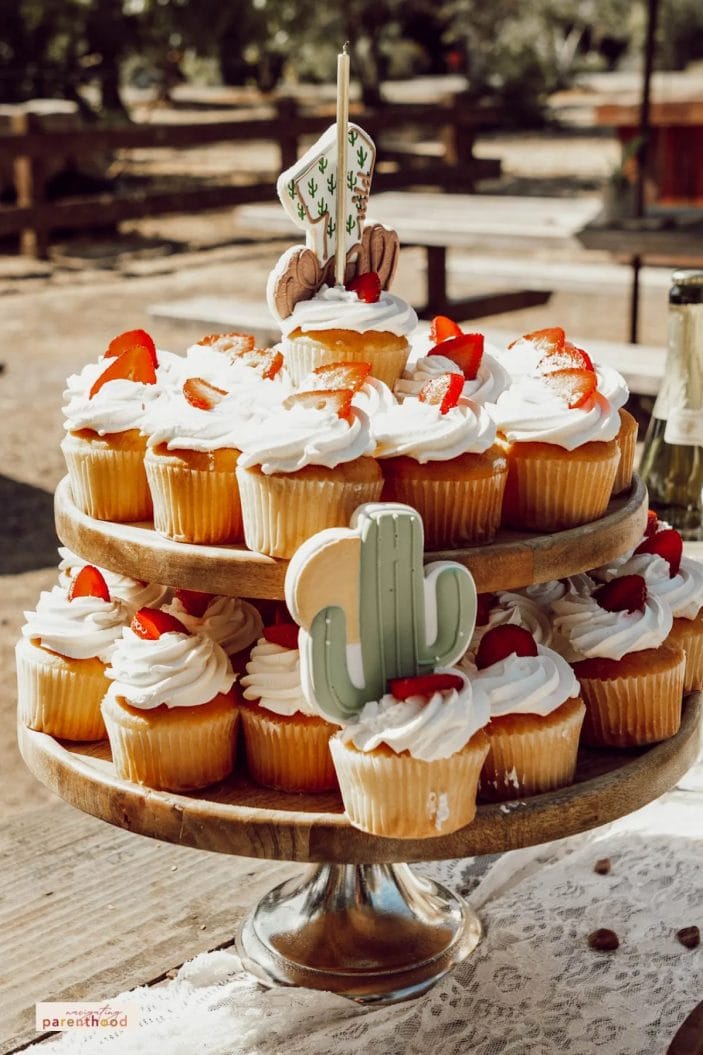 To buy items from this sustainable Wild West first birthday party via Amazon, check out the details in my Amazon Affiliate Storefront, HERE!
Fun Western first birthday party activities
Narrowing down the activities for Wes' Wild West first birthday party was fairly easy since not much was allowed at Ardenwood Farm, but this party had to entertain the birthday boy plus all of the other guests ranging in age from 3-71 years old. I chose a location that already offers period-specific activities and the fun of visiting animals (which all the kids from ages 1-15 enjoyed) so that helped with some of the planning. But then I also brought in my own activities that were private to our party. We had several farm visitors come over to the party and wait in line to participate because they thought they were a part of the farm's historic activities!
You can read about the different activities in more detail in my article about Wild West first birthday party activity ideas. These included different seated play zones using Wander & Roam's vegan leather mats on the grass, along with location-based activities and party photo props. Wild West-looking signs directed guests to things like reading Mudpuppy's books (affiliate), playing acoustic musical instruments, tug-o-war, horseshoe, fun photo props, and food-related activities, like "apple picking" from a bin then decorating the apples with dessert toppings. Additional signs led everyone to the train rides, outhouse, livestock, and grub. The least sustainable item was probably the fake mustaches that my mom had bought for fun, but those made for great photos with her homemade WANTED sign made from boxes sitting in my garage.
>> Click HERE to read more about all of the different Wild West party activities in detail <<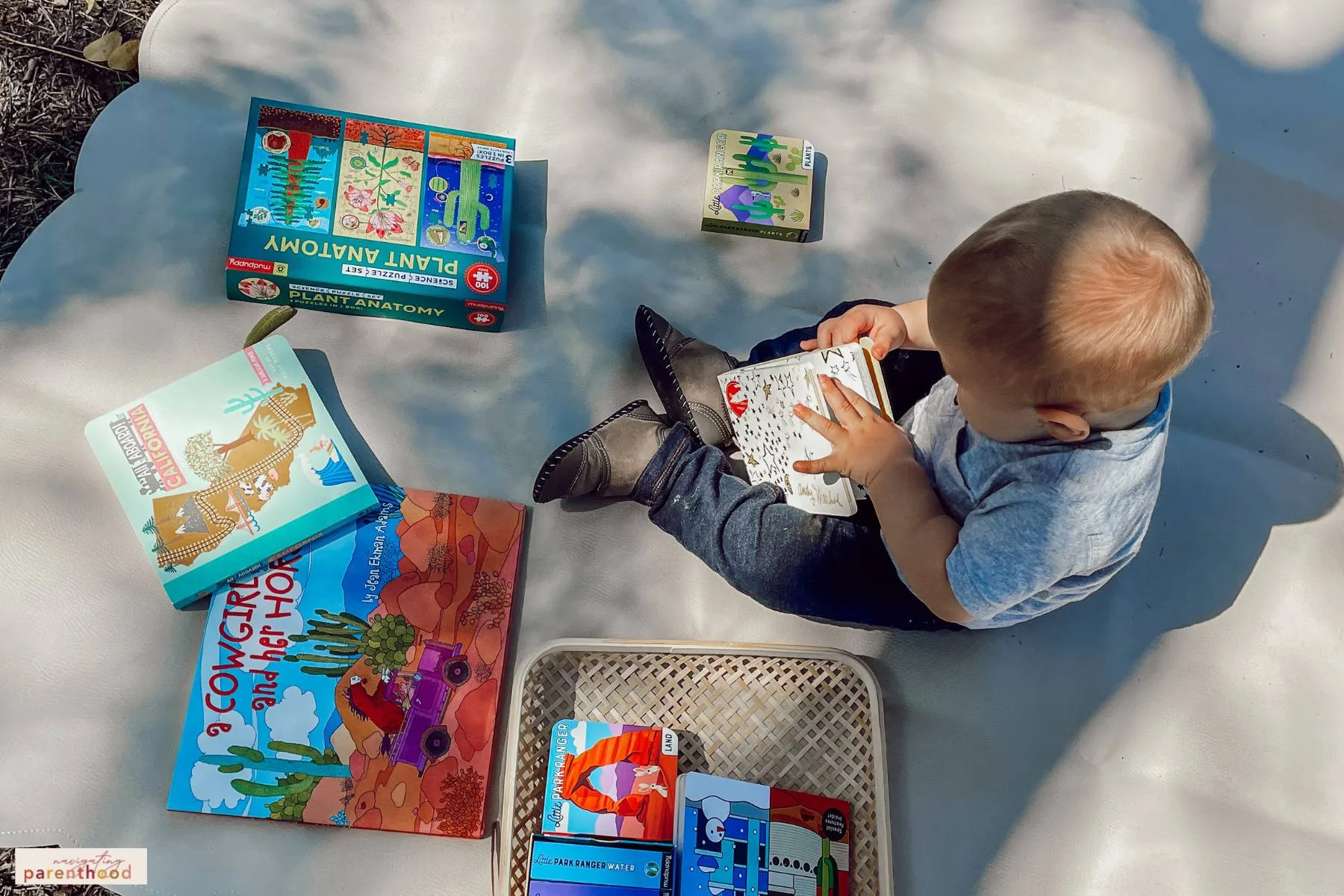 With so many activities to choose from, there was something for everyone to do and the birthday boy had a chance to play hard. We took one last train ride toward the farm entrance with guests who were going home and Wes fell right to sleep from all of the party fun. It really was the best type of party for a one-year-old — there was plenty of space to run, so much to explore, and a lot of "yes" zones.
I hope this post gave you some great inspiration for your own first birthday party planning. Please be sure to tag @navigatingparenthood so I can check out your first birthday party too!