3 Tips for Baby Proof Christmas Decorating
It's a tradition for my family to decorate the tree together just after Thanksgiving. I normally bring out a bin of ornaments we've used over the years as well as a few sentimental ones we've picked up since being married and having kids. But this year is a little different — we have a super inquisitive crawling baby — so we're using a few new tips I've found for baby proof Christmas decorating.
How to Baby Proof Your Christmas Decor
Baby proofing your Christmas decor is easier than you think! Stick to this rule: less is more! We'll get into it down below, but my best tip for baby proof Christmas decorating is keeping the tree (and other Christmas decor) as simple as possible. While it might look a bit barren to you, just think, you won't be chasing decor around the house all season long! Major win in my book.
3 Tips for Baby Proof Christmas Decorating
The best tips for baby proofing Christmas decor include:
trying out a different Christmas tree
keeping the tree simple
including your baby in the decorating
That last one might sound a bit off, but we'll get to that down below!
Here are my best tips for baby proof Christmas decorating!
1. Try a Different Christmas Tree
We opted for an artificial tree this year to save from the fallen pine mess and possible hazard. I'm a huge fan of real trees and miss the smell, but this 9-foot pre-lit tree of ours has made baby's first Christmas so much safer by making it easier to keep the area clean. There are even Upside Down Christmas Trees, that could work so you can easily baby proof your Christmas decor. Have you seen these? SO cool. This trendy tree style dates back to medieval Europe and is perfect for homes with curious tots and pets.

2. Keep the Tree Simple
Since we have a pre-lit tree there wasn't really much we needed to add to it when decorating so we kept our usual breakable ornaments in the Christmas decoration bin and just added a few new ones. My best tip for baby proof Christmas decorating: look for shatter-resistant ornaments or skip ornaments altogether the first year. If you do add them, be sure to leave the area within baby's reach free of ornaments. Pictures of babies holding ornaments are cute (see below), but it's a real danger if one drops near baby, or they find one and start chomping on it. Another way to keep it simple? Don't worry about covering the tree with ornaments! Ours is near a wall this year so I was able to put a minimal amount around the front and sides then leave the back bare.
If you're looking to go with some shatter-resistant ornaments, check these ones out!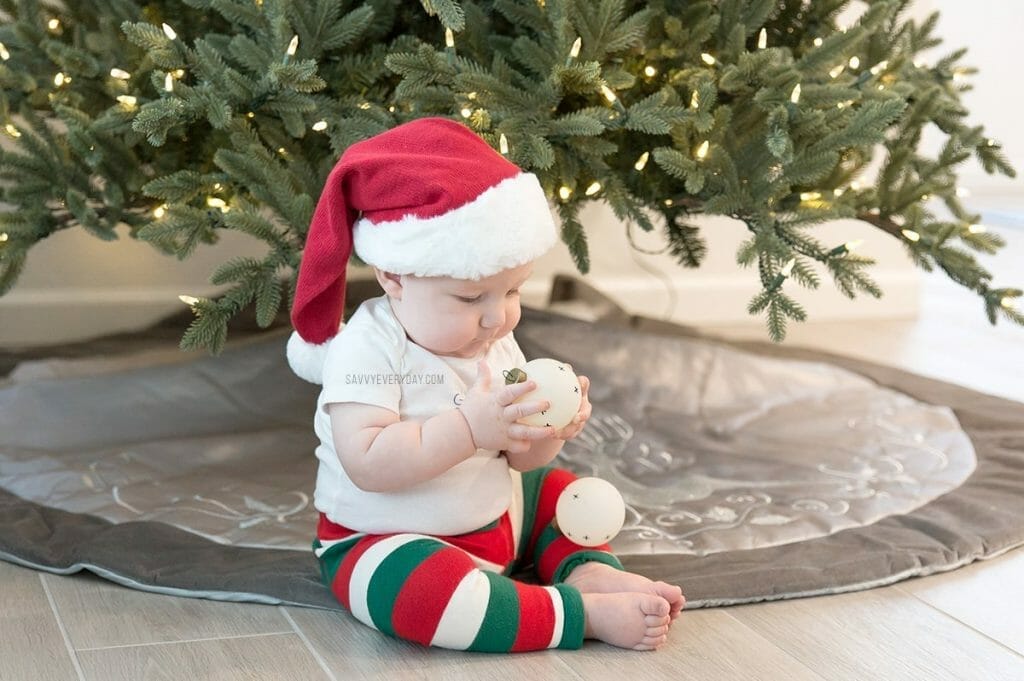 3. Include Your Little One
Be sure to include your little one in the decorating process so that they understand the ornaments go on the tree and talk to them a little bit about why they go there. This can really help baby proof the Christmas decorating experience. Depending on their age it might not all sink in, but they're listening. S helped me decorate and I held the baby while putting up ornaments this year.
I hope these tips for baby proof Christmas decorating help you this holiday season!
For more holiday tips with baby, check out these posts:
Useful Gifts for Baby's 1st Christmas
Holiday Gifts for the Whole Family
Holiday Gifts for Babies Ages 0-12 Months
Title:
3 Tips for Baby Proof Christmas Decorating
Mentions:
christmas, Christmas traditions, christmas tree, christmas tree decorating, family time, family traditions, holiday, holiday traditions, ornaments, seasonal, sponsored post, upside down tree, Wayfair
Keywords:
baby proof christmas decorating