Frugal Trips to Fun Places: Arizona
I recently went on a three-day trip to Arizona with my 3-year-old. Why? Because I won the trip in an Allegiant Air blogger contest with Visit Mesa (and they're giving one lucky reader two roundtrip tickets to fly Allegiant too! Read to the bottom.). I suppose you can't get more frugal than that, but the trip was actually quite affordable! I'm going to share the costs associated with the activities on this little adventure so you can see how surprisingly frugal and fun the trip was (and could be for your family). Before this trip I had no idea that Mesa, Arizona is such a huge travel destination, but now that I've gone I will be visiting again soon.
Before this trip my daughter and I had never been on an Allegiant airplane or been to Mesa, so I was a bit nervous about what to expect. More importantly, I was worried about the process for checking in and bringing the car seat on the plane with a sleepy preschooler in time for a 7 a.m. flight, but it all worked out. Allegiant staff were pleasant, and made sure my car seat is certified to be on an aircraft (I knew it is, but appreciate them being thorough). Once aboard, it seemed like the legroom was smaller that on other planes I've been on, but I think that's one of the ways they keep the tickets affordable (About $130/person roundtrip from Oakland to Mesa). Despite the smaller space, I was able to stow my carry on bags in front of me, and had enough legroom to feel comfortable.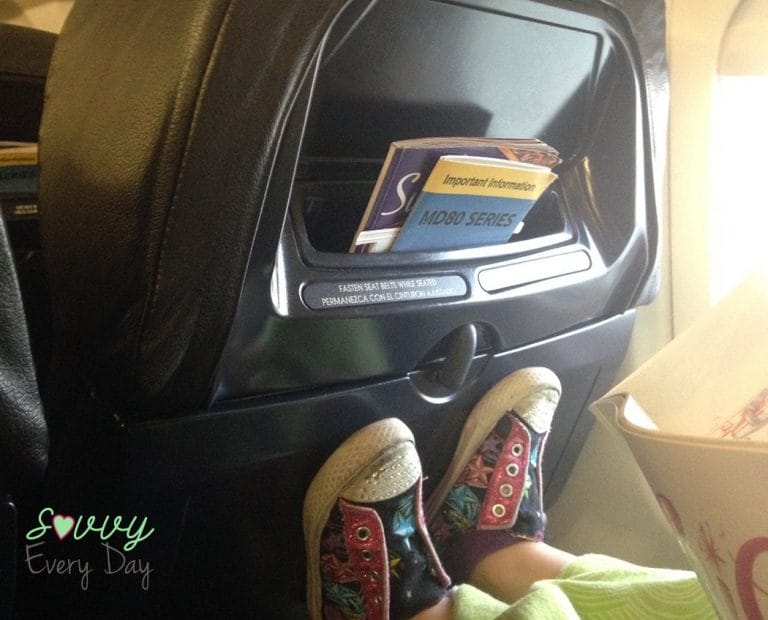 Once we arrived in Mesa, my daughter and I checked out three fantastic museums on Target's Three for Free Day (where Target pays for everyone's entry to these three museums all day). What a great deal, right? Included in the offer are i.d.e.a. Museum, Arizona Museum of Natural History, and Mesa Contemporary Arts Museum at the Mesa Arts Center.
We only made it to two of the three free museums before closing, but I was pleasantly surprised by the engaging exhibits and way they made education fun. You can read my review of them, here.
Aside from the museums, I found a lot of history throughout Mesa, and the surrounding cities of Gilbert and Queen Creek. Mesa is rich in art and culture, while Gilbert is one of the best places to find delicious food in remodeled historic buildings. Seriously, the food was amazing everywhere we went this trip. As far as pricing, the food was close to $10 a plate for adults and $6 a meal for kids (on average), for organic, gourmet dishes. Not bad! I have so much to say about the food alone that I wrote about the fabulous restaurants I visited during my trip in a separate article, here.
Though there are plenty of indoor activities in the Mesa area, you shouldn't miss the experiences outside. In Queen Creek, farmers continue the traditions started generations ago, but add on to the dream left by family members. We went on a hayride, visited some playful goats, and had fun picking peaches at Schnepf Farms in Queen Creek. In Gilbert, we walked the gardens of Agritopia, a community built around farming, and the idea of community gardens. We also hiked a bit at Usery Mountain Regional Park, where we learned about the different types of cacti, and saw a scorpion up close! The adventure concluded with a quick visit to the new Cubs Training Stadium in Mesa, which is next to the absolutely gorgeous Riverview Park. I am a a cubbies fan, and my daughter is a fan of parks, so we were both on cloud 9. Now that I know about the training stadium, I'll be back next Spring to check out more of Arizona.
Now for the moment you've been reading for . . . the giveaway entry form! Allegiant is giving one lucky winner a set of two roundtrip tickets to a destination of their choice (within the US on Allegiant Air)! Complete all the required fields in the Rafflecopter form to enter, then complete the additional entry options (tweet about the giveaway or leave a blog post comment on the AZ food article) to give your entry a boost! Entries will be checked, so if you "Like" a page and unlike it after you enter, you will be disqualified. One valid email per person. You can not share emails. Must be age 18 or older to enter. Read the rest of the contest rules in the Rafflecopter Rules. Good luck!
I won a trip to Mesa, AZ from Allegiant Air and Visit Mesa. I was provided with flight, hotel, rental car, meals, and activities during this trip, but was not paid to write this article. My opinions are my own. There may be affiliate links in my post. Thank you for supporting Savvy Every Day.

Title:
Frugal Trips to Fun Places: Arizona
Mentions:
allegiant air, arizona, AZ, blogger, Family, fly allegiant, frugal travels to fun places, fun family travel, kids, mesa, mesa arizona, MesaCityLimitless, mommy blogger, savvy, savvy travels, travel, traveling with family, visit mesa