Savvy Food Finds: Arizona
Mesa, AZ and its surrounding cities have taken me by surprise with their food selection. Before traveling to the area, I thought the food would be like the processed, pre-made meals at chain restaurants, but what I found are trendy, food-conscious restaurants with deep a history and passion for what they do. These restaurants are unlike any I've seen in California, and for that reason, they area all a must-see when you're in town.
Postino
Postino, located in Gilbert, AZ, was the fist restaurant I went to in the area, and is one I plan to go back to again someday (soon). Though it's a WineCafe, Postino is a casual and comfortable place to eat for all walks of life. I had no problem eating there with a little one, and saw a lot of families there.
My favorite things about Postino are the Cucumber Honey Lemonade, and that all their food is amazing. All of their food, even the kids meals! I am normally pretty disappointed in what restaurants pass off as "food" to kids, but for a great price Postino gave my daughter an upscale grilled cheese with fresh-cut fruit and organic milk.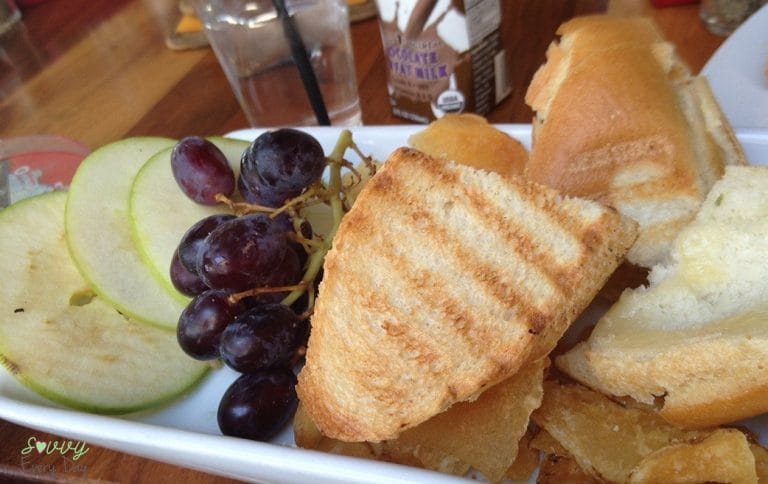 Their Bruschetta ($14 with choice of four) is out of this world amazing, and I love that they have little papers in the sugar trays for people to place their gum before a meal, or write their info down to pass along to a new friend. Oh, and don't leave without trying the Salted Carmel Sundae ($6.50) or Classic Vanilla Crème Brulee ($7)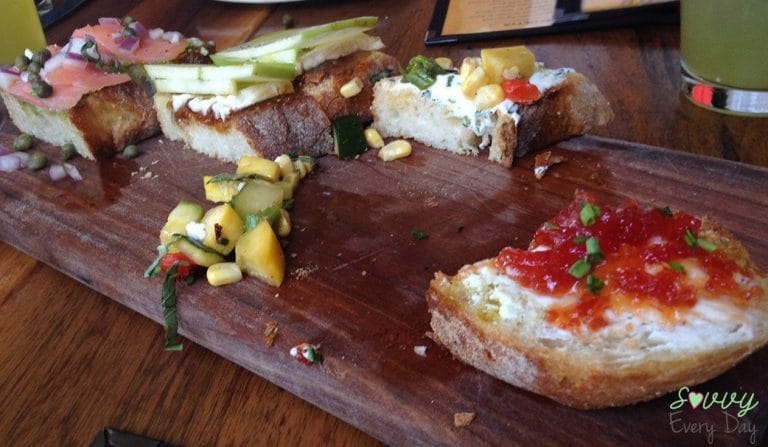 Joe's Farm Grill and The Coffee Shop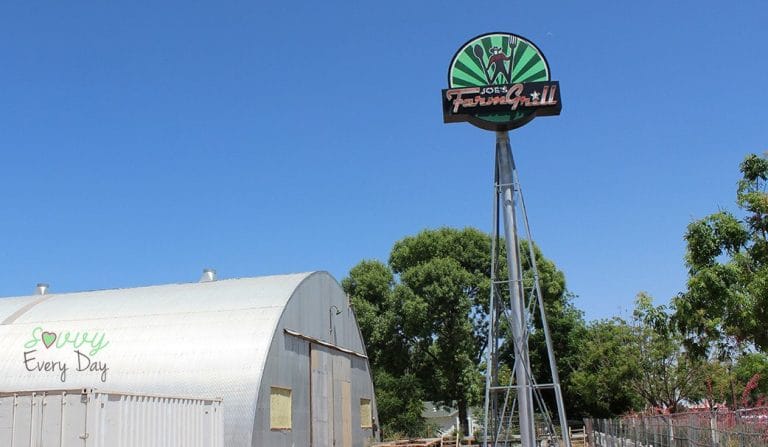 Joe's Farm Grill is another must-see in Gilbert for its beautiful history, eco-conscious and food-conscious endeavors, and well-known food. The Farm Grill restaurant building is Joe's childhood home, converted into a beautifully-designed restaurant with chairs made from recycled soda cans, and a bathroom complete with theme and music. The grill is a part of Joe's larger vision — Agritopia. Joe also has a barbecue restaurant, Joe's Real B.B.Q., across from Postino, where he frequently has free barbecue days (yes, free), too! Farm Grill meals are fairly large, so a decent in size, with an even bigger taste.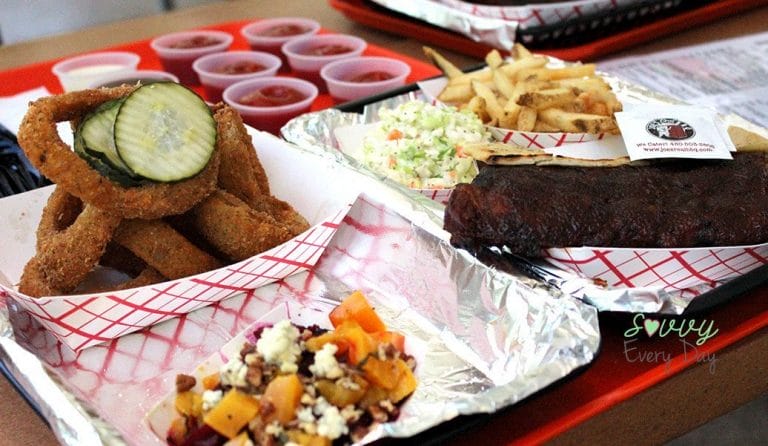 Meat is bought from local, organic butchers, and the fruits and veggies come from the farm located just feet away. Despite this, their food is still priced the same if not lower than chain restaurants who carry not-so-fresh ingredients. We enjoyed our meals outside where sprays of mist from the building cooled us down, and made for a very nice atmosphere. My daughter loved running around in the large lawn area surrounding the outdoor picnic tables. I met Joe while I was there, and for an idea person as accomplished as he is, who has been featured on the Food Network, he is so kind and personable.
Joe recommended the vegan, cruelty-free, cupcakes in The Coffee Shop located next to the restaurant. Though they have non-vegan cupcakes, the vegan cupcakes won Cupcake Wars for one of the The Coffee Shop's owners, Jessica Cuff. I tried the Vegan Chocolate Marshmallow Cupcake and it tasted like I was eating a regular cupcake, only better, because the flavor was amazing! I didn't care how melted the marshmallow had become after sitting in the rental car for a few hours, it was the perfect pairing — chocolate and marshmallow.

Queen Creek Olive Mill
Like Joe's Farm Grill, Queen Creek Olive Mill has more than just a delicious meal to offer guests. I took an Olive Oil 101 class ($30) and taste tested a variety of olive oils I never before knew existed. Besides the Chocolate Olive Oil, I think the garlic is my favorite, but I couldn't leave before buying a bottle of the Limited Edition White Peach Glaze ($18), and am happy to share that they offer military discounts. A few key oil facts that I'll pass onto you from what I learned during my class are that imported oils don't have to follow the same strict classification guidelines as local oils, so they can label any oil "Virgin" or "Extra Virgin" even when it may not be. Queen Creek Olive Mill, on the other hand, has to pass several tests before they can classify their oils.
I also learned that they co-presses some of their oils, like the Meyer Lemon Olive Oil. This means they put the olives and lemons in the press at the same time! For infused oils, like the Garlic Olive Oil, the mill adds garlic to the olive oil, and lets it infuse for at least 60 days for full flavor. I wonder if other olive oil makers have the same standards. The last tid bit I learned that is especially important to us moms, is that olive oil is a great, affordable addition to your beauty ritual.
Whether you use it as a nighttime makeup remover or body oil, I'm told the results are glorious. The Olive Mill has their products for sale, and the fun little 101 class I took, along with delicious food which is also Food Network-approved. I tried the Kalamata sandwich ($11) and got the Cheese Panini Grilled Cheese ($5.29) for my daughter. Both meals came with homemade chips and one of the best sandwiches I've tried (outside of Arizona, that is). The SF Bay Area has a lot of catching up to do.
Frost Gelato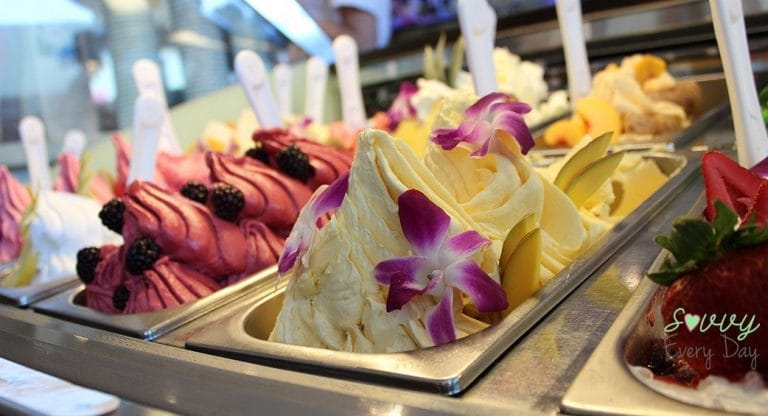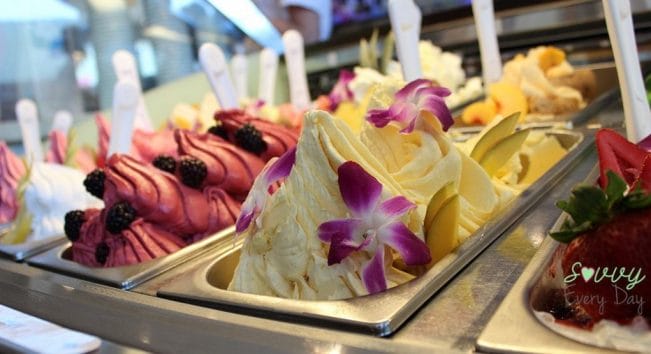 Frost is not a complete meal, but it is a treat that you need to try while near Mesa. Located in the beautiful SanTan Village Shopping Center in Gilbert, Frost is one of the main attractions on hot days. Pair this with the lovely mist coming from all the buildings along the walkways, and the little kids water play area help keep cool and you're day couldn't get better. Frost is a different kind of gelato, too. It's has less air, no raw eggs or cream, and uses only low-fat milk to allow for vibrant flavors and a light, whipped taste. Frost sells both gelato and sorbet, as well as quarts of gelato to-go, and Frost Bites (chocolate-dipped gelato).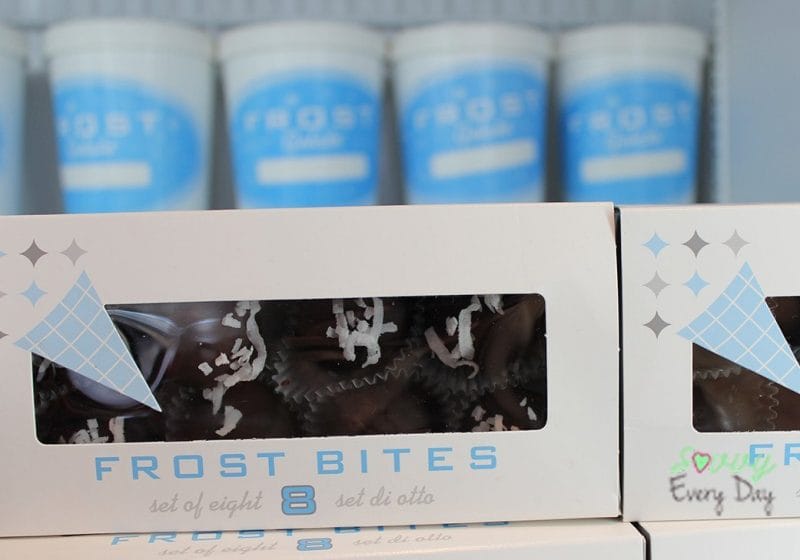 If it would have lasted my trip back, I would ahve gotten several boxes of the Frost Bites to bring home. Frost says that all gelato and sorbet items are made fresh with the finest ingredients from Italy. After making each batch, they dress up the flavors for a beautiful display, and allow guests to try as many flavors as they would like so that you can find your favorite flavor. Seriously, you need to try this. My only dislike about Frost is that they don't use recyclable spoons and have a spoon bin set up (like the one Naia in SF has) since they go through so many plastic spoons in a day.
Joyride Taco House
This trendy little restaurant located across the street from Postino in Gilbert is owned by the same people. Just like Postinos, Joyride Taco House has a lovely indoor eating area with a garage door on the side that opens to connect the indoor to the outdoor patio area. The fresh interior design of the space makes it a trendy place to go, while the food makes you want to add them to your list of weekly restaurants. I love the dressed up button chairs, retro lighting, and interesting tile work on the walls.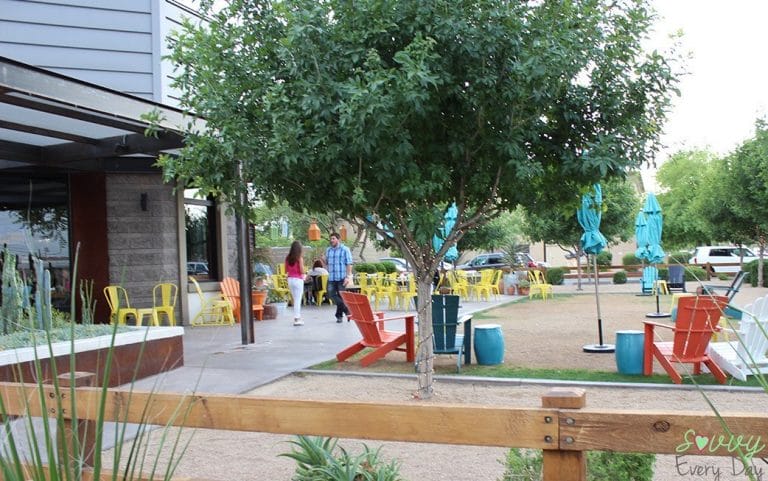 The staff are friendly and quick to refresh empty chip bowls, which happens quickly and a lot since the chips are so fresh. You absolutely have to order guacamole with the chips, too. Aside from cutting up my own avocado, I've never had guacamole this fresh at a restaurant. Ever. Like Postino, Joyride has the fun agua frescas and various lemonades, so I tried the strawberry lemonade. I was so full from my delicious enchilada (with a little kick to it) that I didn't have room to order dessert here so I can't speak to that menu, but everything I tried was superb.
Liberty Market
Nope, it's not a grocery store, it's a restaurant! I didn't get a chance to eat here for a meal, but I did go in to check out Liberty Market's talked about bathroom stalls. Each one has a different theme, feel, and design. Joe from Joe's Farm Grill designed one of the stalls, actually! One restroom is all about cooking, another is driving a Vespa in Italy, and so on. I got to see most of the stalls, but not all.
Since I was there I had to at least try the Salt River Bar — another talked about item at Liberty Market. I'm no fan of sea salt, I simply never fell into that craze, but I did really like this peanut butter and wafer dessert, topped with chocolate and a little sea salt. Next time I venture to Gilbert, I'll be sure to try Liberty Market's breakfast, because it looks quite tasty.
What are your favorite food spots in (and near) Mesa, AZ? Have you tried any of these?
*I won a trip to Mesa, AZ from Allegiant Air and Visit Mesa. I was provided with flight, hotel, rental car, meals, and activities during this trip, but was not paid to write this article. My opinions are my own. There may be affiliate links in my post. Thank you for supporting Savvy Every Day.
Title:
Savvy Food Finds: Arizona
Mentions:
arizona, AZ, Family, frost, frost gelato, frostgelato, joes farm grill, joesfarmgrill, joyride, joyride taco house, joyridetacos, kids, mesa, mesa arizona, MesaCityLimitless, postino, queen creek olive mill, queencreekolivemill, the coffee shop, the coffeeshop, travel, traveling with kids