5 Tips for Baby's First Bath (With Boon CARE)
With 6 years between my kids, holding a newborn again almost felt like the first time all over again. I had the memory of doing all this before, though, and so much more information this time around. So instead of being afraid of that first big bath at home, I felt prepared. Here are my tips for baby's first bath.
This post was created in partnership with Boon. All opinions are mine alone. Photos by Sincerely Me Photography.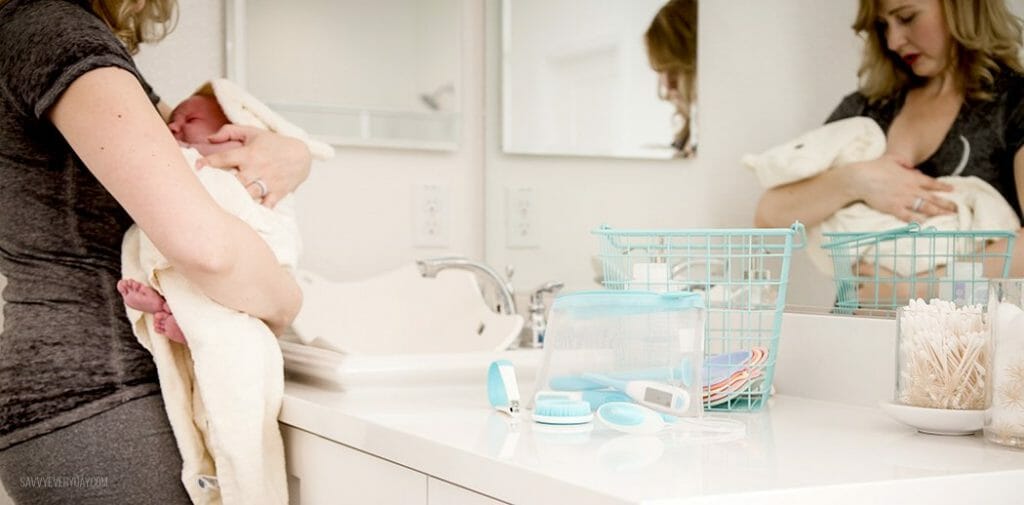 Wait Until You're Both Ready
We chose to skip the in-hospital bath to allow any vernix still on the little guy to protect his skin longer while adjusting to life outside the womb. (He was wiped off a bit during his in-hospital checkup since he had blood and poop on him from delivery.) It wasn't until two weeks later that my husband and I cleaned him up with some warm soapy washcloths in a quick 2-minute bath to get the real stinky stuff off, and six weeks until his first major bath where I really worked on the cradle cap and fully groomed him. By six weeks this little guy had plumped up from breastfeeding and had a bit of time to adjust to his new surroundings so I was more confident in him being OK and my ability to bathe him. He still hated it (not a fan of water, this one), but he did great.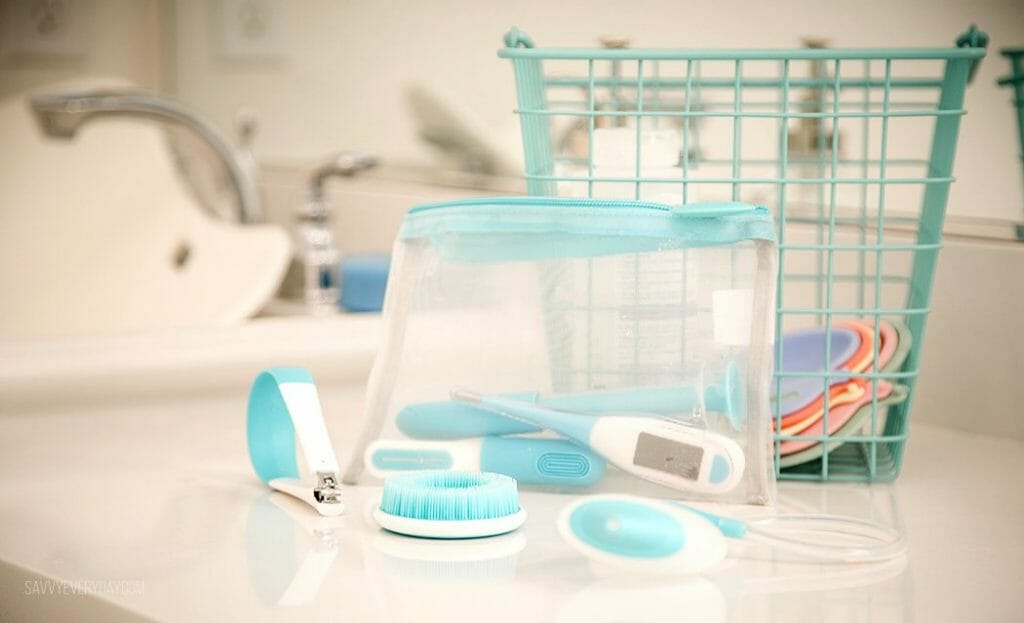 Prepare the Area Ahead of Time
You might need more than you'd think for baby's first big bath and you're going to want it all within reach. Aside from a plush hooded towel, you'll need at least two washcloths, a safe fragrance-free or naturally fragranced soap, a safe soft baby bath, your diapering materials, a soft flat space for drying and dressing baby after, a new outfit, safe baby lotion, and the Boon CARE Health & Grooming Kit (available at Target!). Be sure the area you're using is clean and safe before setting up for baby's bath. I chose to bathe River in the master bathroom sink because it's exactly my height, the perfect depth to fit him and just a bit of water, and a great size for his bath cradle. A lot of people choose the kitchen sink but mine is bigger than the cradle so I don't think he would have been supported the same. After clearing the counter of the daily toiletries, I put out the soap & lotion (I use up the ones from the goody bags at baby fairs first), towel, washcloths, and my Boon CARE Kit. I set the bath cradle in the sink and get the water to the right warm temperature, allowing some to sit in the bath cradle.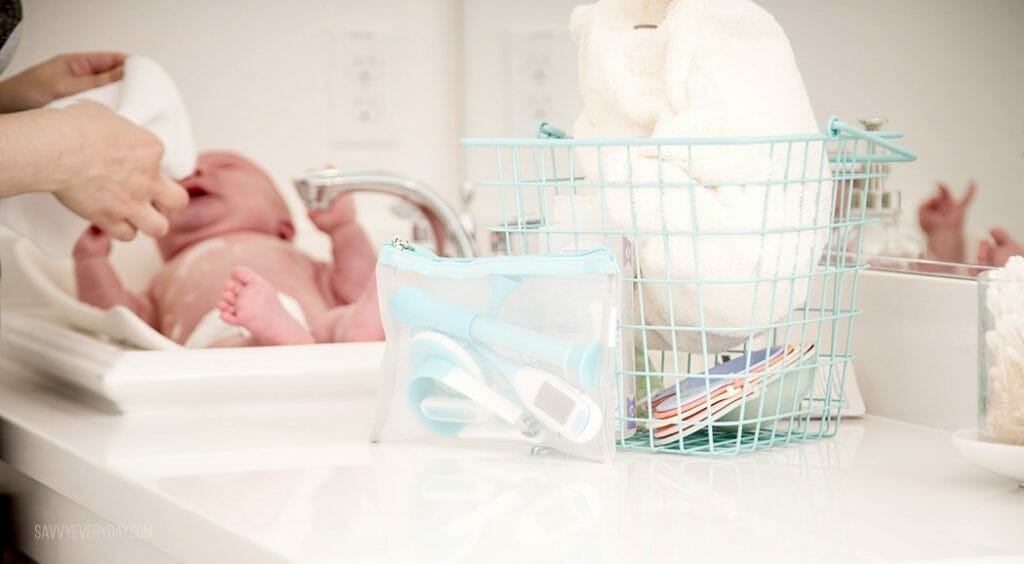 Use a Spotter
If you can, try not to bathe your baby alone, at least not the first time. Not only because you don't want to accidentally turn your back on your baby (or leave him alone), but it's beneficial to have someone there handing you soap, washcloths, and then holding up the towel to hold the baby in afterward. this person can check the washcloth on his chest and the shallow water in the tub/cradle to be sure it's still warm (but not hot) while you're soaping baby up.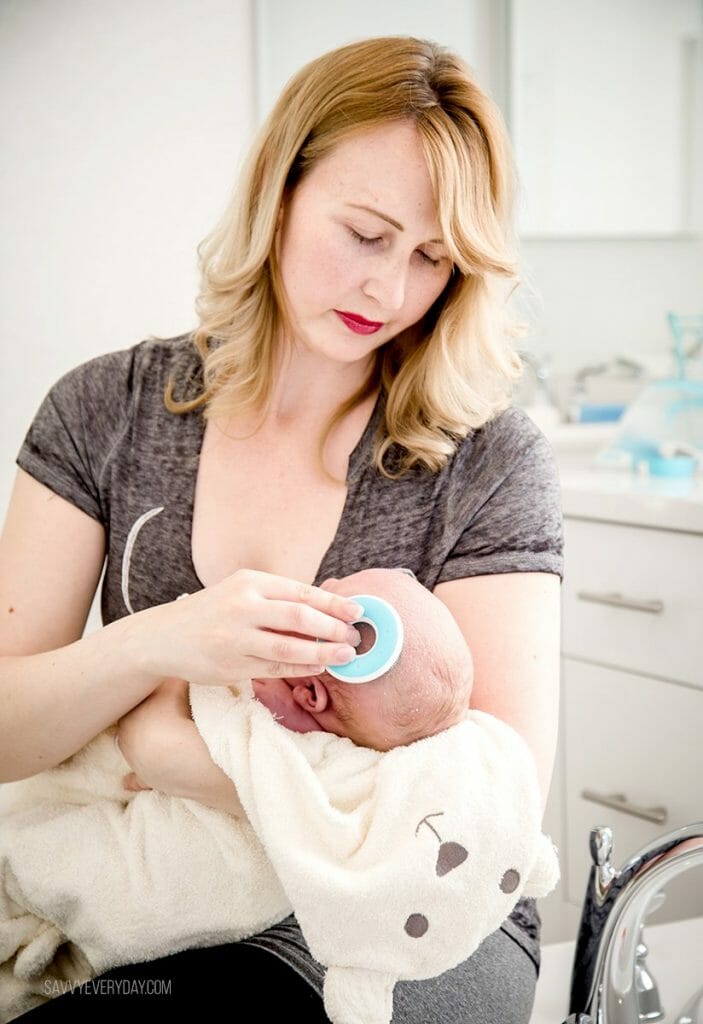 Wash Hair Last
Babies can lose warmth through their head, so when I was a nursing assistant in the maternity ward back in my college days I was always told to save a clean washcloth for washing baby's hair last. For River's first big bath, I used a soapy washcloth for cleaning from the neck to feet, doing the bottom last, followed by a warm water-only washcloth for the rinse. Then after all that, I used a new soapy washcloth for the hair and the Boon Cradle Cap Brush from my Boon CARE Kit to gently remove any cradle cap. I actually didn't realize just how much the kiddo has until I used this brush — it does such a good job! I love using this as a regular dry baby brush for the hair after the bath, too.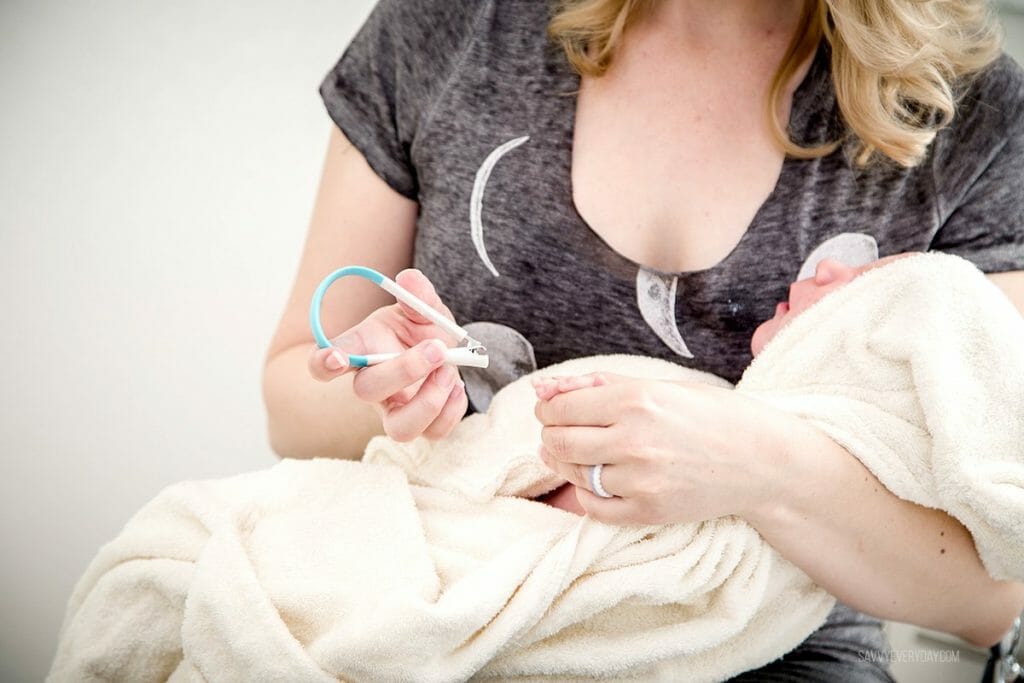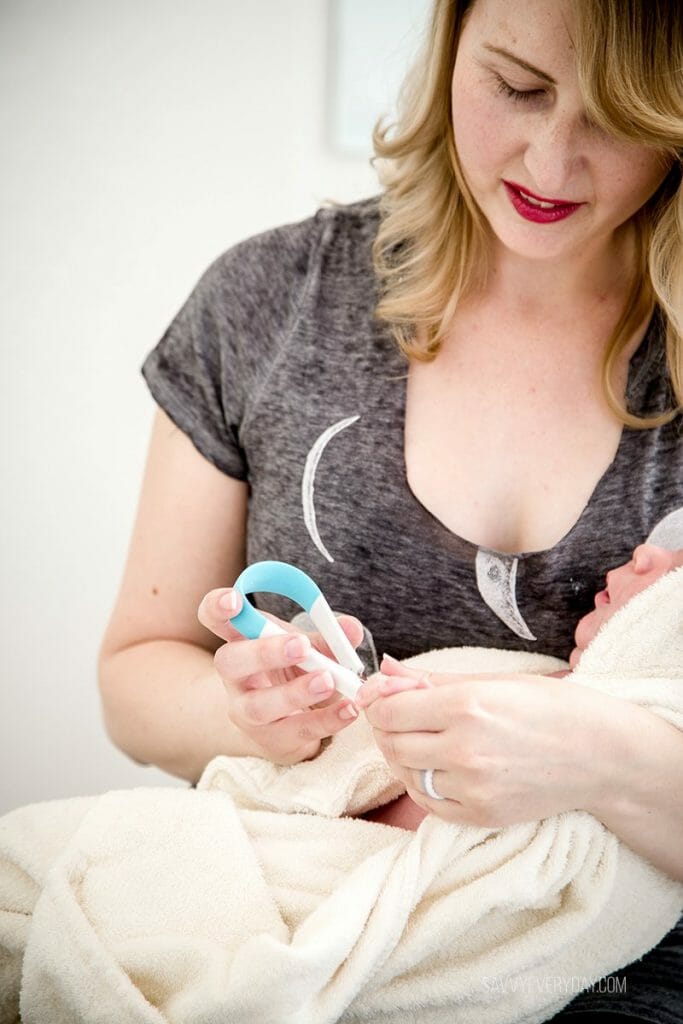 Soothe Baby After Bath
Chances are high that your baby will need comfort after their bath, whether or not he likes baths. Sit in your glider or rocking chair with the baby wrapped up in his soft towel and breastfeed or offer a hug or bottle. If he's content, start to gently trim any extra long nails. The Boon CARE Kit comes with an awesome set of baby nail clippers that have a guard to prevent cutting baby's skin so I felt comfortable cutting River's nails after his first big bath. Once you've clipped the nails, use a nasal aspirator to get any extra gunk out. My Boon CARE Kit also comes with one of these (plus a great silicone toothbrush, a thermometer and a spoon for medicine), not the kind where you squeeze the bulb with your hand and wonder what's collected inside, but a great transparent one that allows you to suck the snot right out of his nose! Next, place baby on a soft dry surface to wipe off any excess water then dress baby.