Why It's OK That My Daughter Missed Spring Camp This Year
For some, Spring Break means more sleep, family vacation, or kids camp. For me, it means figuring out how to entertain my 1-year-old son and 7-year-old daughter while building my business, working on deadlines, and attempting to not let the mom guilt consume me because the work seems never-ending (but I also do all of the jobs for this website so there's that). I was all set to sign Savannah up for a 4-day camp to get a little bit more time during her 2-week break from school when she protested, saying how much she hates camp. Ugh. I don't know if it was the mom guilt or how much I love to save money . . . but I let her stay home. Here are some ways her tablet has helped us during the break so far, and why I'm OK with S not being at camp.
This post was sponsored by Amazon and contains affiliate links at no cost to you, but all thoughts and opinions are my own.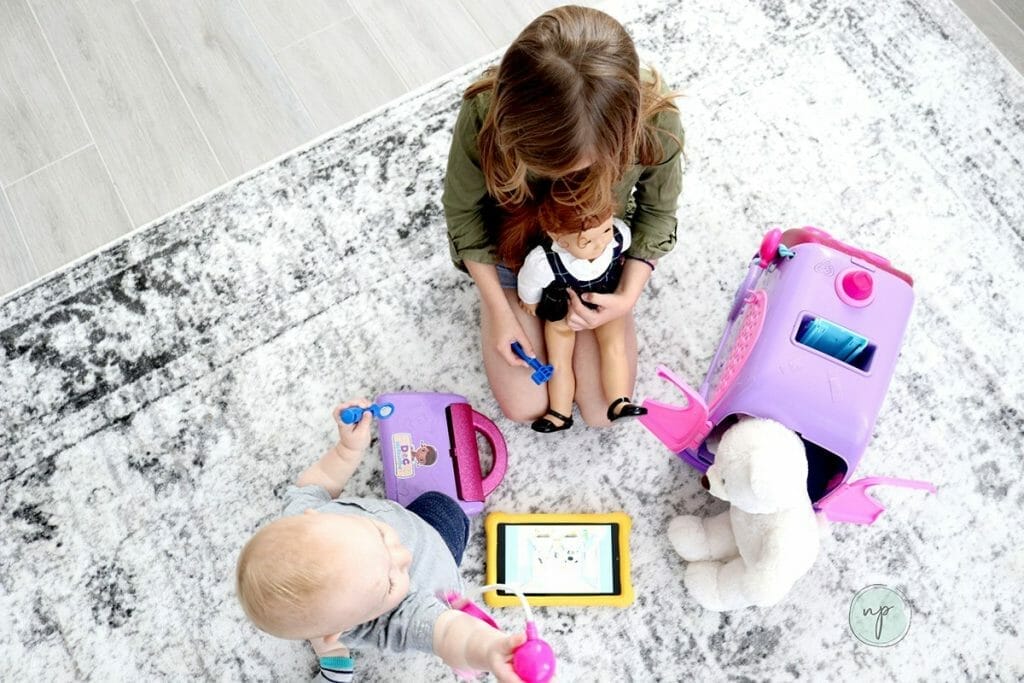 Amazon FreeTime Unlimited brings the kids together
With 6 years between them, I wasn't sure what S and R's sibling relationship would be like when R was born. I thought that S would be a big helper and honestly that they might be fairly independent of each other. I'm so thankful that isn't how it turned out. R is all about his big sister and everything his big sister does. When she's at school he really misses her, so I think he's loving having her home during Spring Break so he can watch her crazy antics (she likes to run in circles and jump around while he laughs) or play with toys in her room. They've been interacting more and more, and though they still have sibling fights where she's annoyed with him coming in her room and throwing everything she's built all over the place or he's upset and comes up to me when she won't give him a toy he wants, the two are adorable playing together. Today, S played her Dr. Panda game in her Amazon Fire HD 8 Kids tablet's Amazon FreeTime Unlimited and the two of them got out their doctor toys and gave a few toys a checkup! These moments are so special, and something they wouldn't have had the chance to do if S was at camp.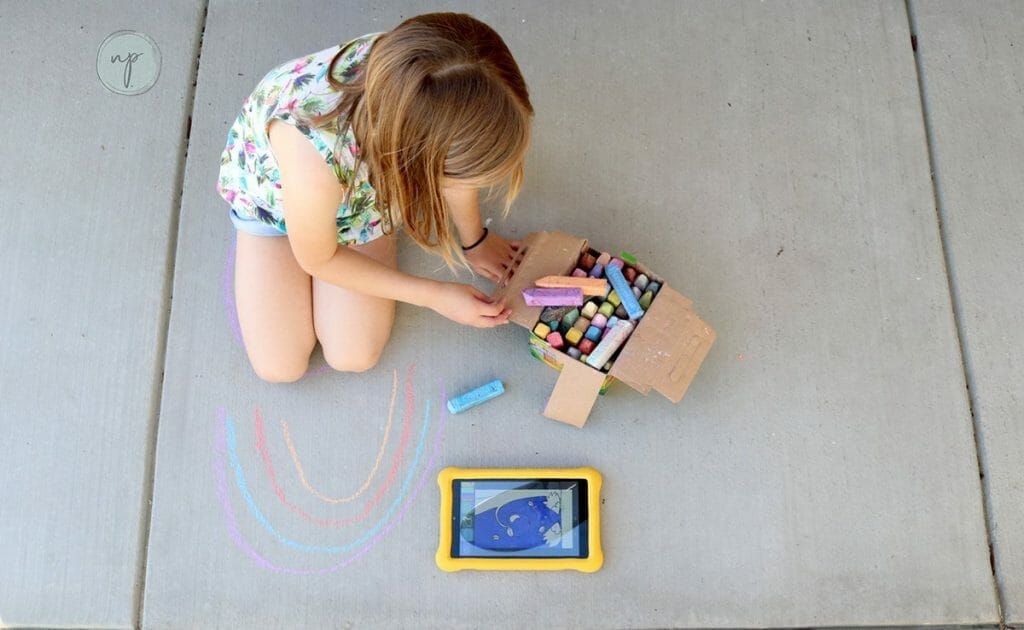 S learns & creates more with Amazon FreeTime Unlimited
My daughter is an energetic, creative, and thoughtful person. She really enjoys watching a show and using it as inspiration for real-life imaginative play. Her imagination is fantastic on its' own, but it's so fun to see the new things S learned from educational programs like Odd Squad while in Amazon FreeTime Unlimited on her Amazon Fire HD 8 Kids Tablet. She's learning about sleuthing skills, math, and teamwork while also enjoying some quirky kid humor. I tend to find S carrying her tablet around the house with her toys and whatever activity she's working on. S will enter the room I'm in, walk by and grab something then just keep doing whatever she's doing. It's pretty humorous and I'm happy to see her just being a kid and expanding her understanding of herself and the world through creativity. Does she have screen-free time? Yes, she does. But, screen time isn't always just spent sitting and staring at a screen, either.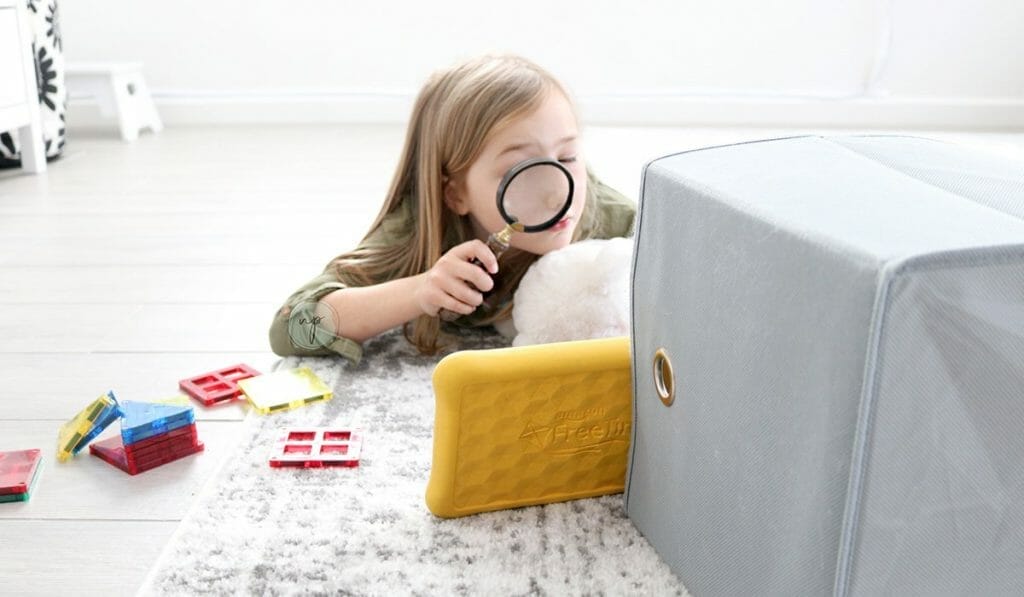 I stay connected through Amazon FreeTime Unlimited
She's not a teenager yet (YAYYYYY!) but she sure acts like one, so I know I need to take advantage of any opportunity to spend time with S and talk about commonalities. Because her little brother is on a different schedule than her, a lot of my time is tied up with his naps or my work so S tends to feel like she doesn't get much time with me. I've been trying to work on this as I adjust to two kiddos (yep, still working on that after a year haha) but it's not perfect yet. Getting to talk about her interests and activities in her Amazon Fire HD 8 Kids tablet's Amazon FreeTime Unlimited through Discussion Cards and info in the Parent Dashboard has been so helpful for staying in the know and has given us an opportunity to spend time together even when we aren't together by sharing some shows we like.
Since I can't sit and watch shows with S during the day because of her active little brother, I catch up on shows like Just Add Magic through my own Amazon Prime Video app at night when the kids are asleep so I can chat with S about the episodes we both watched. All of the cooking in the show inspired her to want to make more recipes in the kitchen but with little time between school, homework, dinner, and bedtime there just wasn't time while school was in session. Weekends were a whirlwind, too. But, since she didn't go to Spring Break camp this week, we got to make some peach sherbet to enjoy while watching out favorite show on her Amazon Fire HD 8 Kids tablet! R was really glad we made the sherbet together, too (he made quite the mess digging into my bowl of sherbet).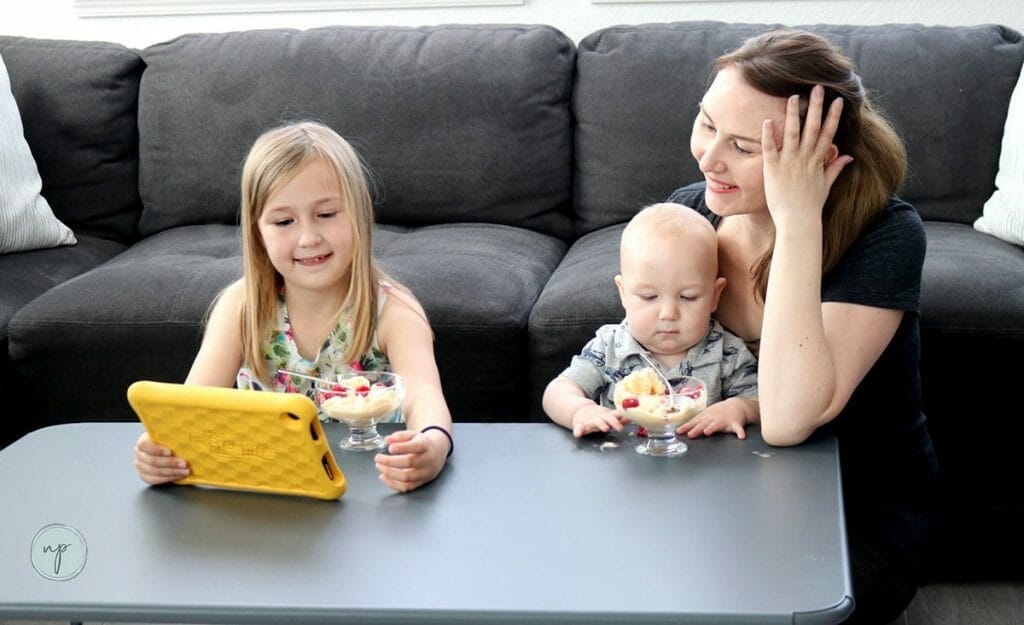 The Amazon Fire HD 8 Kids Tablet gets my daughter outside
I'm going to be real with you here. My daughter is a lot like me. She loves to wind down and watch shows during her school-free time. This is one of the reasons I'm so glad she has the Amazon Fire HD 8 Kids tablet, believe it or not. Not only do the parental controls in the Parent Dashboard let me see what she's watching and set goals for things she needs to do before watching shows, but it allows me to set the amount of time she can be on there. By setting the time on the tablet I don't need to nag my daughter about turning it off to go outside for some fresh air. Another plus? Even when the tablet is on, she goes outside with it! The 2-year Worry-Free Warranty on the Amazon Fire HD 8 Kids tablet is amazing and the case that comes with it is rugged enough to withstand art time with chalk outside or playing on the scooter or in her little outdoor fort.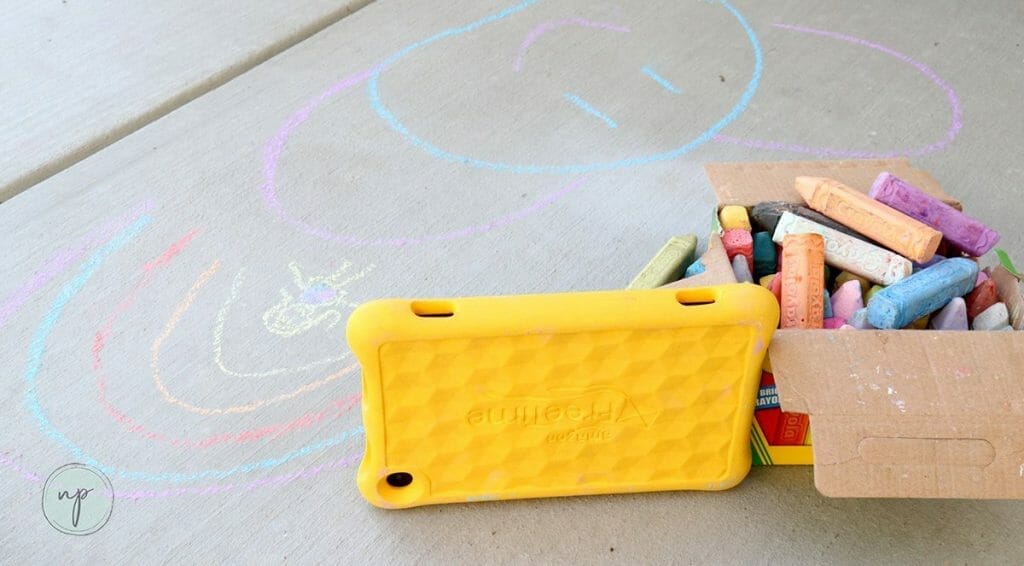 Want to learn more about why I bought my daughter an Amazon Fire HD 8 Kids tablet? Check out my other posts about Amazon Fire HD 8 Kids tablet: 3 Reasons I Gave My First Grader Her Own Amazon HD 8 Fire Kids Edition Tablet or How Amazon's Fire HD 8 Kids Tablet Reduces Holiday Stress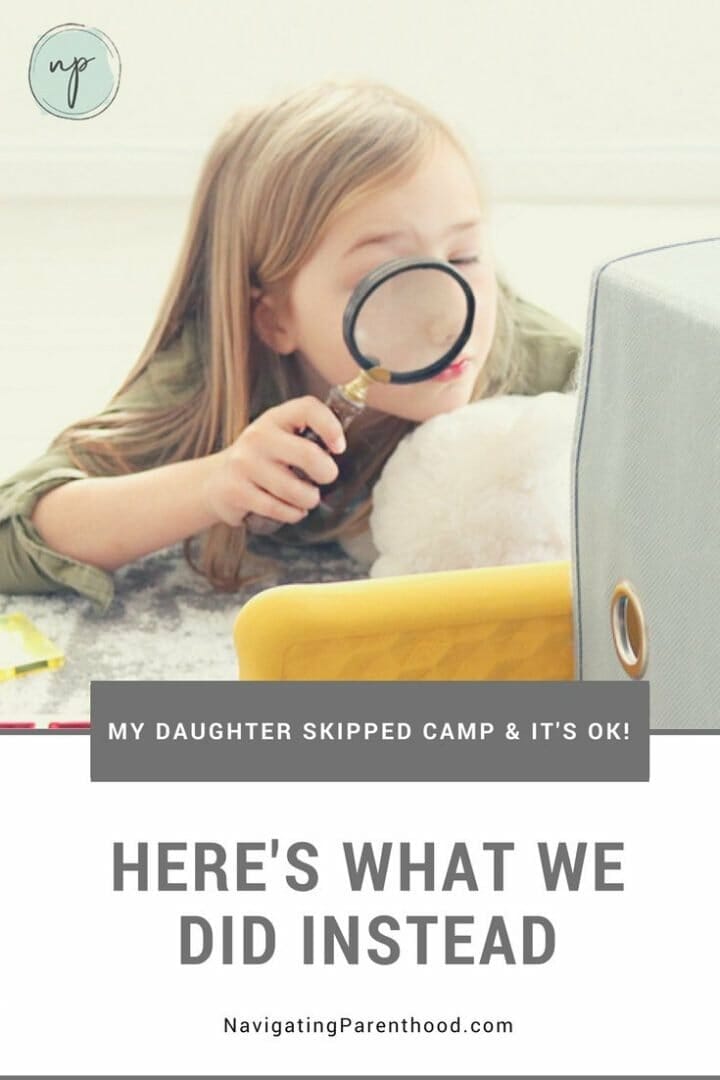 Title:
Why It's OK That My Daughter Missed Spring Camp This Year
Mentions:
Amazon, Amazon Fire HD, Amazon Fire tablet review, Amazon FreeTime, Navigating Parenthood, sponsored, spring break, spring break activities