Take a Night Off With Savvy Every Day at Mom's Night Out
It's 2015, which means you haven't had a night off since last year (maybe longer)! Savvy Every Day wants to help make that easier so we're throwing a fantastic bash with the SF birth & Baby Fair (with the help of sponsors like GetzWell Pediatrics) at Hotel Diva in Union Square on Jan. 31 just for you. Yes, you! Ever want to go out with your friends but feel like you can't because you're pregnant, or because you have a baby or kiddo? Well, Mom's Night Out is the perfect chance for you to go out with your friends (mom friends or not) and take a night off from parenting. It's like a girls night out, but with the fact that you're a mom in mind. Wondering what that means? Keep reading for the 411 on the one event you need to attend in 2015 (aside from your kids birthday parties, those are pretty important).
Wellness Activities
Being a mom is both incredibly amazing and incredibly draining. You could be 23 and feel like you're suddenly 40 when the time comes to chase your toddler around or answer the never-ending series of "Why?" questions. It is for this exact reason that moms need a pick-me-up now and again, and why Mom's Night Out SF has you covered. Our bodies change during pregnancy and after having kids, but that doesn't mean you have to lose confidence in your body, or your power as a woman. A mini warm up session with S Factor SF will have you feeling like yourself again (like you're 20 instead of however old you really are). I tried an in-studio S Factor class when I was 6 months pregnant because I had to use a Groupon with my friends at the time and it was an empowering experience. I went in thinking pole dancing was about my partner and left feeling a sense of control and discovery about myself. You'll leave Mom's Night Out with a coupon for 2 free class sessions if you enjoy your warm up. Sign ups are encouraged for S Factor sessions at Mom's Night Out since space is so limited.
Another big "want" as a mom is time away from the family to do an activity and feel like someone who creates rather than just consumes all the time. So the Artistic Home Paint & Glass Studio of Alameda is holding 15-minute mosaic necklace making sessions at Mom's Night Out as well. These sessions normally cost $40 in their studio, but it's included in your ticket price! Be sure to check out the gorgeous mosaic work the studio did on my belly cast when you get to their room at the event. I got to work on some of it, but they did all the expert work for me, and it will be a gorgeous display.
Fun, Useful Services
We have your beauty and gab covered as well (like any great gal-pal get together)! Juice Beauty, a Northern California local organic and natural skincare business, is offering makeup makeovers and hand treatments (plus they're including some of their fabulous products in our goodie bags)! Need some expert advice on your sex life? Intimacy coach and NewboRN Solutions expert, Theresa Vargo, will also be available during 15-minute sessions to talk with moms in a small group setting. Haven't had time to get your brows done (who does with kids)? Ziba will be on-site to provide a threading service as part of your entry!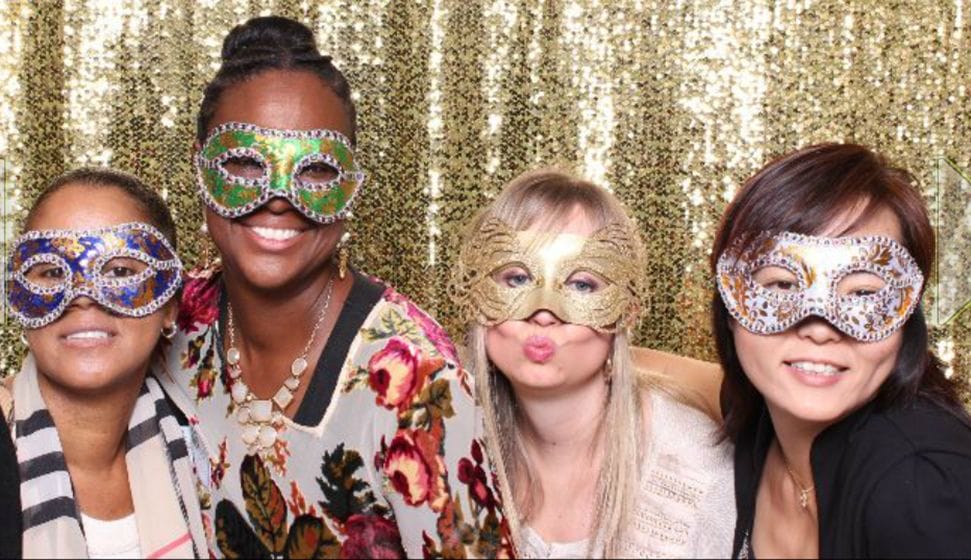 Take time to sit down with your friends, catch up and enjoy some snacks while you look through your attendee goodie bag (first 150 guaranteed), then head over to the Momentus Photobooth where you'll have an array of props and backdrops to choose from for some fun photos. (Be sure to check back on the Mom's Night Out SF Facebook Event Page and at Savvy Every Day for all the photobooth and event pictures!)
Shopping and Accommodations
Activities, food from Munchery and Farm Fresh to You, guaranteed goodie bags, and services are fun, but shopping in SF is a must! Once you've visited all the activities, be sure to check out PinkBlush Maternity. Their ultra-cute clothes are affordable, comfy and may leave you with the title of "Best Dressed." Honestly, their maternity clothes are perfect for moms-to-be, new moms who have just given birth, plus size moms, and moms with preschooler (like me) who just really, really want to wear their styling clothes. Don't stop there, we'll have all kinds of fun local places to shop from before you make a night of it shopping in Union Square for the night. Be sure to book your room at Hotel Diva ahead of time if you plan on staying overnight. The hotel is offering a discount on stay for attendees using promo code MNO.
It isn't always easy finding someone to watch the kids, so Mom's Night Out has a Kids Suite for little ones ages 7 and under available during the event. Kids ages 2-7 will have fun playing games and doing activities with Peekadoodle Kids Club, while littles ages 2 and under can be paired with their very own UrbanSitter of your choosing when you buy a Kids Suite ticket. Space in the Hotel Diva Kids Suite is limited, so be sure to buy your ticket early!
Stay to the end of the party and visit all the shopping areas and activities for a chance to win one of the awesome end-of-the-night raffle prizes, including a Bamboobies Nursing Shawl.
Tickets are on sale now at $35/mom and $20/child (Kids Club), click here to get yours! For more information, join the Mom's Night Out Facebook Event Page, here. UPDATE: Use code PINK for $15 off admission!

Title:
Take a Night Off With Savvy Every Day at Mom's Night Out
Mentions:
Artistic home Studio, bamboobies, downtown, event, Events, GetzWell Pediatrics, girls night out, goodie, goodie bag, Hotel Diva, Jamberry Nails, Juice Beauty, makeup, Mom, mom-to-be, mom's night out, Momentus Photobooth, moms, new mom, NewboRN Solutions, night off, night out, Peekadoodle Kids Club, pregnancy, raffle, rodan and fields, S Factor, sale, san francisco, Savvy Event, Savvy Events, sf, SF Factor SF, shopping, ticekts, union square, urbansitter